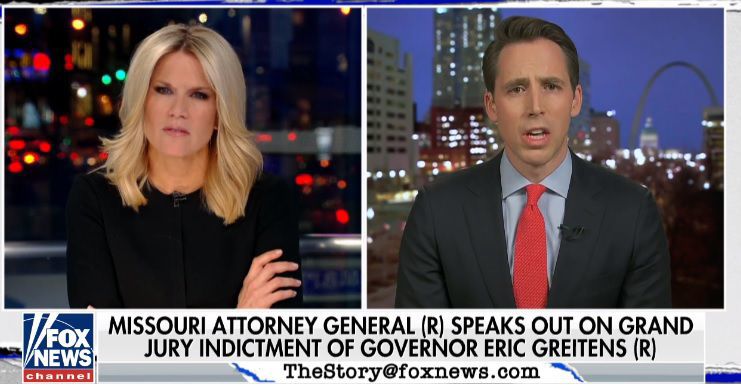 Missouri Attorney General Josh Hawley on Wednesday told a national television audience that possible campaign violations involving a charity founded by Gov. Eric Greitens are "very grave" and "a tough situation for the state" — the latest indication that Hawley is distancing himself from his scandal-besieged fellow Republican.
Hawley, who is seeking the GOP nomination to the U.S. Senate this year, appeared on "The Story with Martha MacCallum" on Fox News Wednesday, where he was interviewed about his campaign to unseat Sen. Claire McCaskill, D-Mo.
Hawley tried to keep the focus on his criticism of McCaskill for her opposition to the Republican tax cut and her upcoming Beverly Hills fundraiser with former President Barack Obama.
But when MacCallum brought up critics' claims that Hawley had "soft pedaled" his official inquiries in Greitens' use of a secretive phone app and his campaign's relationship to the charity, Hawley sternly denied it.
"I've soft pedaled nothing. … We do have an active investigation underway," said Hawley, adding that the issue is "bad for the state, there's no way around it."
When MacCallum asked if Greitens is among the 15 entities that Hawley says have been subpoenaed in the case, he went into G-Man mode:
"I better not say … exactly who we have subpoenaed, other than to say this: that we will subpoena anyone and everyone who is relevant to this investigation and we will not stop until we get all of the facts and we will not be put off by any invocation of executive privilege or anything else. We will get the facts."
Hawley turned aside the question of whether Greitens should resign, but said: "This is a tough situation for the state. I think the gravity of this is very, very plain.  … The situation's very grave."
Hawley's office isn't involved in the St. Louis grand jury indictment against Greitens on a felony charge of invasion of privacy, which arose from an admitted extramarital affair before he was governor.
Hawley has investigated Greitens on two other issues: the use by the governor and his staff of an app that automatically erases text messages after they're read, which some say is a violation of the state's sunshine laws; and allegations that Greitens' campaign improperly mined The Mission Continues, the veterans' charity Greitens founded, for donors.
Hawley's office has cleared Greitens in the text messaging investigation but is still probing the charity issue. Hawley — who as a Senate candidate has already faced Democratic jabs at his ties to Greitens — raised eyebrows last week by calling a press conference to announce he'd issued 15 subpoenas in the charity case.