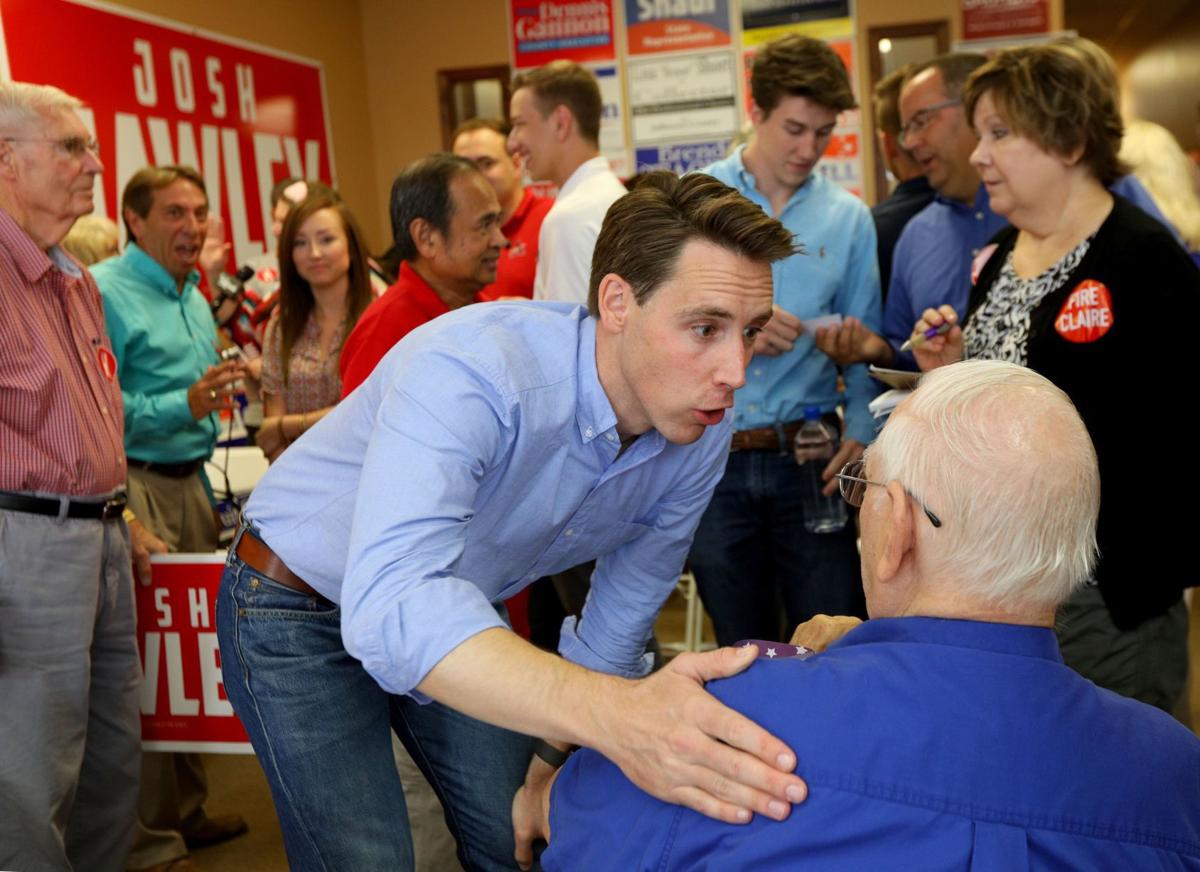 WASHINGTON • Missouri Attorney General Josh Hawley is calling for a special counsel investigation of how Sen. Dianne Feinstein, D-Calif., handled the sexual assault allegations Christine Blasey Ford made against Supreme Court nominee Brett Kavanaugh.
Following the line of Sen. Lindsey Graham, R-S.C., and other Republicans, the Republican candidate for the United States Senate in Missouri accused Democrats of "deliberate maneuvers" to delay and obstruct Kavanaugh's nomination, and said it raises "very troubling ethical questions, possible legal questions" about the way Ford's allegations and requests for anonymity were leaked to the media seven weeks after Ford reached out to her local congresswoman, Rep. Anna Eshoo, D-Calif.
Hawley called on his opponent, Sen. Claire McCaskill, D-Mo., to join him in the call for a special investigator.
In a weekend tweet, Feinstein, D-Calif., said that "from the moment I received Dr. Ford's letter my actions have been consistent with her wishes. We kept her letter confidential and did not leak the contents or its existence to anyone. Survivors have a right to decide how their stories are made public."
She told Sen. John Cornyn, R-Texas, in an explosive hearing last Thursday that none of her staff leaked the allegations.
McCaskill told the Post-Dispatch's editorial board on Friday that while she may not agree with how Feinstein handled the allegations, she did not believe it was part of a "conspiracy" to derail Kavanaugh at the 11th hour.
But Hawley depicted it as such, and he said the whole process has angered Missourians he has talked to. Hawley reiterated GOP arguments that Feinstein already had the allegations from Ford when she met privately with Kavanaugh, and that she withheld them from committee Republicans during three days of hearings this month.
"We learned at the hearing last Thursday (that Feinstein) recommended a partisan lawyer to Dr. Ford while the letter was being withheld from the committee and the FBI and, while in fact they were — Sen. Feinstein was meeting with Judge Kavanaugh," Hawley said.
"These were deliberate maneuvers by partisan Democrats and their staff to exploit Dr. Ford and ultimately block Judge Kavanaugh's confirmation process. All of this for political gain, and the price of smearing Judge Kavanaugh. And Claire McCaskill has gone right along with it every step of the way."
McCaskill will vote no on Kavanaugh, but she cited his position favoring "dark money" in politics as the primary reason why. Since her announcement, she has tried to keep a distance from the firestorm around the Kavanaugh allegations.
In a lengthy interview with the Post-Dispatch on Friday, she acknowledged that she could take exception with the way Feinstein handled it, but she does not question her motives.
"It is understandable that it got emotional and difficult (at the hearing)," McCaskill said. "A woman came forward to her congresswoman and asked for confidentiality, and that then was forwarded to Sen. Feinstein.
"I believe, honestly, Sen. Feinstein was conflicted about what to do with it," McCaskill said. "And because of the request for confidentiality, she did nothing with it until several weeks later. I can criticize that decision, but to characterize it as a grand conspiracy I think is (incorrect)."
In a statement issued by her campaign Monday, McCaskill said Hawley's call "is what a partisan does and what causes the problem in the first place. We need to be respecting one another, talking to one another, and calmly completing our work — not pointing fingers."
In the interview with the Post-Dispatch, McCaskill said the "lateness" and "explosiveness" of the allegations contributed to a stormy hearing with Ford and Kavanaugh, one in which the nominee lashed out at Democratic senators over the process. The sexual assault allegations against him are unsubstantiated or refuted by other witnesses, but Democrats and many Republicans also have said Ford's testimony was believable.
But, McCaskill added: "The other thing that contributed" to the stormy politics around the allegations "was this sense that this needed to be rushed" by President Donald Trump and Republicans senators.
Trump, in a Rose Garden press conference announcing a new trade deal with China and Mexico, reiterated claims he's made on the campaign trail that he believed Feinstein "probably" leaked Ford's allegations based on "her very bad body language" at Thursday's hearings.
"Dianne Feinstein knew about this two months earlier," Trump said. "It she wanted a really thorough investigation, we had all the time in the world. She didn't have to wait until after the hearing was closed, essentially. She should have said, 'listen, I have a problem, I have this report, I would like the FBI to look at it while they are doing the (initial) hearing.' "
Sen. Roy Blunt, R-Mo., told radio host Marc Cox on FM NewsTalk 97.1 Monday that he believes it will take some time for the Senate to get over this partisan fight.
Democrats "had this information for months," Blunt said. "The way this should have been handled by Sen. Feinstein and other Democrats on the committee was to turn this information over" while the new FBI background check was confidentially going on, starting in July.
"It was clear that Kavanaugh had all the votes he needed to be confirmed and at the last minute they rolled this charge out with the desire to do whatever is necessary to stop him from being confirmed," Blunt said.
"I continue to believe he will be confirmed in the next few days, and he will be a great justice on the Supreme Court for a long time," Blunt added. "But it is terrible that he and his family had to go through this, and frankly it is terrible that Dr. Ford had to needlessly go through this."