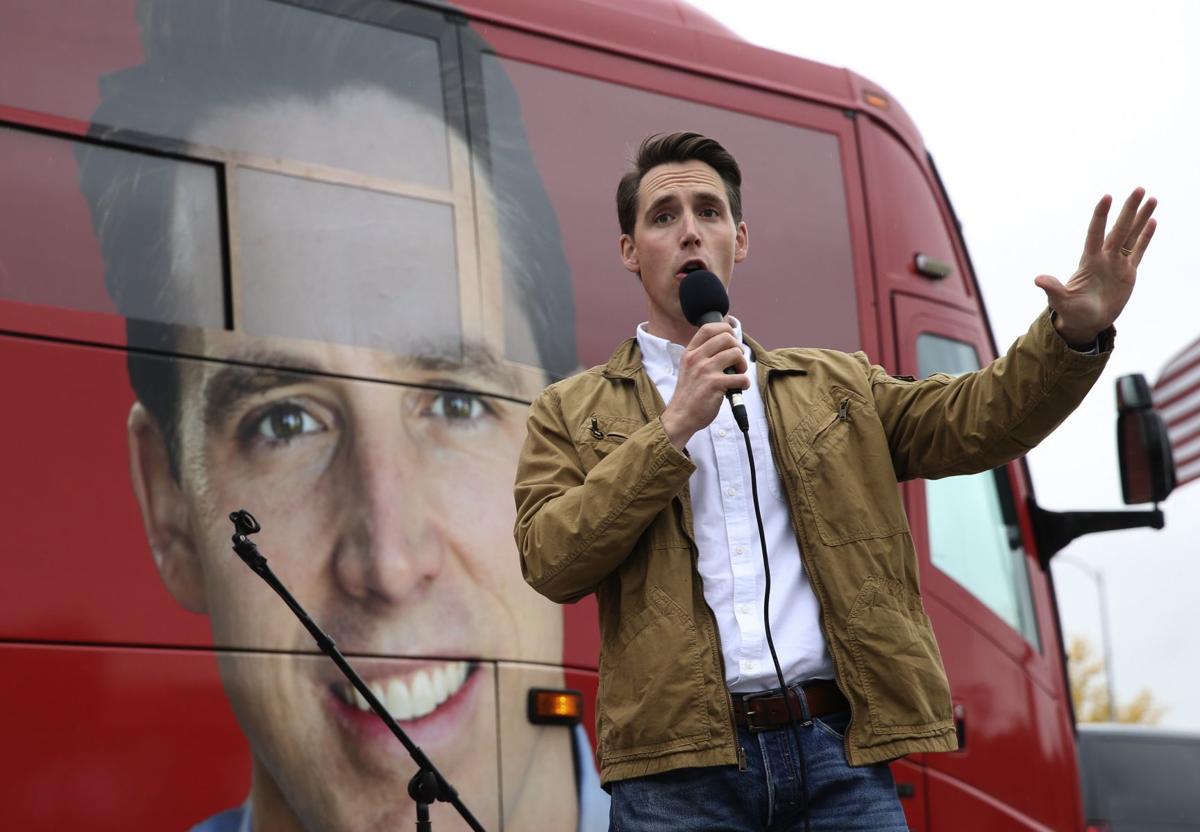 JEFFERSON CITY — Taxpayer-paid staff working in former Attorney General Josh Hawley's office met with his political consultants, perhaps more than a dozen times, in the months before he launched his U.S. Senate campaign in 2017, according to a report released Thursday by State Auditor Nicole Galloway.
The 17-page audit — issued with 444 pages of attachments — also says employees did not follow office policy when they used personal email accounts, calendars and phones "to conduct official business, communicate, and schedule meetings."
The report marks the conclusion of a yearlong probe by Galloway, a Democrat, into Hawley, a Republican who served for two years as the state's chief law enforcement officer. It is inconclusive as to whether Hawley, now a U.S. senator, broke any laws, which bar use of taxpayer resources for personal or political purposes.
"So is this transcript going to be kept confidential?" an attorney for a former attorney general's office staffer asked.
In the audit, Galloway says Hawley's state office employees were "in place to perform the work of the government."
"By allowing campaign-paid consultants to interact and advise AGO staff, former Attorney General Hawley potentially used state resources for political purposes," the audit says.
But Hawley's attorney, Brian Barnes of the Cooper & Kirk law firm, claimed on Thursday that the audit exonerated Hawley of wrongdoing. And Hawley's campaign, just an hour before the audit's release, said he was filing a complaint with the Missouri State Board of Accountancy for what he described as "misconduct" by Galloway.
Last month, Hawley published an email chain sent inadvertently by audit manager Pamela Allison. In it, Allison said she would "beef up" a section of the Hawley audit that dealt with the office's and/or Hawley's use of "personal email/personal calendar."
Auditors are prohibited by state law from discussing specific audits before their release. But Galloway responded to Hawley's charges on Thursday, saying he spread "misinformation" prior to the audit's release, knowing that the auditor couldn't respond to the charges.
"The unfair attacks by Senator Hawley were an attempt to deceive taxpayers about the nature of this audit — an audit he initially said he welcomed," Galloway said. "Career staff in my office are professionals, and are bound by professional audit standards. The abuse these dedicated employees and licensed CPAs had to endure is unacceptable."
The audit itself also responds to Hawley's claim of political bias.
"The inadvertently sent email from the Audit Manager cited in the response is not evidence of a lack of objectivity, rather evidence that the audit team was appropriately evaluating audit evidence," the audit said.
The audit follows reporting published shortly before the 2018 election, by the Kansas City Star, which detailed political advisers' involvement in the office. Hawley defeated then-U.S. Sen. Claire McCaskill, a Democrat, in that election.
His inquiry focused on one statute that prohibits public funds from being used for elections. Galloway's audit examined Hawley's compliance with other laws, including one that bars state employees from engaging in "political activity."
Galloway's office found evidence of 11 in-person and phone meetings between Hawley's staff and his political consultants from January to July 2017. Over that same period, Hawley's campaign paid a combined $141,000 to the political advisersOnMessage, Inc., First Tuesday and HLC Strategic, LLC.
Galloway said Thursday there is evidence of other meetings, but that the attorney general's office did not keep documentation.
"If better documentation had been maintained to show these interactions were solely official in nature, any appearance of impropriety could have been avoided," the audit said.
Evan Rosell, Hawley's former chief of staff, said in an interview with the auditor's office that one former Hawley staffer, Rachel Hassani, raised questions about the consultants' presence.
"She said something to the effect of, 'It's illegal to have consultants in the office,'" Rosell said. "And this is from memory, but I recall saying, 'I, you know, certainly don't want you to feel uncomfortable here. You don't have to come to the meeting if you don't feel comfortable. It's my understanding that it's — it's perfectly fine for them to come alongside the office's work and help us in that respect.'"
The audit also says Hawley used a state vehicle and a driver for some trips without documenting the purpose of the trip. A driver told the auditor that on Dec. 16, 2017, he drove Hawley and his wife, Erin, to Kansas City for a Chiefs football game, "where they watched the game from" a lobbyist's "private box."
State law says that state vehicles should only be used for official purposes, the audit says. And state policy doesn't allow volunteers, spouses or children to ride in state-owned vehicles unless they are involved in state business.
Hawley and his attorneys responded saying he "hired two outside advisors to help ensure the Attorney General's Office would operate effectively," and that he was asked to attend the Chiefs game "in his capacity as Attorney General."
They also said his travel mirrored the practice of his Democratic predecessors: Any stops "related to political activity were incidental to state business," they said.
"So is this transcript going to be kept confidential?" an attorney for a former attorney general's office staffer asked.