ST. LOUIS COUNTY — Hazel Erby, who made history as the first Black woman elected to the St. Louis County Council and held that post 15 years, died Friday (July 2, 2021). She was 75.
Mrs. Erby's family did not list a cause of death. A close friend, Council Chairwoman Rita Heard Days, said Mrs. Erby had been fighting cancer.
Mrs. Erby, a Democrat, lived in University City and represented the council's 1st District from 2004 to 2019, including time as the council chairwoman.
Mrs. Erby had spent years behind the scenes building consensus on the bill among contractors, activists and fellow council members.
In 2019, Mrs. Erby negotiated an agreement with the St. Louis Convention and Visitors Commission to assign some county hotel-motel tax revenue to help fund a new county recreation center in north St. Louis County. It was part of a deal to help fund the expansion of America's Center in downtown St. Louis.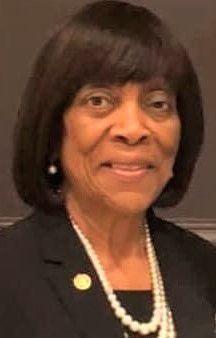 Days, who succeeded Mrs. Erby on the council, said Mrs. Erby pushed hard for racial equity throughout her career and was a strong advocate for her district. She recalled the two working together on a project to help homeless people.
"If there was any such thing as a dictionary of public servants, her name goes right there," said Days.
Since leaving the council, Mrs. Erby had been in the news because of a feud with County Executive Sam Page, a former ally and fellow Democrat.
That happened shortly after Page outmaneuvered Mrs. Erby to get the council to select him to succeed Steve Stenger, who resigned as executive after his indictment in a federal pay-to-play case.
In October, Mrs. Erby filed a lawsuit accusing the county of violating the state's whistleblower statute because she was dismissed for publicly complaining about minority exclusion in some contracts.
A Page spokesman at the time didn't comment on the suit, which was still pending Friday.
In addition to her years on the council, Mrs. Erby had been the University Township Democratic committeewoman and was a founder in 2014 of the Fannie Lou Hamer Democratic Coalition, a group of Black elected officials in the county.
Tributes to Mrs. Erby filtered in from local political figures Friday on Twitter.
St. Louis Mayor Tishaura O. Jones in a tweet called her "a trailblazer for Black women in elected office in this region."
Former U.S. Rep. William Lacy Clay, like Jones a Democrat, also used the trailblazer term and said Mrs. Erby was "a woman of courage who truly loved the community she served so well, for so long."
County Councilman Tim Fitch, a Republican, said people who knew Mrs. Erby "never had to wonder where she stood on any issue." Mrs. Erby, Fitch added, "represented her constituents on important matters without compromise."
Mrs. Erby graduated from Vashon High School and attended Lincoln University and Harris-Stowe State College.
Last year, Mrs. Erby was chosen by the University City School Board for the Dr. Martin Luther King Jr. Spirit Award.
Earlier this year, the Missouri Legislature passed a bill declaring Sept. 22, Mrs. Erby's birthday, as Hazel Erby Day.
Funeral arrangements have yet to be announced.
Nassim Benchaabane of the Post-Dispatch contributed to this report