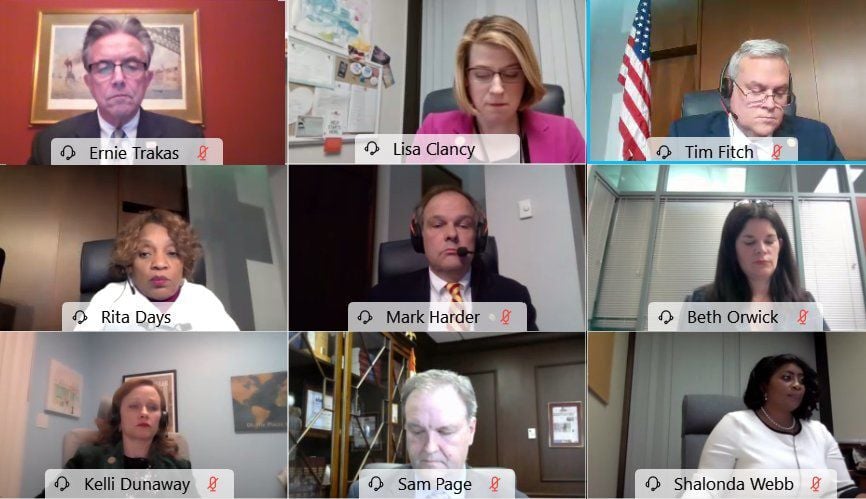 ST. LOUIS COUNTY — The St. Louis County Council was no closer Wednesday to resolving a bitter fight over leadership that derailed a meeting the night before, as members Lisa Clancy and Tim Fitch both insisted they would be in charge of the next meeting.
And tensions remained high after Fitch, R-3rd District, and Maria Chappelle-Nadal, a former state legislator and now aide to Councilwoman Rita Days, D-1st District, publicly claimed — without releasing evidence — that Clancy and an employee of the county executive's office had demanded that police officers force Fitch off the virtual Tuesday meeting. 
The leadership fight stems from the council's 4-3 vote on Jan. 5 to retain Clancy as chair in 2021. The pivotal vote for Clancy was cast by Councilwoman Rochelle Walton Gray, the District 4 Democrat who lost her bid for reelection last year. A charter change delayed the swearing-in of Gray's successor, Shalonda Webb, until Jan. 12. Fitch was one of three council members opposed to allowing Gray to vote; Webb joined them Tuesday in voting to rescind Clancy's election as chair and designate Fitch as "presiding officer" until the council votes on a new chair.
Clancy and County Counselor Beth Orwick said the move was illegal, but Fitch insisted Clancy no longer was in charge, and the meeting grew heated, devolving into name-calling and recriminations, and was abruptly adjourned.
Both factions argue they have the county charter, state constitution and parliamentary rules on their side, but Ernie Trakas, R-6th District and a lawyer, said Wednesday if Fitch, Days and Mark Harder, R-7th District, felt the council acted improperly on Jan. 5, then they should have gone to court.
"It's pretty clear to me that if I were contesting the vote I would have filed a court action weeks ago," Trakas said, "and I think the failure of Mr. Fitch and others to do so speaks for itself. … Their failure to do so clearly raises questions as to whether or not one actually believes they have a colorable, if not meritorious, claim."
Fitch, a former county police chief, said he would not seek court action because judges would be unwilling to get involved in "a legislative issue." He accused Orwick, a Page appointee to the office tasked with providing council members with legal counsel, of twisting the law to benefit Page and Clancy.
"They can disagree all they want, that's why we have votes," he said.
Asked how the argument led to the fracas Tuesday, Clancy said the council was legally bound by the charter.
"I don't think it's ideal either, but again we have to follow our charter," she said. "Our hands were tied this year."
Webb said Wednesday that she cared less about who would become chair than her being guaranteed a say in the choice.
"While some may have tried to justify this using sections of the charter that is filled with inconsistencies, no one could rationally justify the reason to vote without me," she said in a statement.
Page, who pledged in his inauguration speech Tuesday that the county would work through its political divisions, backed his council allies in a press briefing Wednesday morning.
"Relationships on the council have been strained for quite some time," Page said, "and the council is currently in a difficult position where they have followed their county charter and they have elected a chair and a new council would like to have a different chair and there is not a process to do that within the law."
"They'll be selecting a new chair next year," he said, "and I hope they can find a way to work together."
Unsubstantiated
Fitch meanwhile claimed he was told a county executive employee ordered police commanders to remove him from Tuesday's meeting.
"Lisa Clancy actually had the police called to have me removed," Fitch told KMOV (Channel 4).
But Fitch, who along with council members Harder, Days, Webb and Clancy were in their offices at the county government building in Clayton on Tuesday night, told the Post-Dispatch he was never approached by police. He declined to identify his source for his claim.
He wasn't the only one: Chappelle-Nadal, the former state representative now working for Days, made the same claim in a tweet shortly after the meeting.
"My council member @lisadclancy called the police to throw @ChiefTimFitch out of the council meeting because she lost the leadership vote. A police officer showed up and declined to arrest the former police chief who is now a councilman," Nadal said in a tweet posted at 7:47 p.m."
My council member @lisadclancy called the police to throw @ChiefTimFitch out of the council meeting because she lost the leadership vote. A police officer showed up and declined to arrest the former police chief who is now a councilman.

— Maria Chappelle-Nadal🇵🇷 (@MariaChappelleN) January 13, 2021
But Nadal said Wednesday that she only heard the claim thirdhand after seeing police officers around the council offices. She refused to identify her source: "Later on I was in an audience of people where that was stated that Clancy called officers."
A county employee did request that a police officer be present at council chambers Tuesday night, St. Louis County Police spokesman Ben Granda said late Wednesday.
"As I understand it, the dialogue was for an officer to stand by in the event a council member had to be removed," Granda said in an email.
But the request was part of a wider discussion about security at the building Tuesday for the council meeting and inauguration ceremonies, he said. The department regularly communicates with county executive staff about security, and officers present at the building were in their regular course of duty.
"That commander was present in the Council Chambers and was on stand-by, partially due to the nature of his duties and partially due to a request from another county government employee," Granda said in an email. "He took no enforcement action of any kind and did not interact with any of the elected officials with the exception of greeting."
In a statement, Doug Moore, a spokesman for Page, called the claim by Fitch "false and outlandish." He said the executive's office has been in contact with police about security at the county government building but for inauguration ceremonies Tuesday.
"Because of heightened tensions here and around the country since the insurrection last week in D.C., I think it would be irresponsible to comment about specific security arrangements," Moore said.