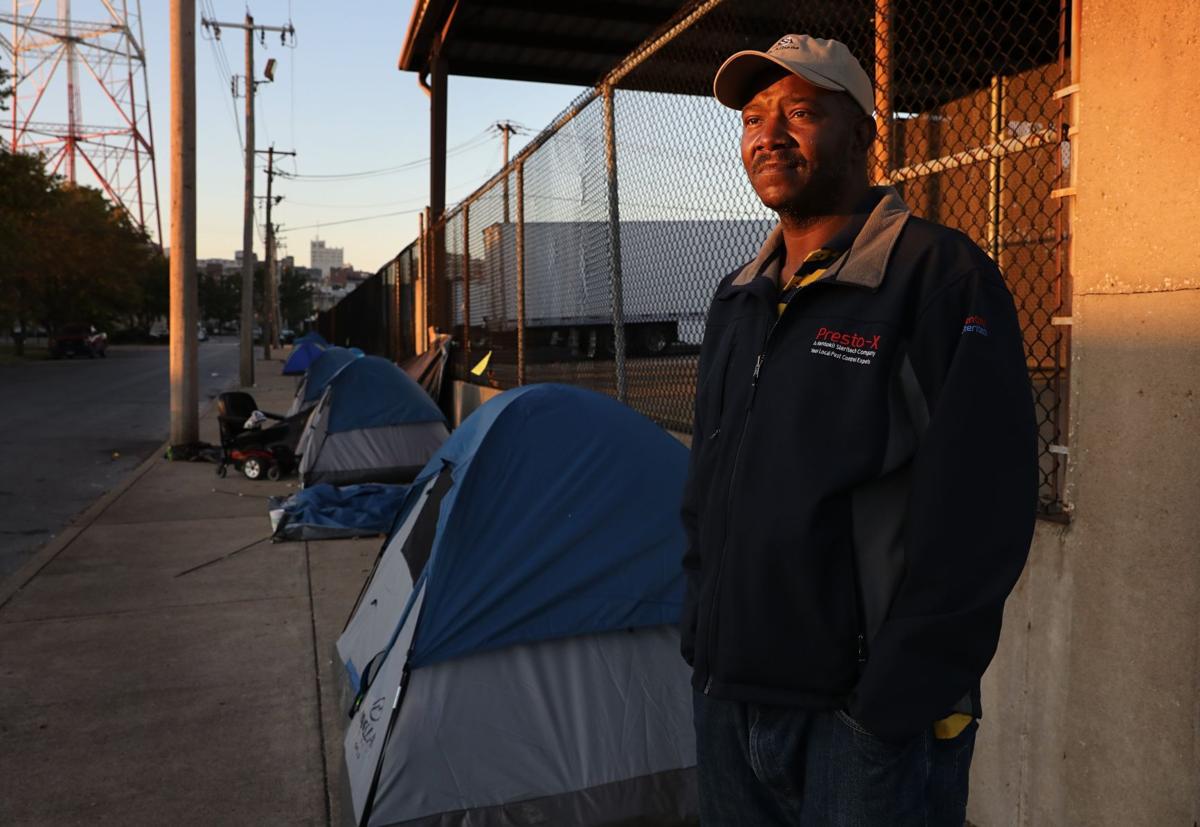 ST. LOUIS • As winter weather looms, the shelter system is full of homeless people and competing ideas are circling on how to best move forward.
Speaking to a group of nonprofit leaders Thursday, one city official cited a need for an additional emergency shelter with 200 beds to get people off the streets.
Earlier this week, the mayor's office had a different stance, saying the existing shelter system needed to be run better by moving vulnerable people more quickly into permanent housing and by drawing on the broader region for support.
Meanwhile, the city's homeless services director is leaving this month, and the human services department head post remains vacant.
The city opened Biddle House in August 2016 at Tucker Boulevard and Biddle Street as an alternative to the Rev. Larry Rice's New Life Evangelistic Center, which the city and some downtown residents fought to shut down.
"We aren't going to spend another $2.6 million on another 100 beds," Todd Waelterman, the mayor's executive director for operations, said in an interview earlier this week. "We need to figure out how to better utilize what we have."
He said there's a learning curve to running a shelter like Biddle House.
"This is something that is totally new to us," he said. "We weren't in this business a year and a half ago. So somebody has to give us a little bit of a break. You don't just fire up a new machine and say it's going to work perfectly."
As people line up for help, Waelterman remains steadfast on capping overnight shelter space at 101 beds, even though Biddle House has capacity for 185 men. He said the exceptions would be made on particularly cold and hot nights.
"It's not just about having a warm bed, but having an environment that you can function in so when you get up in the morning you can go do something and be productive," he said. "We don't function as well when we are jammed in there like sardines."
Biddle House, which is operated by St. Patrick Center and Peter and Paul Community Services, is designed to offer more than a bed. It's supposed to be an access point to community resources and housing so people don't end up in a revolving door back to the street or emergency room.
Waelterman said adjustments need to be made, particularly moving homeless people out of shelter beds and into permanent housing.
"We are fairly plentiful with food and clothing, but it's the roofs that we are missing," Waelterman said. "We need these permanent places where people can get their lives back together. That's the key to the whole thing."
Dedric Warren, 46, is among those waiting. He said he's been living at Biddle House since early summer. He said he's fortunate to receive monthly assistance from the government, which should make his case easier to process.
"I just need them to show me where the housing is at," he said of case workers at Biddle House. "They don't know."
The goal is to move people out of Biddle House and other emergency shelters within 50 days, said Irene Agustin, who runs the city's homeless services division. She said the average length of stay for emergency shelter in fiscal year 2016 was 68 days.
"Every person's issues are different, and it's just a matter of figuring that out and connecting them to the right resources," she said of working with the homeless. "You have to see it from the perspective of the client."
But after running the homeless division for two years, and helping guide some of the recent changes, Agustin will soon be focusing her energies in the Southwest. She has accepted a job with a housing and homeless consulting agency and is moving to Arizona. Her last day with the city is Thursday.
Also, the head of the city's human services department remains vacant since the departure of Eddie Roth.
"I hope to have something done in the next two to three weeks," Waelterman said of filling the department-head post. "It's a very difficult position."
On Thursday, Edwin Muhammad, a program manger at the homeless services division, announced Agustin's departure while speaking at a monthly meeting for 70 individuals and nonprofit groups that are part of the St. Louis City Continuum of Care.
Each service provider in the group — from the Center for Women in Transition to Employment Connection — has a different mission, but their shared goal is to get people housing and proper support.
There are five other networks in the region like the St. Louis Continuum. Only recently did all six start meeting to address homeless issues at a regional level.
They seek to broaden the support network to reach across the Mississippi River and to outer areas such as Jefferson and St. Charles counties.
"We are all right here," Regina Greer, of the United Way of Greater St. Louis, told the gathering Thursday about the importance of working together. "How can we leverage this to do things more efficiently?"
But Muhammad faced more immediate concerns from audience members. They drilled him about what was going to happen to the people asked to leave the tent encampment outside Biddle House. According to a city notice, the residents are supposed to be gone by Thursday.
Muhammad said work was underway to try to help them. He invited groups in the audience to offer support.
Muhammad acknowledged that it's going to take a while for regional coordination to catch up to the realities of the current demand for emergency shelter and permanent housing. He said there needed to be another "large-scale shelter" with about 200 beds until people are moved more quickly through the existing system in place.
"I know there are some that don't want to say that," he said.