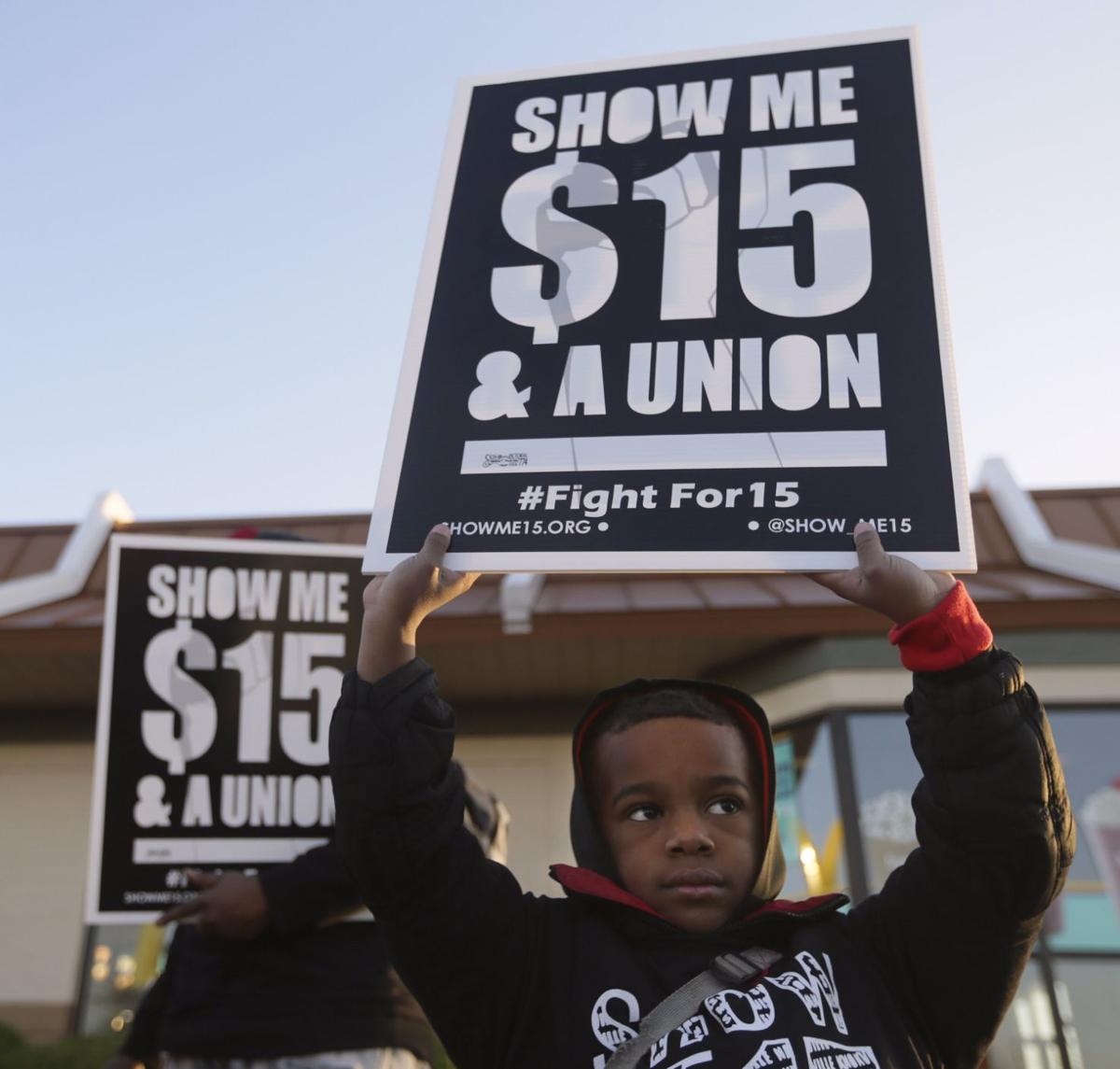 Wise, a Kansas City McDonald's worker and a leader of Fight for $15 and a Union, said he and his fiancée used to rely on public transit or ride-sharing to get to work. Now they can both afford cars.
The couple no longer receives as much assistance in the form of food stamps, something Wise takes pride in. "We like going to the store and spending our hard-earned money on food," he said.
And while he and his partner still struggle financially in some ways, overall "there has been less hungry nights in my home and we have been able to do a little more," Wise said.
Now Wise is among those fighting to keep the minimum wage growing.
A proposal sponsored by Rep. Cody Smith, R-Carthage, would slow Missouri's minimum wage increase, allowing it to reach $12 by 2026 instead of the original plan of 2023.
That was a softened version of Smith's original bill, which would have erased voter-approved language that outlined a series of minimum wage increases, effectively bringing the state in line with the federal minimum wage of $7.25 with annual increases pegged to the cost of living.
Smith said Tuesday he changed the bill in order to avoid a "philosophical" debate about the minimum wage.
Smith said he understood concerns with reversing the voters' decision, but wanted to at least give businesses more time to adjust. 
The health care industry is of particular concern, Smith said, because some nursing homes and other facilities have difficulty raising prices if the state doesn't increase Medicaid reimbursement levels. 
Smith said the state cannot always find enough money in the budget to increase reimbursements. 
"Minimum wage was never intended to be a living wage," he said. "We are talking about people entering the workforce with minimal job skills."
Other members of the committee expressed frustration that a uniform approach to raising the minimum wage makes it more difficult to operate businesses in rural areas where the cost of living is lower.
"I'm really fed up with one-size-fits-all laws, because they kill rural Missouri," said Rep. Danny Busick, R-Newtown. Laws and regulations "are voted by the people of Kansas City and St. Louis, but they don't understand what's happening" in rural Missouri.
The Missouri Legislature banned local minimum wages in 2017, annulling higher minimum wages in metro areas, before voters passed a statewide increase in 2018.
Representatives of CoxHealth at Home, the Missouri Chamber of Commerce and the Missouri Health Care Association testified in favor of Smith's proposal.
A representative of Empower Missouri testified in opposition. 
In a virtual press conference Wise hosted Monday, before Smith introduced the most recent version of his bill, he was joined by workers, faith leaders, a business owner and Rep. Rasheen Aldridge, D-St. Louis, in opposing Smith's proposal and advocating for an even higher minimum wage.
Democrats in Congress have proposed raising the federal minimum wage to $15 an hour.
Howard Hanna, chef and owner of Kansas City restaurant Ca Va, said during the press conference that paying his workers a "living wage" rather than the minimum required has helped his business by improving retention, institutional knowledge and employee commitment levels.
"More money in the pocket of low-wage workers means more money spent on local businesses," he added.
Participants in the webinar also characterized Smith's proposal as disconnected from the will of the people.
The Missouri increase was mandated by Proposition B, which was approved by voters in 2018
Overall, the state minimum, which was tied to inflation, went from $7.65 in 2015 to $7.85 in 2018 — just 60 cents an hour higher than the federal minimum wage, which hasn't changed since 2009. 
The rapid rise was the result of a ballot initiative, Proposition B, approved by more than 62% of voters in 2018.