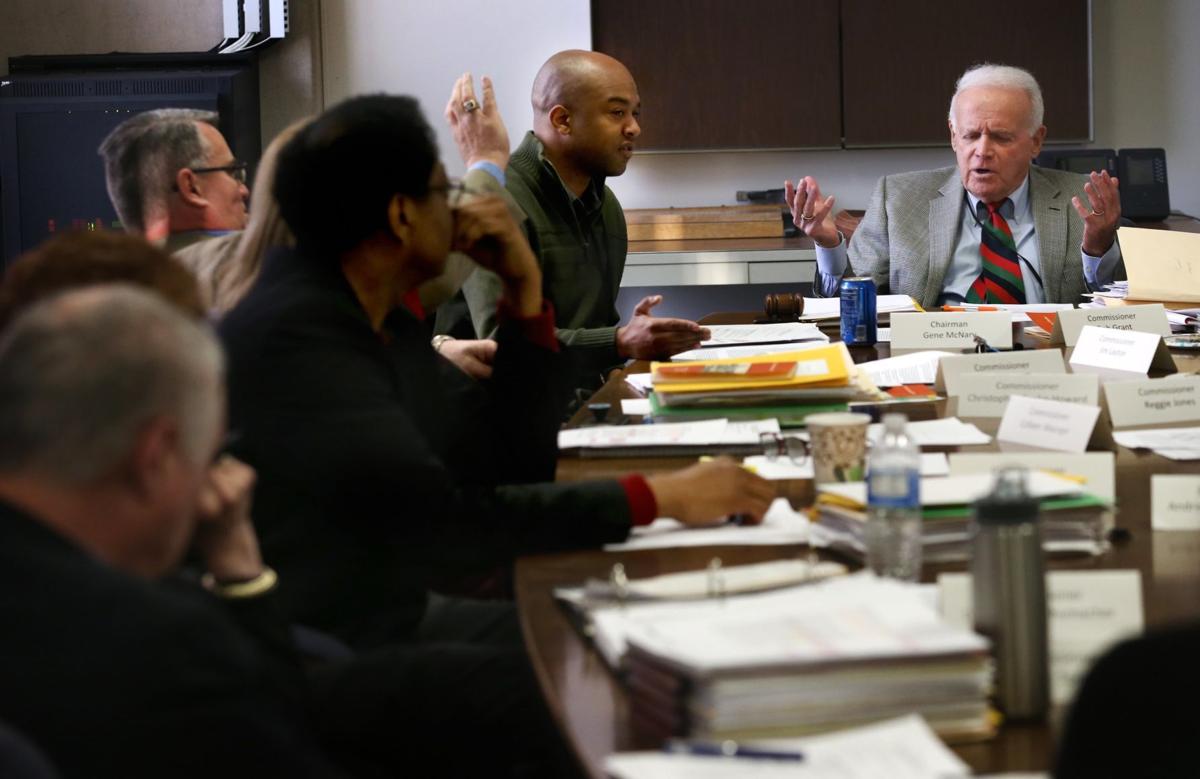 Updated at 11:55 p.m. Friday with more details
CLAYTON — Several members of a commission that spent all of 2019 considering changes to St. Louis County government never anticipated that one of the few minor changes they agreed to would be part of a County Council feud more than a year later.
Voters in August approved a slate of technical changes proposed by the St. Louis County Charter Commission, including delaying the New Year's Day swearing-in ceremony until the second Tuesday of January.
"It was just a matter of convenience that it be moved to a week or so later when things were back to normal business days," said Gene McNary, who chaired the commission through weekly meetings for most of 2019.
McNary served as the St. Louis County prosecuting attorney from 1967 to 1974, and county executive from 1975 until 1989.
"I don't know that there was ever a part of the discussion that there would be a problem with the council," McNary said.
But a year later, the date change is at the center of a bitter battle on the council over who gets to lead the St. Louis County Council.
On Tuesday, in a 4-3 vote, council members elected Chairwoman Lisa Clancy, D-5th District, to a second term as leader of the seven-member body.
Clancy prevailed over Councilwoman Rita Heard Days, D-1st District, with the crucial vote of lame-duck Councilwoman Rochelle Walton Gray, D-4th District. Without Gray's vote, Clancy and Days would have tied with three votes each.
Whether Gray should have been allowed to vote has divided the council. Gray was defeated by challenger Shalonda Webb in the Aug. 4 Democratic primary, and Webb easily won the general election. But, because of the charter change, also approved by voters on Aug. 4, Webb won't be sworn in until Jan. 12.
Gray and her supporters, including Clancy, argued Gray's term could be extended until Webb was sworn in, and pushed for a vote on the council chair. Webb and her supporters, including Councilman Tim Fitch, R-3rd District, argued the state constitution limits terms of elected county officials to four years and that Gray's term should have expired Jan. 1.
The fight underscores the division between council supporters of County Executive Sam Page, including Clancy, and Page's opponents, including Days. Page's opponents characterized the Tuesday vote as an illegal power grab, and Webb said the move disenfranchised District 4 voters.
Asked about the controversy during a press briefing Wednesday, Page said it exposed an "error" in the charter amendments proposed by the commission and approved by voters in August.
"The charter amendments by the charter commission are frustrating for a lot of people on the council. They're frustrating for everyone," Page said. "But the charter commission made these amendments. Many of the council staff were part of the charter commission and we know now that there was an error."
"I think moving forward," Page said, "based on conversation of the council members, there will be an effort to change that to make sure that the swearing-in of the council members is better aligned with the charter requirements for choosing a leader."
Clancy, while defending her push to include Gray's vote for a council chair, has said at council meetings that the charter revisions included discrepancies, indicating the council could vote later this year on further revisions to the charter that would be put before voters for final approval.
"It was kind of disappointing," Dellwood Mayor Reggie Jones said this week, "that we got caught up and distracted on other stuff … and then we didn't think entirely through things like this that we put on the ballot, and now we have this problem."
Delaying the start date of county officeholders' terms passed by a 12-1 vote, according to minutes from the charter's final meeting on Dec. 23, 2019. Council budget policy coordinator Chris Grahn-Howard formally introduced the motion, which he said was among dozens of suggestions from county officials and members of the public the commission heard during weekly meetings.
"It was really just that simple," Grahn-Howard said. "Everyone said, 'Hey, you know what — this (swearing-in officeholders on Jan. 1) is inconvenient for everybody so let's move it.' Unfortunately we never contemplated the unintended consequence."
"Who could've seen a year ago where we would be today?" he asked.
But Courtney Curtis, who was the lone vote against the motion, questioned the idea during a brief exchange at one public hearing when Councilman Ernie Trakas, R-6th District, suggested it, according to commission minutes.
Trakas — who on Tuesday was among council members who voted to elect Clancy as chairwoman and argued that the charter allowed Gray a vote — told the commission on Oct. 16, 2019 that the Jan. 1 date was inconvenient.
"It's right after New Year's Eve and so my suggestion would be to pick perhaps the second Tuesday of January," Trakas said, according to meeting minutes. "That way the new council members would immediately be seated after their swearing in and we go forward."
Curtis, a former Days aide who pleaded guilty last month to wire fraud crimes committed while he was a state representative, asked if moving officials' start date would lead to any "unintended consequences."
"...are there any unintended consequences with switching the date given that if they didn't take place, take office on the first, is there any potential business that would be missed by waiting several days potentially?" Curtis asked, according to meeting minutes.
"No, because the existing Executive and the existing Council will still be in office," Trakas responded.
"But would the Council person, they wouldn't be in office…?" Curtis said. 
"Sure they would," Trakas said. 
"Okay, so it just extends (inaudible)," Curtis said according to the minutes.   
"Move the date from the first of January to the second Tuesday of January," Trakas said. 
"OK," Curtis said, "thank you."
The exchange ends with McNary, the commission chairman, noting the change would bring the county in line with state and federal practices, and commissioner Greg Quinn, a former longtime councilman, saying he would support the move.
"...the Charter requires 48 meetings a year by the Council," Quinn said. "And typically what happens is the Council moves those dates to something that's convenient so I don't think that would have any affect at all."
Curtis this week said he eventually voted against the motion because "it was changing a tradition for no good reason."
Asked about the exchange from 2019, Trakas said it "proves" the charter change allowed Gray a vote to elect a council chair. 
"The transcript proves the Charter Commission knew that the prior Council member terms extend to allow the prior members to elect the new chair," Trakas said. "As Mr. Curtis said at that meeting, the terms 'just extend.' And that's exactly what happened earlier this week." 
Attorney James Layton, who served on the commission, publicly apologized for the discrepancy before the vote on Tuesday.
"In retrospect," Layton told the Post-Dispatch this week, "we probably should have changed that date (the election of a council chairman) as well but we didn't make that proposal. It does make sense that the two would be coordinated."
Layton, a veteran of the Missouri attorney general's office now in private practice, said that if Gray's term ended Jan. 1 as her opponent argues, then the question would be whether council considers her seat vacant or nonexistent until Jan. 12. While the Missouri Constitution limits county terms to four years, it also stipulates that vacant offices are held until a new officeholder is sworn in.
"That's the question," Layton said. "But I don't have a definitive answer."