Data compiled by the group from Federal Election Commission reports indicate that about $23 million has been spent so far, slightly over half of it by groups aligned with Democrats.
McCaskill's campaign, citing media reports on top of the CRP-analyzed data, estimates that at least $37 million has already been spent in Missouri outside of the campaigns of McCaskill, Republican Attorney General Josh Hawley and independent candidate Craig O'Dear. That spending, which includes harder-to-trace "dark money," outpaces the combined amount of money raised by those three candidates for their own campaigns, and is on a pace to set records for Missouri Senate races.
Of the $23 million reported to the FEC and analyzed by the Center for Responsive Politics, $13.5 million has been spent to aid McCaskill, roughly $9.5 million to aid Hawley.
The flood of outside money guarantees that Missouri's airways will be saturated with Senate-race advertising over the next eight-plus weeks. St. Louis Public Radio, citing reports to the FCC, reported this week that St. Louis stations alone are running at least $500,000 worth of Senate ads each week.
Heavy spending
About 44 cents of every dollar of the $23 million analyzed by the Center for Responsive Politics has been spent on advertising to boost McCaskill by the Senate Majority PAC. It is affiliated with McCaskill's colleague, Democratic Senate Leader Chuck Schumer. That "Super PAC" has spent more than $10.1 million so far, according to the CRP data, and it plans to spend at least an additional $9 million in Missouri over the last two months of the campaign.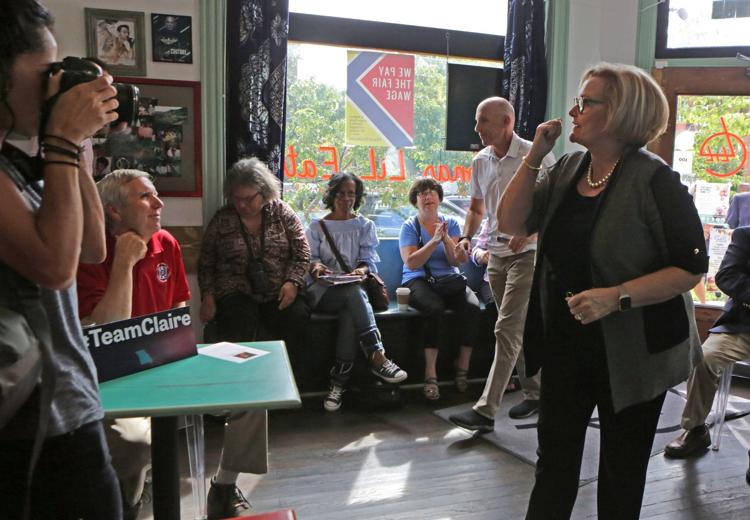 The Schumer PAC, like many, also has a nonprofit "dark money" affiliate, Majority Forward, that is also expected to spend in the state. By law, McCaskill and Schumer cannot discuss the outside spending.
That major expenditure has come amid Hawley's attempts to tie his opponent to Schumer, a liberal New Yorker who is a close friend of McCaskill's. She paid for a vacation for Schumer and his wife to join the McCaskill family in Mexico in 2016.
"It's not surprising that Chuck Schumer is spending tens of millions of dollars to keep Claire McCaskill in the Senate," Hawley told the Post-Dispatch. "She votes with him nearly 90 percent of the time. When it comes to building a wall, supporting conservative judges and cutting taxes, she is with Chuck Schumer and against Missouri."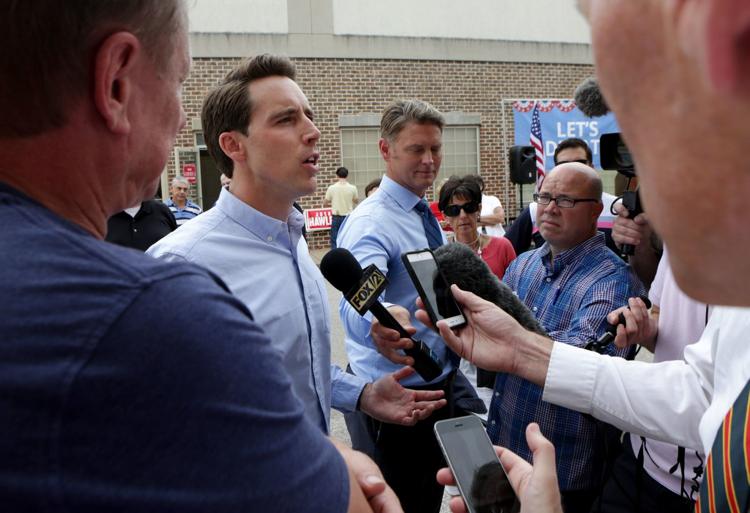 According to the CRP analysis, the National Republican Senatorial Committee has been one of the biggest spenders for Hawley so far, laying down almost $4 million praising him or attacking McCaskill. That committee taps top Republican donors as well as rank-and-file givers to help Republicans get elected to the Senate.
"Certainly he has moments when he is not (bipartisan) and I tell him so," McCaskill told the Post-Dispatch this summer. "In fact I have told him to be quiet and quit getting his mug all over television, that he is not always helpful."
"I support public disclosure of these donors and campaign finance reform, my opponent does not," she added. "I have been clear with Missourians that if they can't figure out who paid for an ad, then they should ignore it — whether that ad is for me or against me."
Chris Hayden, a spokesman for the Schumer-related PAC, said claims that the heavy spending had made McCaskill beholden to Schumer were belied by McCaskill's actions.
"Claire has shown through her record she is an independent senator through her votes," Hayden said. "She stands up to anyone."
The amount of outside spending in Missouri is reflective of the pivotal role Missouri plays in the control of Congress in 2019. Democrats have a chance to take the U.S. House, but their road to control of the Senate is rockier. The seat now held by McCaskill is an important part of any Senate-control equation.
"Missouri is attracting a lot of outside spending because it has been seen by leaders of both parties as a seat where a Democratic incumbent could be defeated, and that a defeat of McCaskill could help the Republicans hold a slim majority in the U.S. Senate," said Dave Robertson, head of the Department of Political Science at the University of Missouri-St. Louis. "That matters a lot because only the Senate confirms presidential nominees for positions in the Cabinet and on federal courts."
On the national radar
Missouri's idiosyncrasies as a swing state turning red, and McCaskill's outspokenness and resiliency in that tide, had put the Show-Me State's 2018 Senate race on the national radar even before the election of President Donald Trump. Whispers of Democratic impeachment of Trump if they win the House make it an even bigger target because senators act as judges in impeachment proceedings.
"PACS have had more time and strong motives to put money into this race, and both parties have done that," Robertson said.
But, he added, "Schumer's party leadership matters more than his friendship with McCaskill because the outcome of the Missouri race could determine whether Schumer remains the Senate minority leader or becomes the Senate majority leader."
But in the eyes of some voters, the heavy Schumer-related PAC spending could be problematic, said Jeremy Walling, a political scientist at Southeast Missouri State University.
"(McCaskill) and the party can both claim the ultimate purpose was holding the seat and that no expectations extend beyond Nov. 6, but any teenager borrowing Dad's car knows there are strings attached," Walling said.
He said that the Schumer-related PAC's heavy involvement was reflective of three things: that Democrats view Hawley as a "legitimate threat," that they view the race as winnable for McCaskill and that they also "recognize that Claire has a tough battle ahead."
As of Friday, the CRP said that more than $310 million has been spent by outside groups in U.S. House and Senate races.
The $23 million identified in Missouri by the CRP outpaced spending in other pivotal Senate contests, including Wisconsin ($19.2 million); West Virginia ($16.1 million); Florida ($15.4 million); Indiana ($12.4 million); and Montana ($12 million). Like Missouri, all those states have Democratic incumbents facing re-election in states that Trump won in 2016.
Outside spending is even more crucial for Republicans because McCaskill has raised more than four times what Hawley has raised for their respective campaigs. The latest FEC reports, as of July 18, showed that McCaskill had raised roughly $22.8 million and spent $16.2 million in her own campaign. Hawley had raised $5.3 million and spent just under $3 million. O'Dear raised about $454,000 and spent $314,000.
Outside spending is on a pace in Missouri to surpass that spent in Republican Sen. Roy Blunt's 2016 victory over former Democratic Secretary of State Jason Kander. Two years ago, outside groups spent about $51.3 million in Missouri, according to the CRP, the seventh-most expensive state.