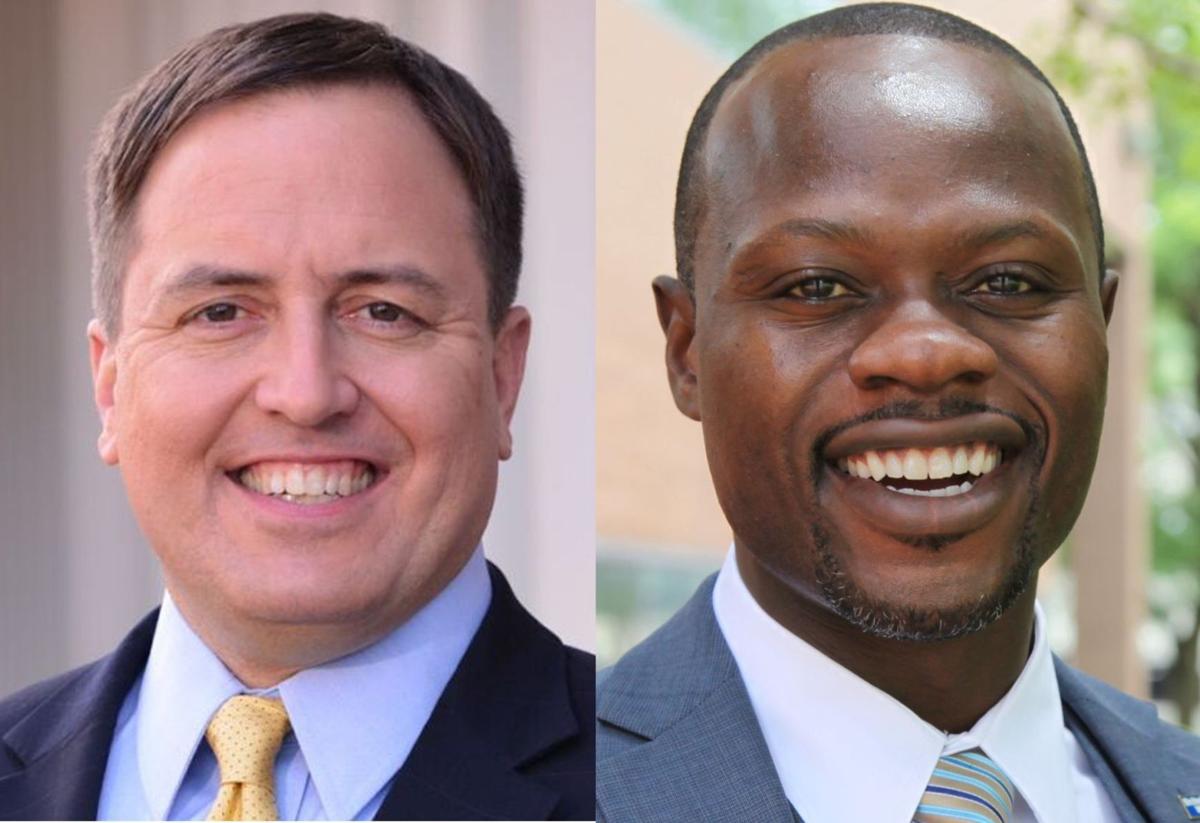 JEFFERSON CITY — Two candidates vying to be the state's top election official disagree on how easy it should be to change the state constitution, with Democrat Yinka Faleti advocating for the status quo while Republican Secretary of State Jay Ashcroft says the process should be more difficult.
The difference is just one of many as voters weigh whom they want as secretary of state for the next four years.
"I want it to take a supermajority to pass something," Ashcroft told the Post-Dispatch, noting that a small percentage of the overall number of registered voters is able to amend the constitution in a low-turnout election.
Missouri's constitution allows passage of amendments if a simple majority approves. Unlike statutory changes, the Legislature doesn't have the ability to alter constitutional amendments.
In recent years, legislators have debated lifting the threshold for approval. A proposal this year, which would require voter approval before taking effect, would have required "yes" votes from 66% of voters in order to amend the constitution.
That threshold would have killed the effort to expand Medicaid, which passed with 53% support in August. The effort to legalize medical marijuana would have also been snuffed out after garnering 65.6% of the vote two years ago.
Faleti, 44, is a U.S. Army veteran, attorney and first-time political candidate. He lives in St. Louis' Central West End neighborhood and said he would defend the initiative petition process currently in place.
He blasted Ashcroft's handling of previous initiative petitions, highlighting the incumbent's move to expedite the verification of signatures for the Medicaid expansion question. That allowed Gov. Mike Parson to move the question from November to the August ballot, when fewer voters turn out.
"The secretary of state should be, is supposed to be, someone — like an umpire — just calling balls and strikes," Faleti said. "Not trying to cause a petition to fail because they don't like it. Not trying to cause it to pass because they do like it."
On early voting
The Legislature this year approved — and Parson signed — a measure that provides a pandemic-related excuse for absentee voting for at-risk groups, and a mail-in option open to every voter. That expansion is temporary, expiring at the end of the year.
Ashcroft said his experience conducting elections during the COVID-19 pandemic had caused him to reconsider his position on no-excuse absentee voting.
"What I have seen this year has reinforced that the best way to do it is to have people (vote) in-person," Ashcroft said. "But, I think we also have a lot of data on absentee in-person this year, and so far I think the absentee in-person process has gone very smoothly.
"I think I have a responsibility to go through that data and say, 'OK, is this going to change my position?' because maybe the data points to a different outcome than I believed," he said.
Faleti has based much of his platform on making voting easier.
"Even Kansas — Kansas — Kansas has early voting," Faleti said. "And Missouri does not have early voting. That just gives you some perspective on how backward … how we're still voting as if we're in the early 1900s."
Faleti said he wanted to implement no-excuse absentee voting, "meaning that folks who are ready to vote, they can vote in advance of the election but they don't have to have a legal excuse."
In another break with Ashcroft — who has criticized vote-by-mail options, in part because of a possibly unreliable U.S. Postal Service — Faleti said the state should allow vote-by-mail options, and not just during the COVID-19 pandemic.
"We ought to have vote by mail all of the time," he said. "So many of our sister states — states like Colorado, Washington, Oregon, so many others — have vote by mail."
Ashcroft, after an adverse ruling by the Missouri Supreme Court earlier this year that gutted a law requiring photo IDs at the polls, said in an interview "we ought to look at how we do judges in this state."
The Missouri Supreme Court is subject to the state's nonpartisan court plan, approved by 54.6% of voters in a 1940 constitutional amendment to reduce political influence in the selection of judges.
Both candidates said they would work to improve lesser-known functions of the secretary of state's office, such as business services and grants to local libraries.
Besides Auditor Nicole Galloway, who is running for governor against Gov. Mike Parson, Faleti is the only Democrat running for statewide office who has kept pace with Republican incumbent fundraising efforts.
Faleti's campaign raised $196,000 in September and entered October with $436,000 on hand, according to the Missouri Ethics Commission.
Ashcroft, son of former Missouri governor and senator John Ashcroft, raised $49,000 in September and entered the final month with $409,000 on hand.
While Ashcroft spent less than $8,000 last month, Faleti burned through more than $70,000.
The Committee For Liberty PAC, which supports Ashcroft, had $97,000 on hand at the end of September after spending only $1,500 last month. It didn't report any new fundraising last month, according to the ethics commission.
Editor's note: a previous version of this article misstated when voters approved the state's nonpartisan court plan.
Get Government & Politics updates in your inbox!
Stay up-to-date on the latest in local and national government and political topics with our newsletter.