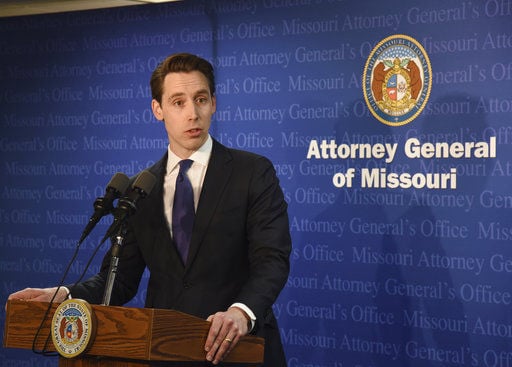 JEFFERSON CITY • In January 2017, Josh Hawley became the first Republican to lead the Missouri attorney general's office in a quarter century. Hawley was going to take on the federal government. He was going to shake up his office's organization chart.
His employees were bracing themselves.
Critics say Hawley's administration bled staffers and dedicated limited resources to firing salvos toward the federal government. They say he carried a lighter load than his predecessors.
Seven lawyers interviewed by the Post-Dispatch described a turbulent transition from Democratic Attorney General Chris Koster to Hawley, triggered in part by his overhaul of the office. Former staffers complain of low morale.
"You don't come in and shake it up just for the sake of shaking it up," said Bernard Rhodes, a partner at the Lathrop and Gage law firm who has worked with the agency off and on for 30 years.
Hawley is running for U.S. Senate against incumbent Sen. Claire McCaskill, a Democrat. In an interview, he said he "streamlined" the chain of command and said that after 25 years without big changes, the office needed a shake-up.
In 2017, Hawley's first year, 98 employees left the attorney general's office, according to state data obtained by the Post-Dispatch.
The rate of departures has not slowed since then.
As of Oct. 1 of this year, 81 additional employees had left the attorney general's office, the data show.
For comparison, 79 and 84 employees left the attorney general's office in 2014 and 2015, respectively. In 2016, 70 employees left the office; 16 of those departures took place after the November election that year.
Mary Compton, spokeswoman for the attorney general's office, said fewer people departed during Hawley's first year than in 2009, Koster's first year.
"As is typical during any change in administration, there was staff turnover" after Hawley took office, she said in a statement.
But much of the turnover Koster faced was due to employees' leaving the agency to work for Gov. Jay Nixon, Koster's predecessor as attorney general who was elected governor in 2008.
According to the data, 47 percent of the employees who left during Koster's first year took jobs in other state agencies or offices. Only 22 percent of the people who left the office in 2017 went on to work for the state.
"You sort of expect it's going to be chaotic for the first three months, and then it became through six months, and then it was the first year," said one former attorney, who spoke to the Post-Dispatch on the condition of anonymity for fear of retaliation.
The newspaper spoke to a second former attorney who also insisted on anonymity; a third former attorney corroborated their accounts. A fourth attorney, who still works in the office, also spoke on the condition of anonymity for fear of being fired.
The fourth attorney said Hawley was more hands-off than his predecessor.
"I think the attorney general position is being short-changed, without question," the attorney said.
The first attorney added that Hawley's litigation section was plagued by departures and one particularly bad hire, Michael Quinlan, who left after less than a year.
Quinlan, who said he led the litigation section from March to November 2017, said there was a "mass exodus" of high-ranking Koster loyalists during Hawley's early days. Quinlan blamed other departures on attorneys' being underpaid and overworked. He said that once young attorneys gained experience, they left.
But, Quinlan said, "I'm not going to answer any questions about the reason for why I left."
Former staffers said low salaries existed before Hawley. They blamed high turnover in 2017 and 2018 on office tumult.
Of nine divisions, Hawley scrapped one: the environmental and agricultural division, set up in 1993 to prosecute illegal polluters. He established two sections — civil and criminal — and divvied up the remaining eight departments between the two.
Before he took office, "we proliferated a lot of management, a lot of layers," Hawley said. "And, frankly, there were a lot of folks in" the main Jefferson City office "who didn't seem to be carrying much of a caseload but were drawing a healthy salary."
Transition
Andrew Hirth, deputy general counsel for Koster, said that after the 2016 election, Hawley's transition team gave employees little guidance about their futures.
In two emails from Hawley to the staff, Hawley offered no hints as to his plans. One email came right before Thanksgiving 2016, the second before Christmas. In the Dec. 23 email, he said he was conducting a "thorough review" of the office, but again offered no specifics. Hawley's inauguration was 17 days after the email was sent.
They weren't "really being clear about" what they were planning, said Hirth, who started a Democrat-allied law firm in Columbia with two colleagues instead of angling to stay. (McCaskill's campaign paid Hirth's firm, TGH Litigation, $2,500 in April for legal services.) "The result of that was that he lost a tremendous number of very good, experienced people before he even took over."
Among the most controversial new hires: Loree Anne Paradise and Daniel Hartman. Paradise says in an online resume that she graduated law school in 2016; Hartman says he graduated in 2014. Both worked on Hawley's 2016 campaign.
Paradise and Hartman earned two of the agency's top 20 salaries last year, records show.
Of four deputy solicitors general in Hawley's Federalism Unit, one makes $110,000 per year and the three others make $95,000. The most experienced of the four graduated from Notre Dame Law School in 2009.
"In any large organization, there's going to be salary jealousy," said Joseph Bindbeutel, who worked for three attorneys general. But, he said, it was "staggering" that so many relatively inexperienced lawyers are making so much money.
Under previous attorneys general, "experience and how much you have done for the office had a lot to do with how much you were paid," he said. He said paying newcomers so much was "in direct conflict with any kind of a merit system."
The effect of departures, low morale and restructuring may have manifested itself in the courtroom. At least two judges have scolded the agency for failing to provide documents to opposing counsel.
"They (office leaders) were just throwing lawyers at things because they didn't seem to have any organization," said Rhodes, whose client sued the state over an open records dispute. Rhodes said his dealings had since returned to normal.
Not every observer blasted the attorney general's office.
Attorney Al Watkins said he had had productive dealings with Hawley's office.
"The proverbial contrast between night and day is appropriate," Watkins said. "Koster's office, in my opinion, was punctilious in its commitment to secrecy, non-responsiveness, sloppiness and overt opaqueness."
The Federalism Unit
Hawley launched the Federalism Unit after taking office. He lists on the attorney general's office website 14 actions he has taken to torpedo federal laws and regulations.
"The Federalism Unit works to limit how the federal government and overregulation interferes in the lives of Missourians," Compton said in a statement. "The Unit fights to protect the interests of Missouri's farmers, small business owners and workers."
Former employees say the emphasis on federal issues diverted attention away from state business.
"The sort of, day to day, defending the state against lawsuits or consumer protection suits or things like that — are de-emphasized and under-resourced," the first attorney said.
Four deputy solicitors general who prepare the unit's cases are Julie Blake, Zachary Bluestone, Joshua Divine and Peter Reed.
U.S. Supreme Court Justice Brett Kavanaugh taught Bluestone at Harvard Law School, where Bluestone graduated in 2016. He is a member of the conservative Federalist Society, a nationwide network of lawyers known for grooming conservative jurists.
On July 19, Bluestone signed a letter to Senate Judiciary Committee Chairman Chuck Grassley, R-Iowa, in support of Kavanaugh's Supreme Court nomination.
The James Wilson Institute published a biographical blurb last year for Bluestone that says he is "interested in foreign relations and national security law and related separation-of-powers issues."
Reed graduated from Notre Dame Law School in 2012, according to his LinkedIn page. Divine graduated from Yale Law School in 2016, according to his LinkedIn page.
Among the actions Missouri's Federalism Unit took was to join a coalition of states in urging a federal court to strike down the Affordable Care Act, also known as Obamacare for then-President Barack Obama. If the lawsuit is successful, McCaskill says, Missourians will lose protections for pre-existing conditions and other pro-consumer benefits mandated in the ACA.
The unit also sued to stop an Obama-era "critical habitat" regulation for endangered species, voiced its approval of national concealed carry legislation, took aim at several environmental protections, filed a brief arguing the Consumer Finance Protection Bureau is unconstitutional, and challenged Obama-era overtime rules.
Koster did sometimes take action against the federal government. In 2015, he sued the EPA over its Clean Power Plan and its so-called Waters of the U.S. regulation. But Koster never maintained a unit dedicated to that specific purpose, his staff says.
Suing the federal government "certainly wasn't my focus," Koster's predecessor, Jay Nixon, a Democrat, said in an interview.
The new unit raised eyebrows among former staffers.
"We're supposed to enforce the laws of the land — state, and federally if they apply to us," said Jessica Blome, a former assistant attorney general under Koster. "People don't work for the attorney general's office in order to dismantle or get rid of those laws. They're there because they believe in them."
Work habits questioned
During a recent meeting with the Post-Dispatch editorial board, McCaskill complained that Hawley's work habits were lacking.
"He has had his staff sanctioned by judges for not doing their work. Obviously kept a light schedule by virtue of what we know," she asserted.
Hawley's office did not directly answer whether the attorney general was putting in 40 hours per week or whether he was increasingly absent as his Senate campaign heated up.
"The Attorney General is in the office on a regular basis," Mary Compton, his spokeswoman, said in a written statement. "When not in the office, he conducts official business by phone multiple times a day and always has remote access to the Office's computer network, which he uses to draft, review and approve legal documents and other Office business."
The attorney who still works in the office said Koster worked harder than Hawley. "Koster was a nose-to-the-grindstone kind of guy," the attorney said.
The Post-Dispatch reported last year that Hawley had not moved to Jefferson City as did previous attorneys general, in possible violation of state law. He rented an apartment in the capital after the report.
From St. Louis to Jefferson City to Washington D.C., join our journalists as they take you behind the scenes on the campaign trail and share s…