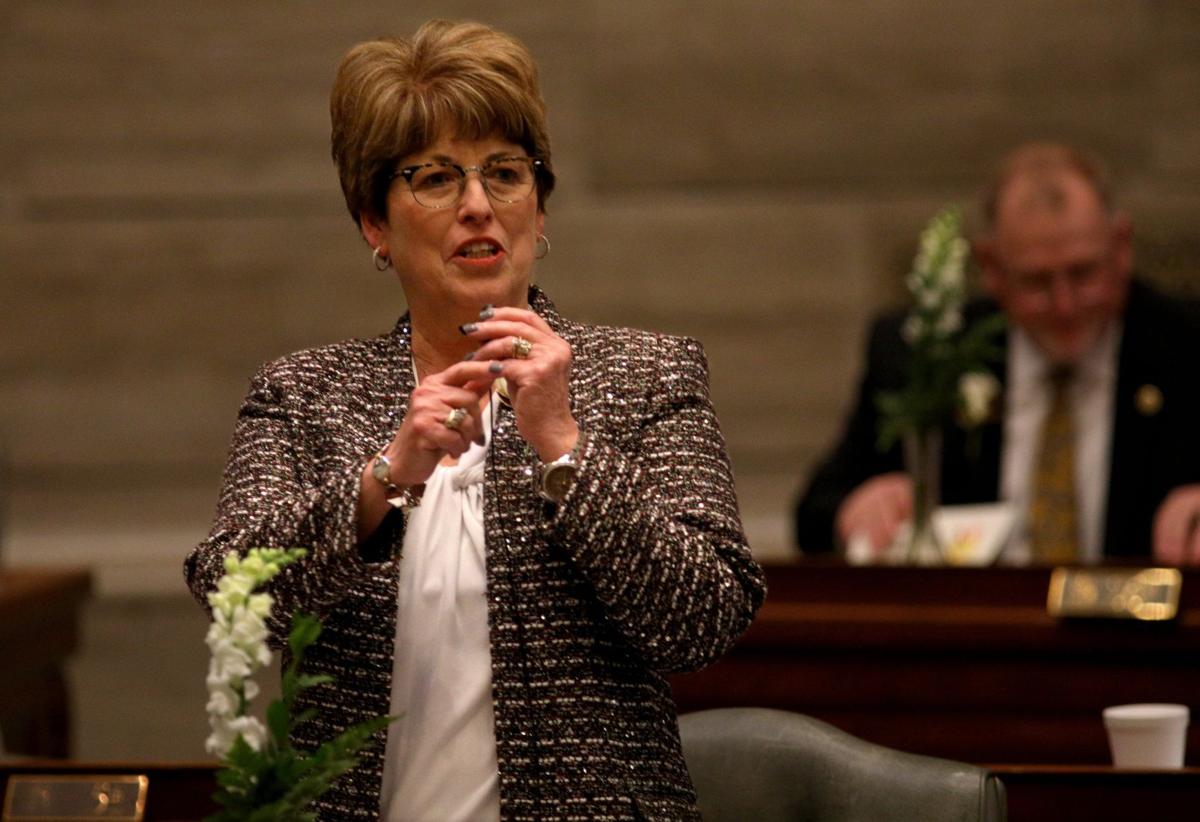 JEFFERSON CITY — Two top Republican initiatives have stalled in the Missouri Legislature largely due to the ongoing illness of one member of the Senate.
Sen. Cindy O'Laughlin, R-Shelbina, has pneumonia and has not been in the Capitol for three weeks.
Her chief of staff, Fred Barnes, said she's tested negative for COVID-19 multiple times, but she remains unable to return to work, where she represents a key vote on legislation that would give businesses and churches protection from lawsuits related to the coronavirus.
The COVID-19 liability legislation is Gov. Mike Parson's top priority.
O'Laughlin also is the sponsor of a number of school-related proposals that are a top priority of Senate Majority Leader Caleb Rowden, R-Columbia. Without her in the building, the push to expand charter schools in Missouri is on hold.
It remains unclear when she will return.
"She's on the mend," Barnes said Wednesday.
The House has already lost one week to coronavirus-related concerns, and the Senate has had multiple members in quarantine or isolation due to the pandemic.
The Senate had been expected to give the measure final approval last week, which would put the proposal in the hands of the GOP-controlled House before heading to Parson.
But the measure remains stalled in the upper chamber.
Under the measure, a plaintiff must clearly prove an entity or individual acted with reckless or willful misconduct that caused exposure to COVID-19. In most cases, the lawsuits must be filed within one year of an alleged exposure.
But in order to go into effect immediately, the legislation must win the support of 24 senators. O'Laughlin represents that 24th vote, meaning if any other Republican strays, the so-called "emergency clause" will fail, assuming that Democrats remain opposed to the measure.
During his State of the State address, Parson urged lawmakers to make a bill like that be the first one to hit his desk this session.
That honor, however, went to a budget measure that will provide $324 million in federal rental assistance to people affected by the pandemic.
A spokeswoman for the governor said Parson continues to believe the lawsuit prohibitions are important.
"COVID liability continues to be a priority for Governor Parson, and he appreciates the attention it is getting in the General Assembly. The Governor's Office will continue to be involved in this discussion and will provide input when necessary," said Kelli Jones.