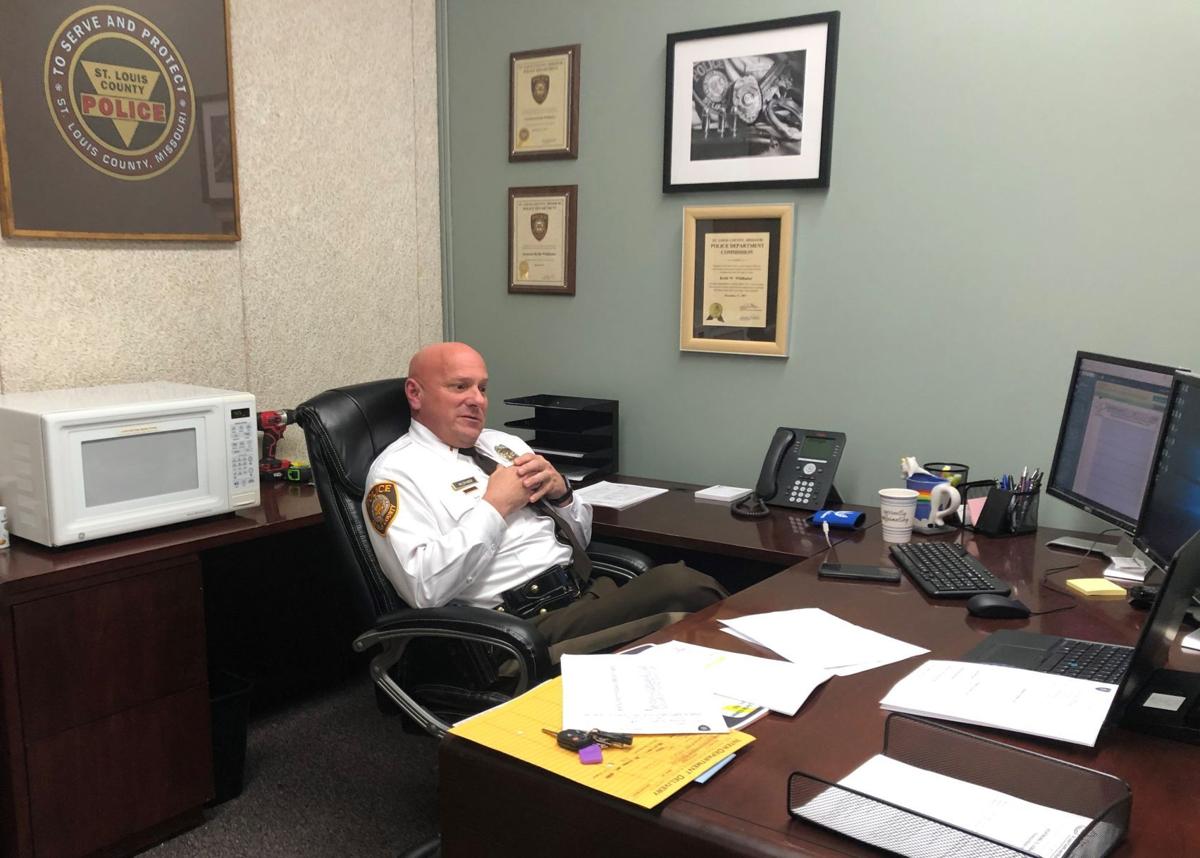 In his first public comments since signing the deal on Monday, he said he was happy with his new job as commander of the department's new diversity and inclusion unit that was designed to help the department treat its employees and the diverse communities they serve more fairly. "I've got 26 years in. I want to finish my career on my terms."
He said he has no special plans for the windfall, other than to take care of his mother, brother and sister, who live in the St. Louis area. The county agreed to pay Wildhaber $7 million within 60 days, and another $3.25 million by Jan. 31, 2021. After his lawyers are paid, he will clear $6.5 million.
Wildhaber, 47, sued the department in 2017 after he had been passed up for promotion 23 times and told to "tone down" his "gayness." Testimony in a five-day trial in St. Louis County Circuit Court in October revealed that after he filed an EEOC complaint in 2016, he was transferred to a precinct far from his home.
He said he was "floored" when the jury awarded him nearly $20 million, including $17 million in punitive damages. Wildhaber and the county agreed on the reduced award after mediation sessions. He said he thought his attorneys tried "a very good case" and he was "expecting the verdict, but not that amount."
"It's a lot of money, more money than I ever thought I would have," Wildhaber said. His salary is $87,152. He said he was happy with his house in south St. Louis County and didn't need a new car. "I'm going to invest wisely and make sure my family is taken care of."
The settlement was finalized hours after Jon Belmar announced his retirement as county police chief. On Wednesday, the Board of Police Commissioners convened and excluded the public from a three-hour discussion. Later, it released a schedule for a series of forums to gather public input on how to select Belmar's successor.
During the delay, reporters from the Post-Dispatch and St. Louis Public Radio interviewed Wildhaber, whose office is across the hall from the police board. Belmar appeared briefly in an adjacent hallway, but declined to take questions.
Wildhaber said he had been out as a gay man for about half of his career. "There was a lot of time I just stayed in the closet, really for personal reasons.
"I had never even told my own family that I was gay," he said. "My mother found out when I filed the lawsuit and it made it onto the TV. She told me ... she had woke up and she was making her coffee and she saw my picture on the TV and thought, oh my God. Something happened to him last night and they hadn't called her yet. She said the story came on and it was a whole lot about nothing. So that was her way to tell me that she was OK ... that I was gay."
Wildhaber said that as a sergeant, he had scored highly on promotional tests and should have been selected for lieutenant.
"I let it go on for two years, for ... two or three promotional processes I saw myself not being promoted. April 1, 2016, it finally comes to a boiling point for me and I went down to the federal building and they made the EEOC complaint."
Wildhaber said the department had some rebuilding to do, although not everyone in the department agreed there was a problem.
"There are some who think there weren't any issues at all in the department, that everything was great," he said. "And there are others … who felt marginalized."
Asked if it was uncomfortable for him to work with people who discriminated against him, Wildhaber said, "I can't let that bother me. ... If somebody gives me a side-eye, I can't let that affect me."
Wildhaber said he was focused on learning how to promote diversity in the department. He said he had spent some of Wednesday looking through policies and procedures. "There is a language lacking in a lot of them that can lead to discrimination and lawsuits," he said.
Another task is trying to understand why officers leave the department. Some leave for higher-paying jobs, and "you don't want to hold those guys back. But if we're losing people because they don't feel like they have equity here or they're not being included, then we want to try to mitigate that."
Wildhaber said he and his only staff member, Sgt. Justin Nichols, will be traveling to Houston for training and will become certified as inclusion and diversity trainers.
He said he could not comment on whether Belmar's successor should come from inside or outside the department. As for Belmar, he said, "I wish him well in his retirement."
"We're a good, solid department. Do we have issues? Yeah, I think all organizations the size we are are going to have some internal issues. … We have some great internal candidates but that will be up to the Board of Police Commissioners."
Wildhaber acknowledged that he has been under scrutiny in the department since Belmar installed him as the commander effective Jan. 1. He said he heard "I wasn't the right pick for this unit, or there wasn't a selection process for this unit but I don't know how they could have done it any more fairly.
"I come to work, I've got a job to do and a ton of work to do and I can't let that dictate how my workday goes. I spend a little more on lunch than I would have in the past, but that's about the extent of it."
Wildhaber said both he and the county were motivated during mediation sessions "to put this behind us. It never got to the point where we were flipping tables over and throwing chairs. It was very, very professional. … I think both sides walked away feeling like they got the best deal."
He said it was initially frustrating when the county argued in his case that it was legal to discriminate against gay people. "But then I understood where (County Executive Sam) Page was coming from. He has to look out for the taxpayers' money. If the way they interpreted this lawsuit, the way the laws were on the books … then I think he had to do what he had to do."
He praised Page's shake-up of the police board and the county executive's comments on Monday acknowledging that Wildhaber had suffered and that the hefty verdict should serve as a warning.
But Wildhaber said he was upset about a lack of support from LGBT advocates. "I had heard nothing from any of them through the process," he said.