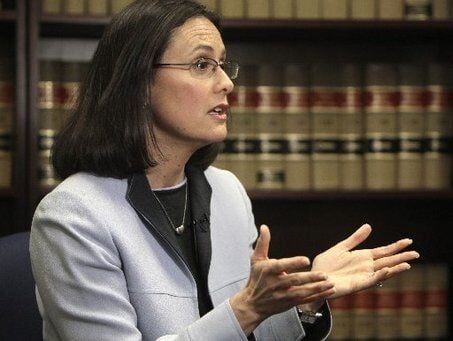 Illinois has operated without a standard state budget for more than 18 months now, primarily because of an ongoing feud between Republican Gov. Bruce Rauner and Democratic House Speaker Michael Madigan.
Part of the reason the feud hasn't been resolved is because the state has been able to continue paying for essential services due to a July, 2015, St. Clair County court order. That order requires the state to continue paying state workers despite the lack of a budget.
Were the order rescinded, those state workers couldn't be paid, essential Illinois services would grind to a halt — and, some believe, Rauner and Madigan would be forced by public outrage to quit the gamesmanship and reach a budget agreement.
Now Illinois' attorney general says she is trying to force exactly that outcome, by asking the St. Clair County court to rescind its own order.
Her rationale is that the court order is shielding the state's leaders from the consequences of their spat and that getting rid of it would force them to act.
Does it sound like the state's chief legal official is taking a whack at out-of-control politics? Maybe.
But that story line is complicated by one factor: The attorney general in question is Democrat Lisa Madigan — Speaker Madigan's daughter.
That has led some Republicans to hint that it's not so much an attempt to end the impasse as a strategy to help the Democrats win it.
"I hope this is not a direct attempt to cause a crisis," Rauner said last week—which of course is the politic way of accusing someone of attempting to cause a crisis.
Rauner, as quoted in the Chicago Tribune, went on to speculate that the motive might be "to force a shutdown of the government, to force another stopgap spending plan, short-term, unbalanced, incomplete, as a step to force a tax hike without any changes to our broken system."
Madigan, in her filing with the court, insists that her motive is to apply pressure to both sides.
The judge's order, she argues, "has allowed the legislative and executive branches to fail to fulfill their constitutional duties without facing the real threat of a government shutdown." She's asking the court to give the two sides until Feb. 28 to come to an agreement before lowering the ax.
"Despite all the chaos in state government in the past two years, the people of Illinois have been able to count on state employees being on the job to serve them. The last thing Illinois needs is the further instability that blocking state payroll could cause." —Anders Lindall, spokesman for the American Federation of State, County and Municipal Employees in Illinois.