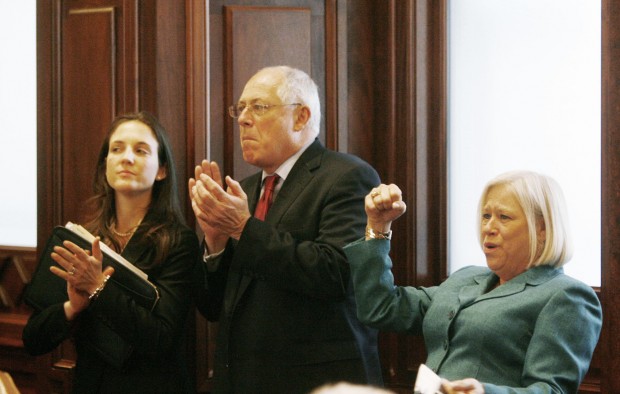 SPRINGFIELD, Ill. • Illinois next year will become the 11th state to sanction same-sex couples, after the Legislature's passage Wednesday of a "civil union" bill that supporters say is a landmark human rights advancement and opponents say is an attack on traditional marriage.
The law will take effect June 1, after it's signed into law by Gov. Pat Quinn, a vocal supporter.
Its passage, after years of debate, spawned political and religious showdowns around Illinois Wednesday — including a rare public tiff between the governor's office and the Catholic Church.
The bill specifies that it doesn't create a new class of marriage. But it will allow unrelated adults, regardless of gender, to share "the same legal obligations, responsibilities, protections, and benefits as are afforded or recognized by the law of Illinois to spouses."
Among the practical applications will be the same health insurance rights for partners as those now extended to spouses; the right to make medical decisions for an incapacitated partner; and estate and property rights after the death of a partner or dissolution of a relationship.
The bill passed the Senate 32-24-1 after passing the House by a one-vote margin a day before.
"If you live in Illinois, it's like the Civil Rights Act of 1964," said Todd Sivia, an Edwardsville lawyer who represents same-sex couples in family issues that will be affected by the new law. "This is like Brown vs. the Board of Education."
Others had different views.
"It's a dark day for Illinois families. ... You have put a knife into the institution of marriage, by trivializing it," said Paul Caprio, director of the Chicago-based conservative lobbying group Family Pac. He said Quinn, a practicing Catholic, "is a candidate for excommunication, as far as I'm concerned."
The Diocese of Springfield didn't go that far. But the office of Bishop Thomas John Paprocki put out an unusually terse statement Wednesday chiding Quinn for saying his faith led him to support the bill.
"He did not say what religious faith that would be, but it certainly is not the Catholic faith," said the statement. "(I)f he wishes to speak as a Catholic, then he is accountable to Catholic authority, and the Catholic Church does not support civil unions or other measures that are contrary to the natural moral law."
"I follow my conscience," Quinn responded, when asked about the statement. "My conscience is not kicking me in the shins today."
Polls in Illinois have shown majority opposition to gay marriage but majority support of civil unions and other arrangements that aren't called marriage. That distinction — a meaningless one, civil-union opponents claim — was stressed during House and Senate passage.
"It's not gay marriage," insisted Sen. David Koehler, D-Pekin, the Senate sponsor, addressing a key concern of opponents as he introduced the bill on the Senate floor. "This is a secular way of legally providing rights and benefits across the board."
Invoking a quote from the Rev. Dr. Martin Luther King Jr., Koehler said: "We are part of that 'arc of history that is bending toward justice.'"
Rep. Greg Harris, D-Chicago, who ushered the bill through the House a day earlier with a one-vote margin, is openly gay. Koehler spoke during floor debate about his gay daughter.
"This is an early Christmas present," Koehler's daughter, Maggie Sullivan Koehler, 32, told reporters later. She said she intends to enter into a civil union with her longtime partner.
Opponents questioned timing of the measure now, during a lame duck session in which Illinois is facing an unprecedented fiscal crisis.
"Why civil unions now?" asked Sen. Chris Lauzen, R-Aurora. He noted Illinois' problems with unemployment, the state budget and other issues. "And our one-party leaders are spending our time on homosexual civil unions," he said. He called on his colleagues to support "the exercise of traditional virtue."
The bill was passed along mostly partisan lines by the majority Democrats. However, some Republicans in both chambers supported it, calling it a vote of conscience, and some Democrats opposed it.
Among opponents was Sen. Bill Haine, D-Alton. He said in floor debate he was reluctantly opposing the bill because of "the belief of many people of faith that this discriminates against them," based on what he's hearing from his constituents. "They tell me this diminishes marriage."
Under the provisions of the bill, couples seeking a civil union will be able to get forms from their local county clerk's office after June 1.
The same-sex issue has made for some rocky political and legal fights in other states.
In California, the state Supreme Court ruled in 2008 that same-sex couples have the right to marry, which prompted a constitutional amendment banning it, which in turn prompted a federal judge to rule the amendment unconstitutional. Currently, California grants full rights to same-sex couples but doesn't marry them.
Earlier this year, three Iowa Supreme Court justices who had ruled that Iowa had to allow same-sex marriages were voted out of office — a rare expulsion cited by gay marriage opponents as a warning to politicians around the country.
Editors: CORRECTS 7th paragraph to remove incorrect reference to Sivia's sexual orientation.