ST. LOUIS — Cori Bush, a nurse and activist, is all but guaranteed to win election Nov. 3 as the first Black woman to represent Missouri in Congress after beating 20-year incumbent U.S. Rep. William Lacy Clay in the Democratic primary in the overwhelmingly blue district.
Anthony Rogers, the Republican nominee running against Bush, also criticized Bush on Twitter and in interviews with television media.
"The person running against me might be a little slow," Rogers, a comedian who hosts an online interview talk show, said on Twitter.
Meanwhile, Rogers, who has more than 19,000 followers on the social media platform, has publicized interviews with the Proud Boys, a far-right group known for street brawling, expressed support for a local Proud Boy running against him on the Libertarian ticket, compared people who wear protective face masks to slaves and used the word "retard" as an insult. He also made defamatory remarks about Brown during the unrest in Ferguson.
In a lengthy interview with the Post-Dispatch, Rogers said his comments have been misconstrued and pointed to other public statements he has made saying "racism is stupid" and calling on people to set aside differences.
"People calling me racist are probably racist themselves," said Rogers, who is white. "That's why they see race in everything."
But Rogers' comments have prompted Martin Baker, a former Republican candidate in the district, to jump into the race as a write-in alternative. A representative of the St. Louis County Republican central committee said the committee voted unanimously to support Baker over Rogers.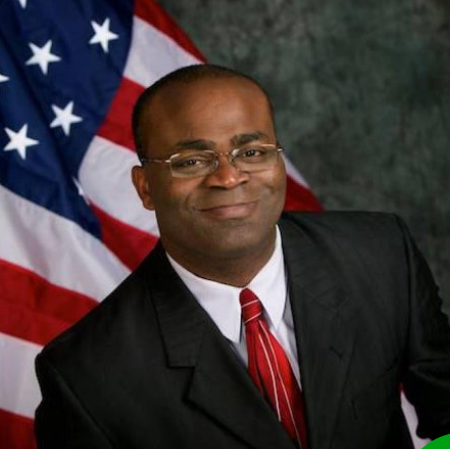 "I viewed his statements as very caustic, as inflammatory, and borderline sexist and racist," said Baker, who is Black. Baker, 50, of Bellefontaine Neighbors, said he is a traditional conservative focused on limited government and conservative social values.
'Looking for good candidates'
The dispute over the Republican ticket underscores the party's apparent lack of interest in fielding candidates in the overwhelmingly Democratic district. Missouri's 1st Congressional District, which encompasses St. Louis and north St. Louis County, has been represented by a Democrat since 1949.
Jean Evans, executive director of the Missouri state GOP, acknowledged the district heavily favors Democrats but said "we are always looking for good candidates who are willing to run."
Evans was not aware of public statements by Rogers, who is not a known figure in the party, she said. She pointed out that candidates do not need party permission before running for office on a particular ticket, and that local Republicans are supporting Baker, not the nominee.
Rogers, 34, of St. Louis, has called for legalizing marijuana and largely cutting taxes, and claims he has refused hundreds of thousands in campaign contributions. He said he doesn't believe in a two-party system, but has expressed support for President Donald Trump and has touted an endorsement from Roger Stone, a former Trump campaign adviser who was found guilty last year of lying to Congress, witness tampering and other charges.
Stone, who received a presidential commutation in July, endorsed Rogers in a video in which Rogers sits next to a man who identified himself as the president of the St. Louis chapter of the Proud Boys. Rogers has repeatedly retweeted the same man and Alex Furman, the Libertarian candidate who identifies himself as the local Proud Boys' vice president.
Rogers said the group is "misunderstood" and "loves America."
"I think all this is petty cram-filler argument you're just trying to bait and get the best thing out of it basically, like, look he's racist, wah," said Rogers, who is white.
The post about Mike Brown, Rogers said, was "a joke article."
"It's satire and idiots, like, I guess you, think it was a real article and I was writing something truthful," Rogers said.
Ties to far-right groups
Furman, the Libertarian, did not respond to an email requesting comment. He has tweeted phrases associated with QAnon, a far-right conspiracy theory that holds Democratic figures and celebrities are in a secret cabal of pedophiles, and the Boogaloo Bois, a far-right militia group that claims it is preparing to overthrow the government.
In a statement, Bush said Trump has "emboldened white supremacist militias across the nation when he stepped on the debate stage and said 'Proud Boys, stand back and stand by,'" during the first televised presidential debate Sept. 29.
"His normalization of white supremacist ideology over the past four years has empowered outright racists to take over an entire political party," Bush said. "On Nov. 3, we have the opportunity to send a resounding message that we reject racist hatred in every office up and down the ballot."
Get Government & Politics updates in your inbox!
Stay up-to-date on the latest in local and national government and political topics with our newsletter.