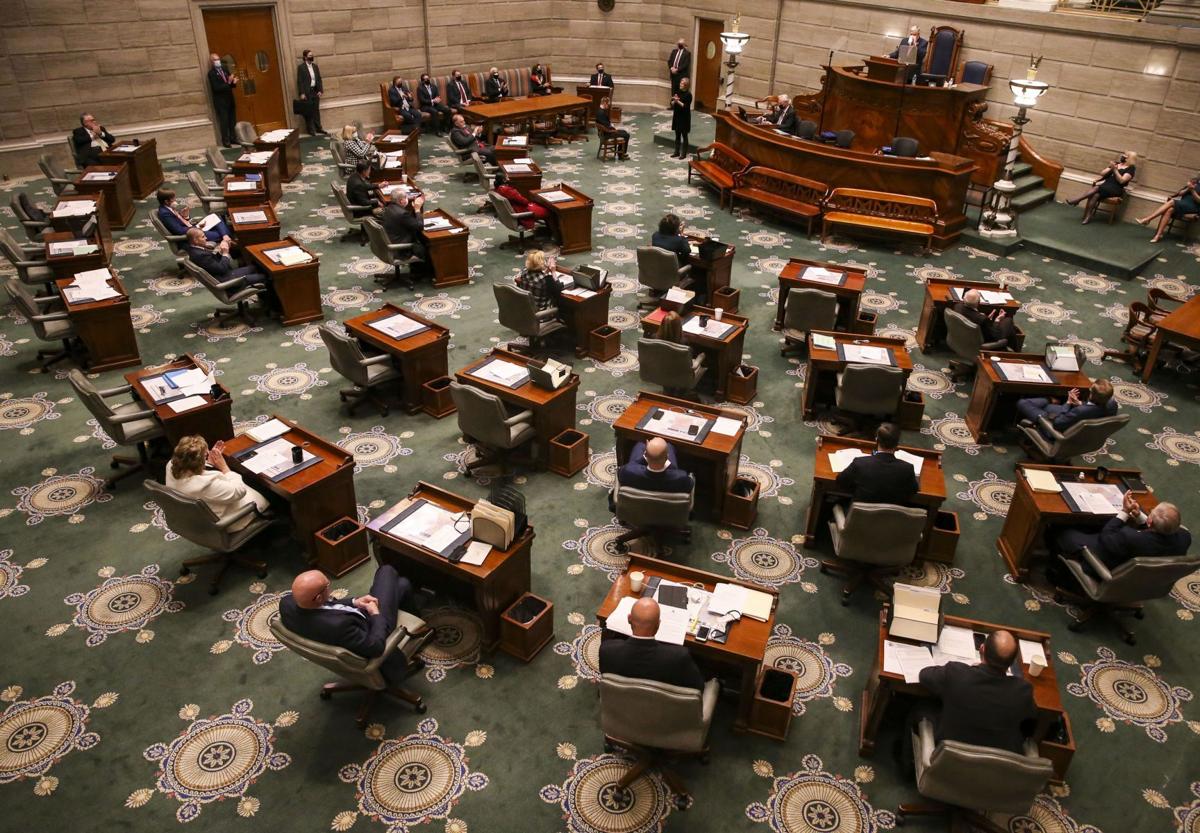 JEFFERSON CITY — Leaders in the Missouri Senate are expressing confidence they can overcome a roadblock threatening the passage of a balanced state budget.
In comments to reporters following last week's Senate session, Majority Floor Leader Caleb Rowden, R-Columbia, said a normally routine hospital tax that pays a significant portion of the state's health care costs was likely to advance without an amendment barring the use of Medicaid dollars for contraception.
Democrats and Republicans say the provision could endanger the entire Medicaid program because contraception coverage is required under federal law.
Rowden said he's been in talks with Wieland and others.
"We'll get the FRA passed," Rowden said, without elaborating how the Senate will resolve the issue.
Senate President Dave Schatz, R-Sullivan, said the need for the reimbursement tax is critical to passage of the state's $34 billion spending plan for the fiscal year beginning July 1.
"We need to find a path forward. I'm not sure what it looks like," Schatz said.
Wieland's amendment represents one more wrinkle in the evolving debate over the state's long-sought expansion of Medicaid.
The Republican-led House earlier approved a budget proposal without inserting money to pay for the addition of an estimated 275,000 new Medicaid enrollees, who become eligible in July for the state's health insurance program known as MO HealthNet.
The expansion was approved by 53% of Missouri's voters in August 2020, but Republicans say they don't have to pay for it because the referendum didn't include a funding stream.
The impasse is likely to end up in court.
Like other states, Missouri taxes hospitals, nursing homes, pharmacies, and other medical providers to help pay for medical insurance for low-income residents. The FRA paid nearly 80% of the nearly $11 billion it cost last year to finance the program.
Wieland's amendment was approved on a 21-12 vote, with Sen. Dan Hegeman, the powerful chairman of the Senate Appropriations Committee, among two Republican "no" votes.
Afterward, Hegeman said budget writers were "pondering" what the next steps would be.
Under the Affordable Care Act, known as Obamacare, birth control is an essential health benefit that must be provided.
Wieland has sparred with officials in other ways. In July 2016, for example, he was successful in a federal court fight seeking to remove contraceptive coverage from the health insurance plan he and his family receive as a state employee.
"The government is trying to force me to buy a product that I consider morally offensive," he said at the time.
For now, budget talks in the Senate are in the early stages, with the Appropriations Committee not set to begin its work on the House version until April 19.
The budget is due to be sent to Gov. Mike Parson by May 7.