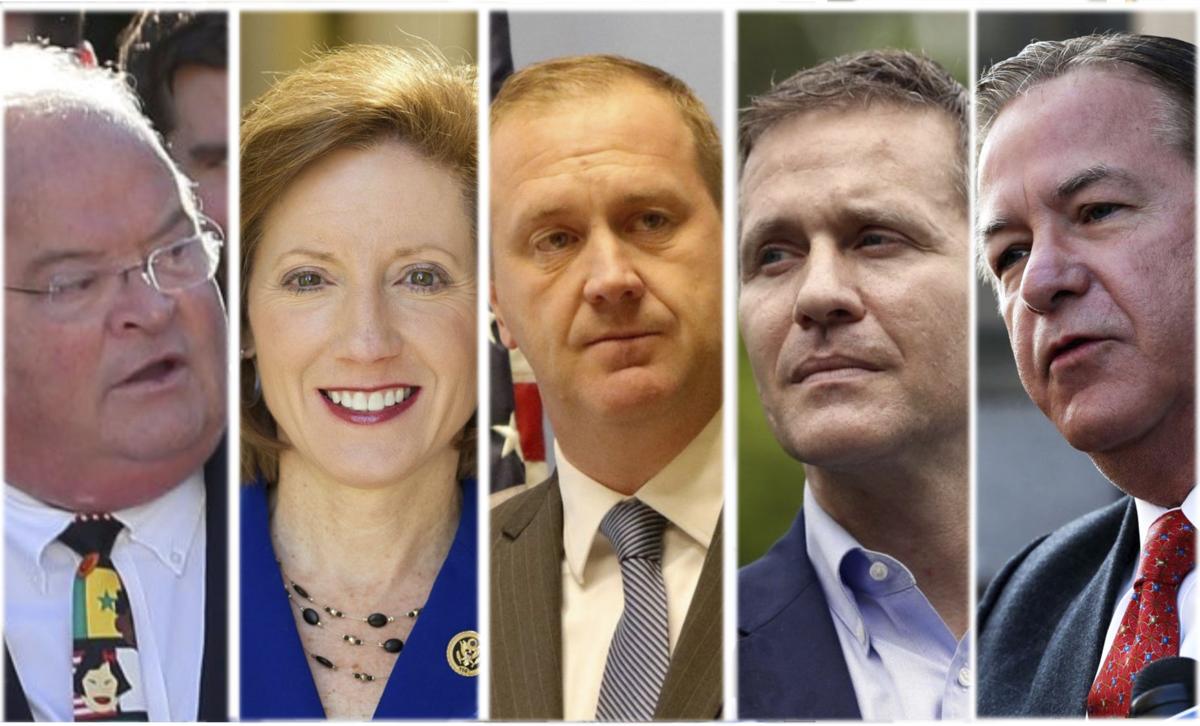 JEFFERSON CITY — U.S. Rep Vicky Hartzler, a Missouri Republican, is releasing an ad Thursday in her bid to win the GOP primary for U.S. Senate.
The ad, which her campaign said will cost in the five-figure range, takes jabs at her opponents, including Attorney General Eric Schmitt and former Missouri Gov. Eric Greitens, as she tries to raise her statewide profile.
"I'm the lifelong conservative in this race," Hartzler said, referring to Schmitt's more moderate reputation as a state senator and Greitens' status as a former Democrat.
Targeting Greitens, Hartzler alludes to the circumstances that led to his downfall in 2018, including revelations that he had an extramarital affair with his hair stylist before he was elected governor.
"I follow the rules. I stay out of trouble. And when I need to see a hairdresser, I make an appointment," Hartzler said.
Amid a 2018 probe by a Missouri House committee, Greitens acknowledged the affair but denied allegations of sexual extortion and physical, emotional and sexual abuse.
Greitens was indicted and booked in St. Louis on a felony invasion-of-privacy charge for allegedly taking and transmitting a nonconsensual photo of his partly nude lover.
He resigned in June 2018 and avoided prosecution.
As for Schmitt, Hartzler takes on his prominent role in the 2011 debate over a failed $360 million air cargo hub in St. Louis that could have served as a gateway for goods and products from China.
By contrast, she said she was sanctioned by China for her role on the House Armed Services Committee, which has investigated military and economic threats by China.
"I don't do their bidding," Hartzler says in the ad.
Hartzler campaign spokesman Mike Hafner said the ad is designed to set Hartzler apart from others in the race at an early stage of the election.
"We're the first one out of the gate on TV. Our campaign is in a strong position," Hafner told the Post-Dispatch Wednesday.
The ad is running statewide on TV, including in the St. Louis area for the next week, he said.
"This is a heavyweight U.S. Senate race and this ad shows Vicky Hartzler is not afraid to take on Eric Greitens," Hafner said.
It comes just days after the candidates reported their fundraising numbers for the third quarter heading toward the August 2022 primary election.
Hartzler, who has represented Missouri's 4th Congressional District since 2011, leads a crowded GOP primary field with $1.6 million in her war chest.
Schmitt, a former senator from Glendale who is in his first full term as attorney general, reported $1.2 million in his account.
U.S. Rep. Billy Long of Springfield has $540,000, while Greitens reported $200,000.
On the Democratic side, Marine veteran Lucas Kunce raised nearly $840,000 during the three months that ended Oct. 1 and has $670,000 on hand.
Former state Sen. Scott Sifton raised $222,000 during the three-month period ending Oct. 1, and businessman Spencer Toder raised $12,000.
Originally posted at 10:15 a.m. Wednesday, Oct. 20, 2021