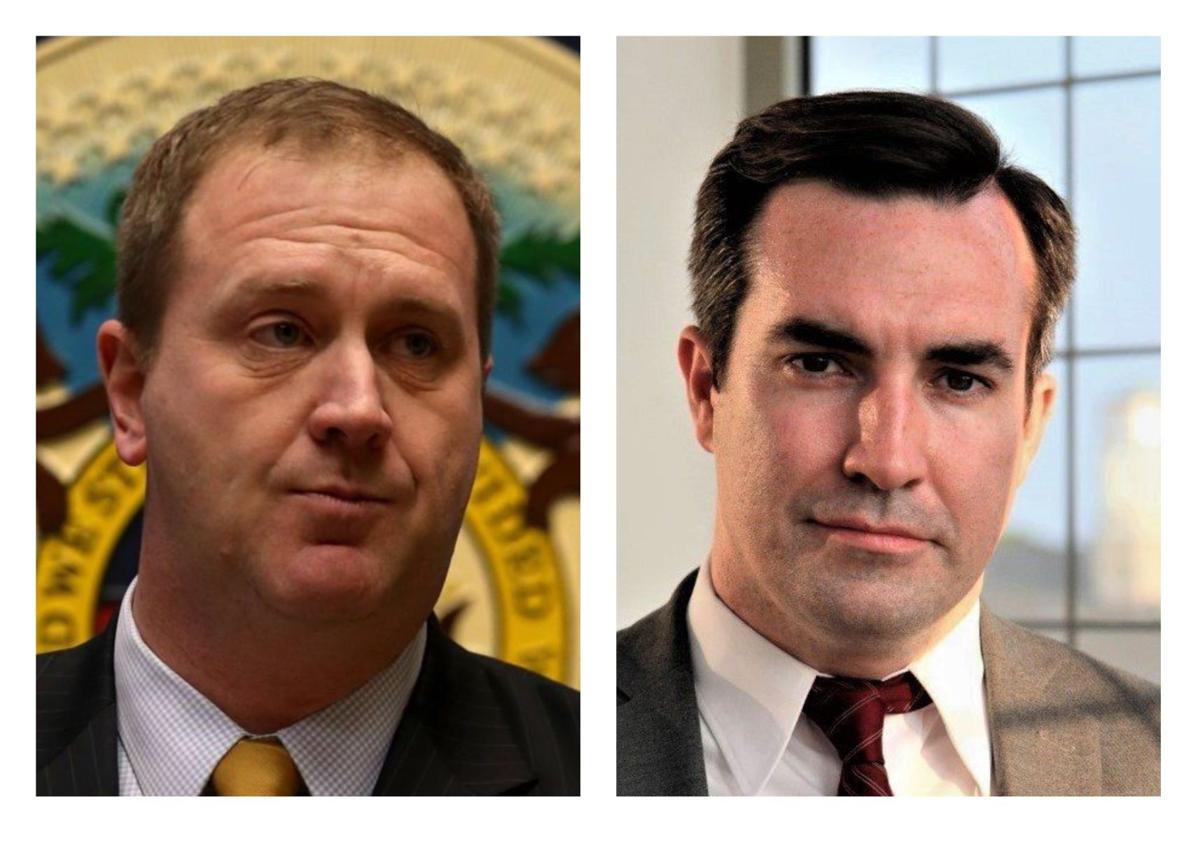 JEFFERSON CITY — Voters will decide Nov. 3 whether to extend Republican control of the Missouri attorney general's office for four more years or return the office to Democrats, who were in charge from 1993 until early 2017.
Gov. Mike Parson named Eric Schmitt, then state treasurer, as attorney general in November 2018 after Josh Hawley was elected to the U.S. Senate. Schmitt was sworn in on Jan. 3, 2019.
Schmitt, 45, now faces Democrat Rich Finneran, 36, a former federal prosecutor in St. Louis who tried white collar crime cases.
Although the Missouri attorney general's office largely lacks original jurisdiction over criminal matters — a job left to local prosecutors — Schmitt has focused on violent crime, and his campaign spokesman said fighting it would be his top priority if he wins a full, four-year term. Schmitt declined an interview request for this article.
"Attorney General Schmitt is simply not willing to sit back and let our cities and citizens be victims to this unprecedented violent crime," said Rich Chrismer, spokesman for the campaign.
He said that through Schmitt's Safer Streets Initiative, his office has gained "jurisdiction with the feds," an effort "resulting in over 350 charges filed, including carjackings resulting in death, drug distribution, witness tampering, assault of a law enforcement officer and more."
Chrismer also said a Special Prosecutions Unit helps with "some of the toughest cases all across the state."
Sharon Turlington, Muldrew's public defender, said it was "extremely unusual" for the attorney general to appear personally in a case. She also said that prior to Schmitt joining the case, there was "practically zero" interest among media in covering the trial.
Turlington said she was informed of Schmitt joining the case "approximately two weeks before the trial."
She said she objected to cameras being used in the courtroom, but Judge Michael Mullen allowed still photographs.
This summer, Schmitt joined Parson in pushing a plan that would have given him concurrent jurisdiction over homicide cases in St. Louis, a move aimed at St. Louis Circuit Attorney Kimberly M. Gardner. The Missouri Association of Prosecuting Attorneys opposed the move, and it died in the GOP-controlled House during a special session.
At the same time Schmitt was signaling a desire to get involved in prosecuting local crime, he also sought to intervene in the case against Mark and Patricia McCloskey, seeking the dismissal of gun charges against the Central West End couple who confronted protesters outside their mansion on June 28. Schmitt said his intervention, which Gardner condemned, was rooted in the state's long-held interest in the right to bear arms.
Health care key issue
Finneran says Schmitt is too interested in headline-grabbing actions to boost his personal political brand.
The challenger has focused criticism on a lawsuit by Republican attorneys general, including Schmitt, that seeks to overturn the Affordable Care Act. The U.S. Supreme Court hears oral arguments in the case on Nov. 10, one week after the election.
"If he prevails in this lawsuit it will have devastating consequences for the people in the state of Missouri," Finneran said, adding that people with preexisting conditions will lose protections without a backup plan from Congress, which has yet to materialize.
"As Missouri's attorney general, he has a solemn obligation to defend the Constitution, and it is clear to him the individual mandate is unconstitutional," Chrismer said, adding that Congress needed to come together to pass an alternative to Obamacare.
Finneran said he would rededicate resources to enforcement of environmental and civil rights laws, and would pull a lawsuit Schmitt lodged against China for its handling of the COVID-19 pandemic that "has zero chance of recovering even a dime for Missouri taxpayers."
"My main priority once I'm elected will be to eliminate the political lawsuits and stunts that Eric Schmitt has been engaged in during the course of his administration, and refocus the office's energy where it should be: that's on protecting the people of Missouri and helping to eliminate corruption and political favoritism in state government," Finneran said.
Chrismer, Schmitt's spokesman, said Finneran hadn't focused his platform at all on fighting violent crime, the top issue facing Missourians.
"Missourians are concerned about rising violent crime," he said, adding that in the Post-Dispatch voters guide, Finneran did not list fighting violent crime among his priorities. "Attorney General Schmitt has made fighting violent crime and protecting victims a central issue in his public service."
Schmitt has raised more money than Finneran and entered October with $723,000 in his campaign account; Finneran had $136,000.
Schmitt's MO Opportunity PAC, which can receive unlimited contributions, had $2.2 million at the end of September and had spent only $21,000 last month, according to the Missouri Ethics Commission.