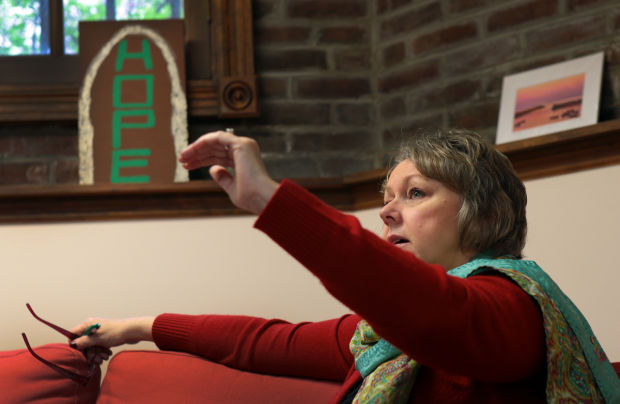 WASHINGTON • Finally, the fear of staying overcame the fear of leaving for Katie Rhoades.
A man had coaxed the drug-addicted 19-year-old from Portland, Ore., to California, where she spent two years being sold to men for sex. At last, she decided that if she stayed, "I was going to end up in a dumpster or be sold to another pimp. And that was terrifying."
So at 21, Rhoades fled to the safety of a nurse practitioner who had cared for her as a child.
Rhoades, now 33, has earned a master's degree in social work from Washington University and counsels girls and women in the city trying to escape or avoid the life she led. She tells corporate gatherings about how they can fight the problem.
Rhoades was trafficked for sex, a victim in an industry that activists say is widely known to Americans, but whose destructive reach is not fully grasped. Congress is starting to pay attention. Three bills designed to come down on human trafficking are working their way through the House of Representatives and could be up for votes this month.
One measure, sponsored by Rep. Ann Wagner, R-Ballwin, may turn out to be the most controversial. Her Stop Advertising Victims of Exploitation act would criminalize advertising of sex with people, including children, held in human trafficking or sexual slavery.
Sen. Mark Kirk, R-Ill., is co-sponsor of two Senate bills aimed at sex traffickers, and he is writing his own bill that would criminalize advertising of illegal sex on the Internet. Sen. Roy Blunt, R-Mo., plans to co-sponsor the latter.
The federal government considers St. Louis one of the top 20 human trafficking jurisdictions, according to Wagner and local activists. The Polaris Project, a Washington, D.C., rescue organization for people trying to escape human trafficking and sexual slavery, reports that calls to its hotlines have risen by 259 percent since 2007.
The Justice Department officially defines human trafficking as "the act of compelling or coercing a person's labor, services, or commercial sex acts. The coercion can be subtle or overt, physical or psychological, but it must be used to coerce a victim into performing labor, services or commercial sex acts."
The laws are rooted in the 13th Amendment's ban on slavery and involuntary servitude. And the Justice Department's official description points out that despite common perceptions, a person does not have to be physically moved to be covered under the laws against human trafficking, but simply held against their will.
The United Nations says that human trafficking — primarily for forced labor or sexual slavery and illegal prostitution — is a $9.5 billion annual business in the U.S.
The Justice Department has estimated that as many as 300,000 American children are at risk of being trafficked for sex. The estimate comes from a Web-based reporting clearinghouse that collects actual and suspected incidents of human trafficking by a special Justice Department anti-human trafficking task force instituted in 2000.
In the St. Louis area, there is a waiting list for a new shelter for eight rescued girls between 13 and 17 slated to open in Jefferson County this spring. Rhoades helped write the plan for the facility, which is sponsored by The Covering House, a five-year-old nonprofit agency providing refuge and counseling for girls who have been sexually trafficked or exploited.
Dedee Lhamon founded The Covering House in 2009 after seeing a documentary on human trafficking. She said an undercover St. Louis police detective told her that he could rescue two or three children a day with enough resources.
"There would not be a problem if the demand was not an issue, and what drives the problem and sex trafficking is the demand," Lhamon said.
Some of the legislation now working its way through Congress attempts to address the demand.
Wagner's House Bill 4225 would "criminalize the knowing advertisement of a person in reckless disregard of the fact that the person was being forced to engage in a commercial sex act," according to a memo prepared by her staff.
That has raised red flags with Internet freedom groups that have successfully challenged in court a Washington state law aimed at online advertising. But Wagner said she believes her bill will pass First Amendment challenges, and that it is necessary to combat a problem she said she first became aware of as U.S. ambassador to Luxembourg from 2005-2009.
"Many of these girls, and I should say children of both sexes, are moved from city to city, depending upon a convention or sporting activity or some reason or another," Wagner said. "I was just outraged it was going on to this level in our own neighborhoods."
Activists say St. Louis' middle-America location on interstate highways and its constant hosting of big sporting and entertainment events makes it both destination and layover in the sex trafficking trade.
Rep. Ted Poe, R-Texas, and Rep. Carolyn Maloney, D-N.Y., are co-sponsoring the Justice for Victims of Trafficking Act, a companion to Wagner's bill, that toughens penalties for people who buy and sell sex, and provides federal block grants to local law enforcement entities to fight trafficking.
Another bill heading for a House vote would provide incentives to states to pass safe harbor laws that treat trafficked minors as victims rather than criminals.
In the Senate, Kirk is co-sponsor on bipartisan bills that would make illegal sex trafficking subject to laws covering organized crime and another that is similar to the safe-harbor bill that was passed through the House. He and Sen. Roy Blunt, R-Mo., also plan to introduce a Senate version of Wagner's House bill aimed at advertising.
"Human trafficking is modern-day slavery," Poe said at a news conference featuring a young California woman named Jessica who said she was first sold to a man at 11 and trafficked across the country. "It fits all the definitions of slavery, and many times many of us in the community don't want to talk about that, but that is exactly what it is."
A primary target of Wagner's bill, she acknowledges, is Backpage.com, the largest online host of prostitution advertising since Craigslist ended its adult section in 2010. Jessica, now 29, said she was advertised on Backpage.com
Last year, Florida-based AIM Group, which consults on interactive media, said online advertising of all kinds of prostitution exceeded $45 million annually, with 82 percent of it on Backpage.com.
But Peter M. Zollman, founding principal of AIM, said Wagner's bill might produce the opposite effect she intends.
"Trafficking in children and women is one of the most despicable things out there," he said.
"I am not at all suggesting that there is anything right about that. But the fact is that having a centralized repository where (the National Center for Missing and Exploited Children) and law enforcement can go to find missing and exploited children and women — that is the most valuable tool they could have."
A similar but more complicated law than Wagner's was signed in 2012 by Washington Gov. Christine Gregoire, but it was thrown out by a federal judge after challenges from Backpage.com and the Electronic Frontier Foundation.
Wagner's allies in Congress are bracing for a fight. After Wagner's bill was approved by a 24-3 vote in the House Judiciary Committee, its chairman, Bob Goodlatte, R-Va., said it "simply clarifies Congress' intent" that "knowingly trafficking children for sex — or knowingly profiting from the forcible rape of children for profit — is against the law, regardless of the medium."
As of Thursday, her bill had 88 co-sponsors, including 18 Democrats.
The Interactive Advertising Bureau, a powerful group that fights Internet regulation, so far has not opposed Wagner's measure, but it is on watch for a fight in the Senate, where there is concern Wagner's bill does not go far enough. The bureau represents more than 600 online advertisers, including global giants such as Google, Yahoo and Facebook.
The bureau's public policy director, Sarah Hudgins, said her group would fight any law they think would inadvertently criminalize people who may come across the ads on the Internet and do nothing about it.
"We agree with Congresswoman Wagner that something needs to be done," she said, with "bad actors using the products and services" offered by her organization's members.
But, Hudgins added, "In the actual delivery of content and advertising there are multiple touch points throughout the supply chain, and at any stage there is an entity that could become aware (of illegal sex trafficking) but not have the power to control or stop it."
Lee Tien, a senior staff attorney for the Electronic Frontier Foundation, said a "virtue" of Wagner's bill "is that it is remarkably simple" by attaching advertising to existing criminal statutes outlawing sex trafficking. But it also opens what Tien calls "a significant First Amendment debate" over the definition of advertising.
Backpage.com lawyer Liz McDougall would not comment on Wagner's legislation beyond this emailed message: "Despite the comments of some legislators, the problem and proposed legislation are Internet-wide, not restricted to or caused by Backpage."
In 2012, in a guest editorial in the Seattle Times, McDougall wrote that "to stop human trafficking online, you have to fight it online. To fight it online, you have to be online. And you need allies online."
Wagner portrays Backpage as a target of her legislation. She says that she is confident her bill will pass legal muster because "as a nation, we regulate commercial advertising all the time," including that of tobacco and alcohol.
"If you want to put something out there for free on the Internet or in a paper, that is your First Amendment right," she said. "You just can't commercially advertise and profit after what is illegal activity."
These debates are tangential to Jessica, the young woman who appeared at the news conference with Poe, and who now counsels children rescued from the sex trade for Los Angeles County.
She said she was sold, often multiple times a day, over a decade starting at age 11.
"There was never a shortage of sex buyers to purchase me," she said.
She said she was "trafficked from Hollywood, Calif., to Hollywood, Fla., in Arizona, Nevada, Texas, and even right across from the White House on K Street; in big cities, small towns and truck stops in between."
Rhoades, the St. Louis woman who now counsels others, said she began stripping at age 18.
Out of money, suffering from addiction, living out of her car, she said she made a "quick and rash decision, as often happens," and followed a man and woman to California, and the man soon became her pimp.
"By the time I realized really what was happening, I felt it was too late, I didn't think I had the support network to run to. And on top of it, I had a lot of shame and guilt and worrying about what I was doing.
"I wasn't kept in a room, necessarily," she added. "We drove around in a Jag, we partied at nightclubs with famous people. So on one hand there were some things I enjoyed about it."
But pimps, she said, "make sure you are wined and dined so you continue to do their dirty work."
Lhamon, executive director of The Covering House, said sexual slavery of children often starts in a home.
"They will start them out online doing pornography, on webcams, moving them into clubs and strip joints," Lhamon said. "I don't think the average person who looks at pornography considers the thought that these girls ... are having to do this against their will."
She has run into cases, she said, "where you might have a parent or stepparent who might be renting out their child for the weekend to pay for their drug habits during the week."
EDITOR'S NOTE: An earlier version of this story included the wrong name for Rep. Carolyn Maloney, D-N.Y., co-sponsor of a bill to combat sex trafficking.