Amid worry about the coronavirus and growing interest in the presidential race, hundreds of St. Louis area residents cast early ballots Tuesday as in-person absentee voting got underway for the Nov. 3 election across Missouri.
About 700 people voted throughout the day at the St. Louis County Election Board in St. Ann, about 150 during the first two hours after the office opened at 8 a.m.
That surpassed the 300 to 400 who did so on the initial absentee-voting day in the last presidential election in 2016, said Eric Fey, the county's Democratic director of elections.
"I think there's enthusiasm like there is for any presidential election but there's a heightened sense this time around," Fey said.
Fey said a third of the people who voted in the county Tuesday already had requested an absentee ballot to be cast by mail but decided instead to vote early in person.
He said he assumed that "these were people that didn't want to wait on the post office." That was a reference to concerns about expected delays by the U.S. Postal Service in delivering ballots mailed in close to Election Day.
He said while there always are some people who vote in person after requesting a mail ballot, the percentage doing so Tuesday was unusually high.
County officials said lines outside the election office in St. Ann were as long as 100 people Tuesday morning.
Tuesday also was the first day that election authorities in Missouri began mailing out early ballots. Fey said the county sent out about 80,000 on Tuesday. More than 100,000 applications have been received so far in the county.
Among early voters at the county board Tuesday was Bridgette Saundersel of St. Ann. She said she voted absentee because of her homeschooling duties.
Another in-person absentee voter, Floncie Witherspoon of Jennings, said a family surgery is expected around the time of the Nov. 3 election so she was unsure if she would be able to vote that day.
And Sharon Hayes, of Berkeley, said she voted Tuesday because she will be working Election Day as a poll judge.
Election officials in St. Louis city and in St. Charles and Jefferson counties also reported larger than usual first-day absentee numbers.
Close to 300 people voted in St. Louis at city Election Board headquarters downtown.
Gary Stoff, the city's Republican elections director, said he assumed that some people preferred to vote absentee in person because they expected less of a wait at the board office than they might encounter at their assigned polling place on Election Day.
"When we opened this morning, we already had a line going out the door, but that dissipated pretty quickly," Stoff said. After that, he said "we've had a steady stream in the building lobby" but not a long line.
Jefferson County officials reported getting more than 100 absentee voters Tuesday at the county clerk's office in Hillsboro.
"We had 25 people the first hour," said Jeannie Goff, chief of staff for the office. On the first day for absentee voting in 2016, Goff said, the office only had 18 voters all day. In 2012, only two showed up.
Goff said she believed that worries about coronavirus was the main reason for the increase Tuesday. One reason: people are required to wear masks if they enter the building in which the clerk's office is located but won't have to do so at Jefferson County polling places.
County Clerk Ken Waller added that some voters he talked with Tuesday told him that "they don't trust the mail" to get ballots in by Election Day, the deadline under Missouri law.
In St. Charles County, Elections Director Kurt Bahr said more than 760 people voted on Tuesday at his office in St. Peters.
"We've probably had more today than we had on a typical week" before the August primary election, he said.
Part of the reason for the surge in absentee voting is an emergency bill passed by the Legislature in May to address pandemic-spurred concerns among some voters about coming in close contact with other people at the polls.
That law, which will expire Dec. 31, created a new absentee voting option allowing any registered voter age 65 and older to qualify. Also covered are people with certain underlying health conditions. Those two groups are considered to be at particular risk of contracting the coronavirus disease.
Those are in addition to five other reasons for voting absentee previously outlined in Missouri law, such as absence from a voter's home county on Election Day.
Absentee voters can either vote by mail or show up in person on specified days before the election at locations designated by their local election agencies. Those appearing in person don't have to apply in advance.
Also set up just for this year is a temporary mail-in voting option for any voter, regardless of age. But critics say that process is difficult to use because verification by a notary is required before the ballot can be mailed in.
The last day to register to vote in Missouri is Oct. 7 and requests for mailed ballots must be received by local election authorities by Oct. 21.
Robert Cohen of the Post-Dispatch staff contributed to this report.
Your guide to voting by mail in Missouri: mail-in vs. absentee
Want to vote by mail for the 2020 presidential election?
Though easy to confuse, in Missouri, a mail-in ballot is (slightly) different than an absentee ballot. 
For a complete list of voting options besides mail, scroll to the bottom. 
Side-by-side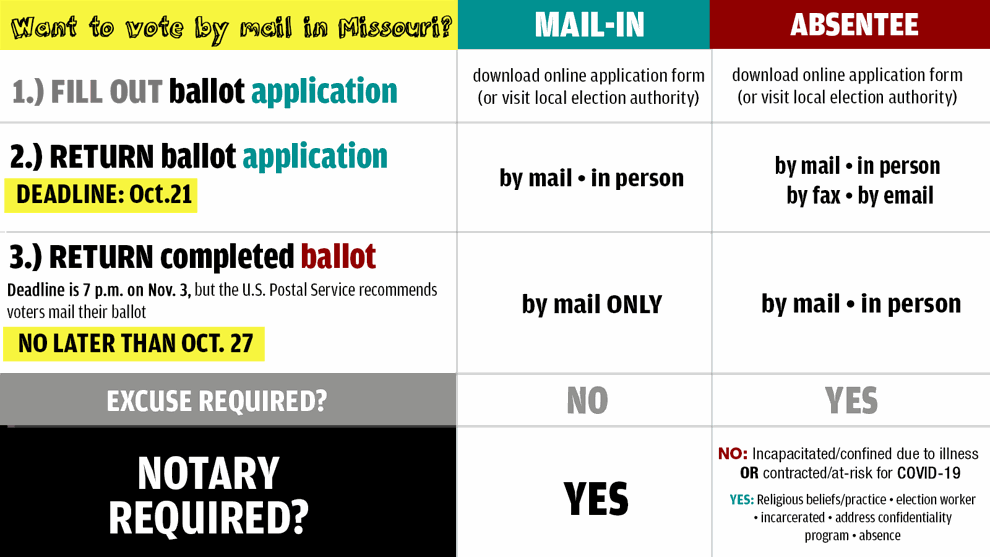 Voting by mail

ALL registered Missouri voters can request mail-in ballots from their local election authority.  With mail-in ballots:
Request mail-in ballot
It is now too late to request a mail-in ballot for the Nov. 3 election.
Submit your mail-in ballot
• Mail-in ballots can only be returned by mail in the provided envelope
In St. Louis and St. Charles counties, mail-in ballots can be brought to your polling place on Nov. 3, and surrendered, so you can then vote in person. 
In other counties, call your local election authority to make sure this is an option.
Voting absentee

Registered Missourians who will be unable to vote in person on Election Day may vote absentee beginning six weeks prior to an election. With absentee ballots:
• These two excuses do NOT REQUIRE the ballot be NOTARIZED
1.) You have contracted or are in an at-risk category for contracting or transmitting severe acute respiratory syndrome coronavirus 2 (COVID-19). You are considered at risk if you: 
are 65 years of age or older
live in a long-term care facility licensed under Chapter 198, RSMo.
have serious heart conditions
have chronic lung disease or moderate to severe asthma
are immunocompromised
have chronic kidney disease and are undergoing dialysis
Have liver disease
Have diabetes
2.) You are incapacitated or confined due to illness or physical disability, or you are caring for a person who is incapacitated or confined due to illness or disability.
• These excuses DO REQUIRE the ballot be NOTARIZED
1.) Absence on Election Day from the jurisdiction of the election authority in which you are registered to vote 
2.) Religious belief or practice 
3.) Employment as an election authority, as a member of an election authority, or by an election authority at a location other than such voter's polling place
4.) Incarceration, provided all qualifications for voting are retained
5.) Certified participation in the address confidentiality program established under sections 589.660 to 589.681 because of safety concerns
Request absentee ballot
Request in person ➡️ CLICK HERE to find local election authority
Submit your absentee ballot
Complete list of options for voting Nov. 3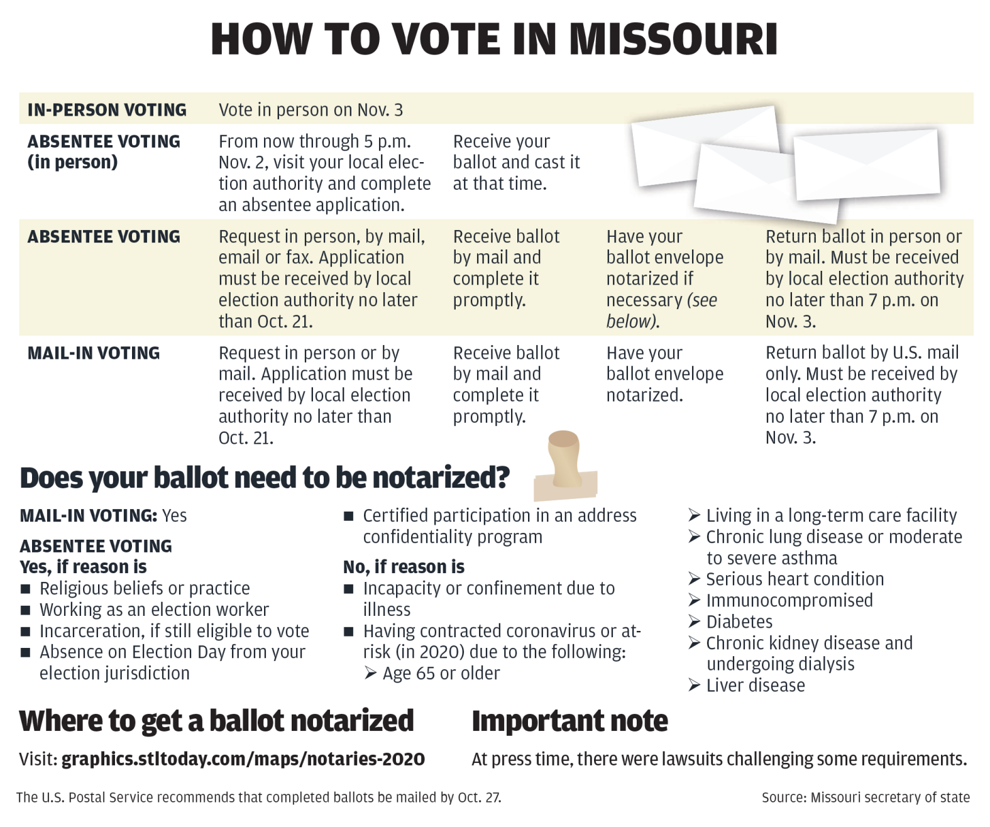 Photos: In-person absentee voting begins in Missouri
In-person absentee voting opens in Missouri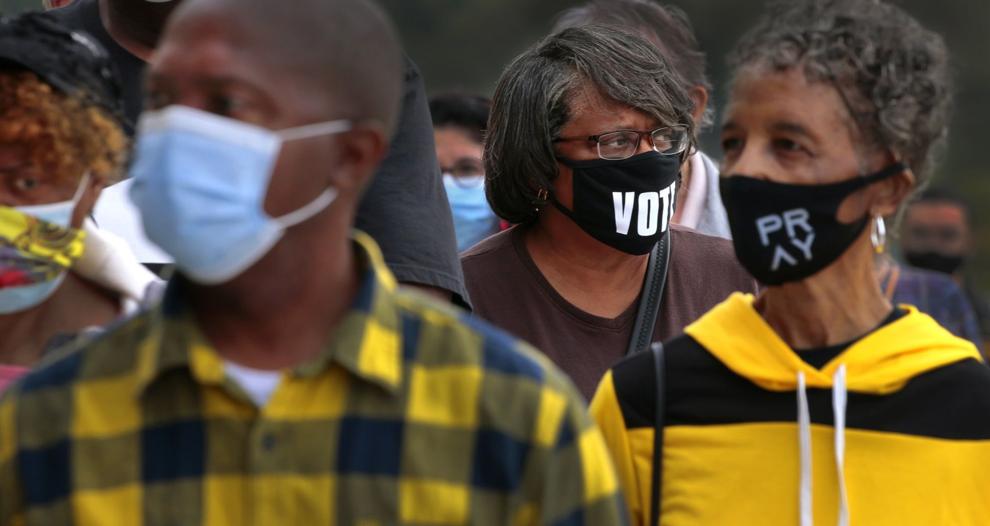 In-person absentee voting opens in Missouri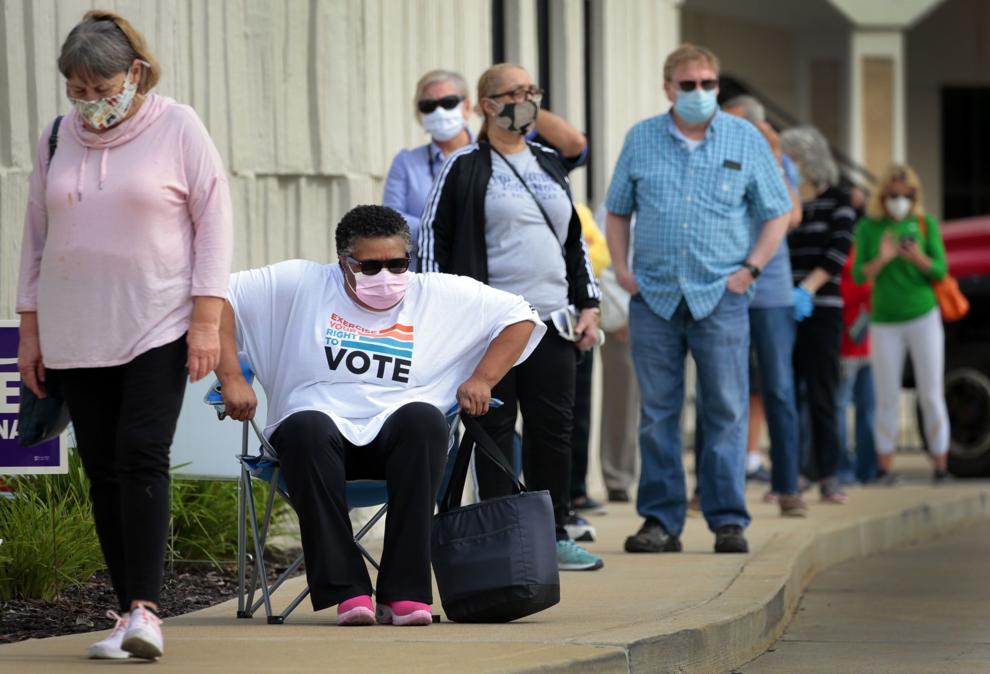 In-person absentee voting opens in Missouri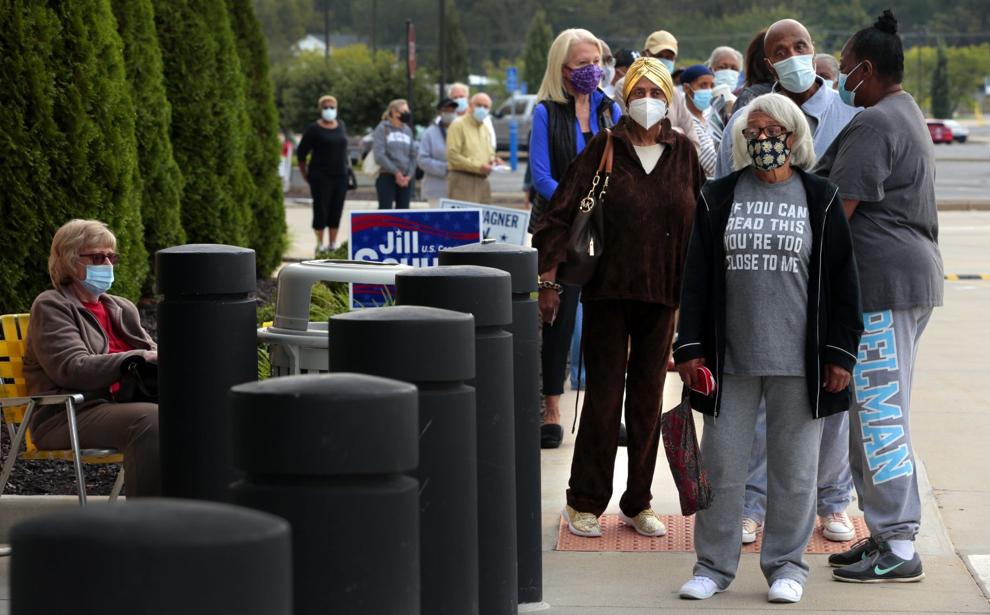 In-person absentee voting opens in Missouri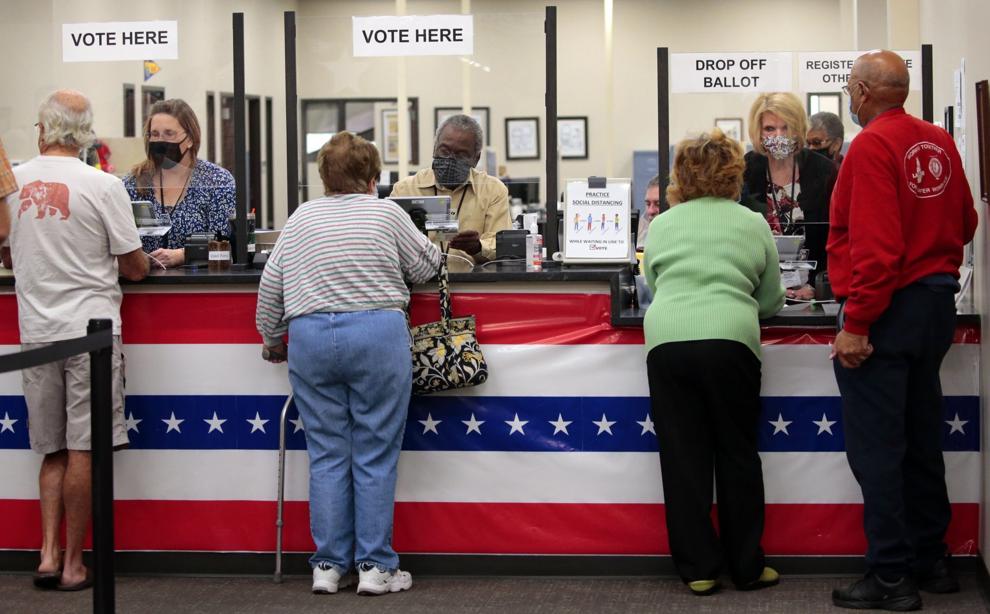 In-person absentee voting opens in Missouri
In-person absentee voting opens in Missouri
In-person absentee voting opens in Missouri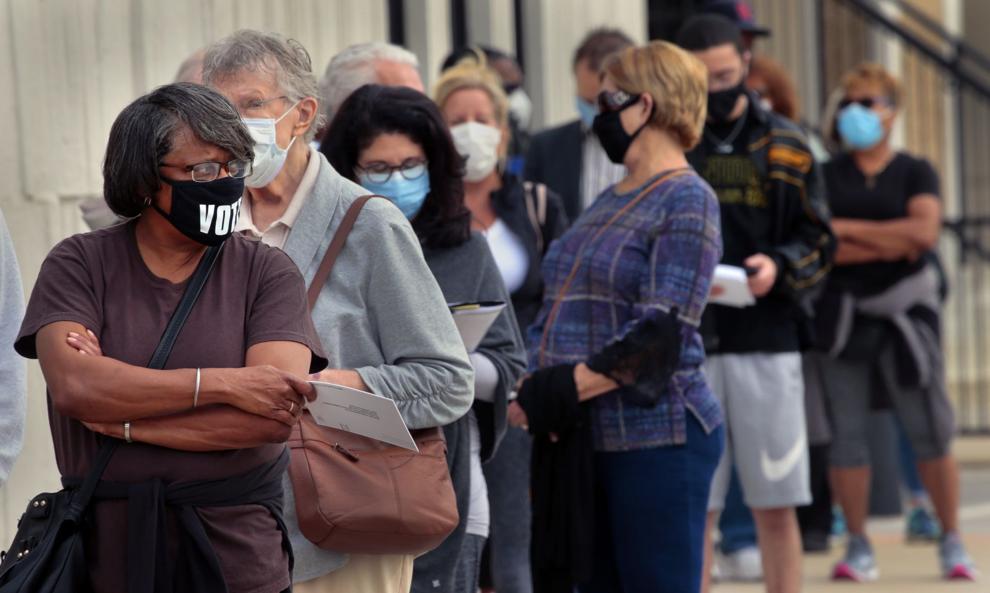 In-person absentee voting opens in Missouri