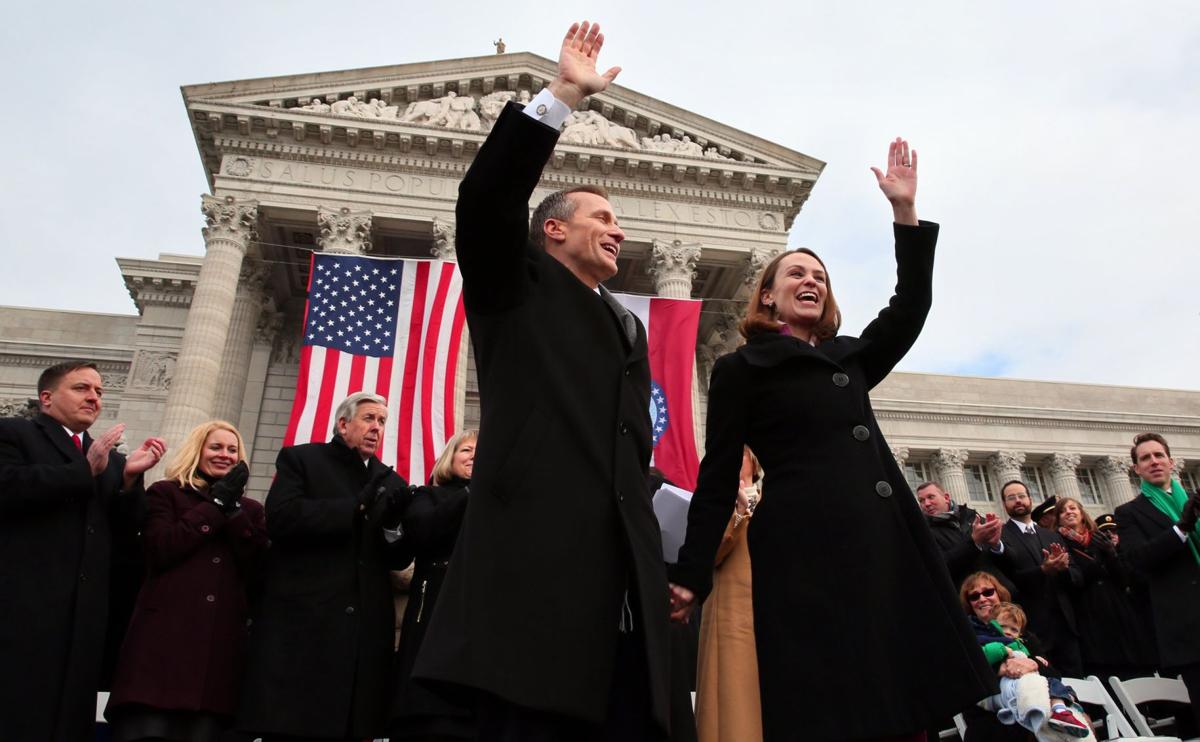 JEFFERSON CITY • Welcoming an ally in the governor's mansion for the first time in eight years, Missouri Republicans spent the first half of this year's legislative session crafting long-sought policies curbing union power and easing regulations on businesses.
Among them: a right-to-work measure already signed into law by Gov. Eric Greitens, who on the campaign trail vowed to make Missouri the 28th state to bar labor unions from collecting dues as a condition of employment.
Greitens, a Republican, has yet to sign another bill the Legislature passed establishing new courtroom standards for expert witnesses, the first of a series of long-sought and controversial changes to the state's legal system.
In the second half of the session, which begins Monday, lawmakers are expected to push for changes that would alter the state's employment discrimination law and workers' compensation statutes.
GOP leaders promised those changes in January, along with aggressive education reform, ethics reform and other proposals they say will lure businesses to the Show-Me state and boost Missouri's economy.
Going into a weeklong spring break, they were happy with the progress.
Looking ahead, Senate President Ron Richard said the top priority would continue to be keeping Missouri competitive and attractive to investment.
"We are focused on legislation that will help facilitate economic growth and build stronger communities across the state," said Richard, R-Joplin.
But Democrats question the motives behind the Legislature's pro-business agenda, charging that the push is less about creating jobs and more about satisfying wealthy campaign contributors.
"A few mega-donors spent millions of dollars to elect Republican lawmakers to do their bidding, and they are getting everything they paid for," said House Minority Leader Gail McCann Beatty, D-Kansas City.
When they return, lawmakers also must reckon with a massive budget shortfall, finalizing a spending plan that already relies on the elimination of a tax break for low-income older adults who rent their homes.
Here's a look at that bill, and others pending legislative approval in the coming months:
Tax credits
Republicans say that to protect in-home and nursing home care, they must eliminate the "circuit breaker" property tax credit, which helps disabled Missourians and older adults pay their rent.
They vow it's the first in a long line of tax-credit reforms, but Democrats question why that effort began with a tax break for the vulnerable instead of economic development credits for corporations.
The House has voted to repeal the circuit breaker, and the bill now heads to the Senate. It's unclear what other tax credits may be on the chopping block as legislators finalize a state spending plan.
School choice
House Speaker Todd Richardson, R-Poplar Bluff, fought hard for a bill expanding where charter schools can set up shop in Missouri, saying it broadened options for parents and children trapped in struggling districts.
"We haven't gotten charter schools right in Missouri. This is an opportunity for us to get it right," Richardson said.
But it barely squeaked by in the House and faces an uncertain future in the Senate, where some Republicans have expressed concern over holding charter schools accountable without state oversight.
There's more promise in the Senate for a plan to expand virtual schools, allowing students to take unlimited online courses, something education advocates fear will drain resources from brick-and-mortar schools.
Labor reform
"Right to work" was the top priority for Republicans this year, and they continue to debate contentious proposals that Democrats say will further weaken unions.
House members have approved a measure that would require public employees to give annual permission before union dues are taken from their paychecks. Proponents argue that will keep unions accountable to their members.
But it has faced a roadblock in the Senate, where Democrats and Republicans from labor-friendly districts continue to filibuster. Unlike past years' bills on the subject, this year's measure doesn't exempt police officers and firefighters from the requirements.
Also on deck is a plan to eliminate the state's prevailing wage law for public works projects, which sets a base wage by county for a variety of construction-related jobs.
Limits on lobbyists
Undaunted by the Senate's failure to limit lobbyist gifts to legislators last year, Richardson made restrictions on the freebies the first bill out of his chamber in January.
Richardson said he remained confident the Senate would pull through last week, but said Rep. Justin Alferman, a Hermann Republican who sponsored the bill, admitted he was concerned.
"Every day that bill languishes in committee, I get more worried it's not going to get done," he said.
Solving the opioid crisis
Prospects for measures that would end Missouri's tenure as the only state fighting the opioid epidemic without a prescription drug monitoring database also look grim.
But doctors and medical groups have decried his plan to have a computer determine whether a patient is a potential abuser before granting access to data, saying it would take clinical decisions out of their hands.
Rep. Holly Rehder, R-Sikeston, whose plan to give doctors more access to patient information has twice passed the House, agreed.
"It's important for doctors to be able to see their patient's history without an additional barrier to helping people who are sick," she said. "Without that taken care of, I can't support his bill."
Schaaf's plan is also much more expensive than more conventional databases in other states, but he's made clear he'll filibuster anything that he thinks will infringe on people's privacy. He expects Rehder and Sen. Dave Schatz, R-Sullivan, to compromise on their plans if they want anything passed.
"I'd just as soon not have a PDMP," Schaaf said. "Would they rather have a database that protects privacy or no database at all?"
Real ID
Proposals from two Kansas City Republicans, Rep. Kevin Corlew and Sen. Ryan Silvey, aim to end a long-standing controversy over the federal REAL ID Act by allowing each Missourian to choose whether he or she wants a compliant driver's license or a separate card.
But even after a Department of Home Security warning that current Missouri drivers licenses won't be enough to board planes next year, privacy hawks have refused to endorse the plan.
Sen. Will Kraus, R-Lee's Summit, called Silvey's proposal a "false choice" and described the looming federal consequences as "the boot on the back of the citizen's neck."
The House bill got initial approval Feb. 21, but it hasn't come up for a final vote in the month since, raising concern that the measure has lost support.
Richardson downplayed any resistance, saying the bill was on his agenda and passage wouldn't be a problem.
The Senate delayed its vote in the first half of the session to give Congress a chance to nix REAL ID themselves. But Silvey has made it clear that if Washington doesn't act, he will.