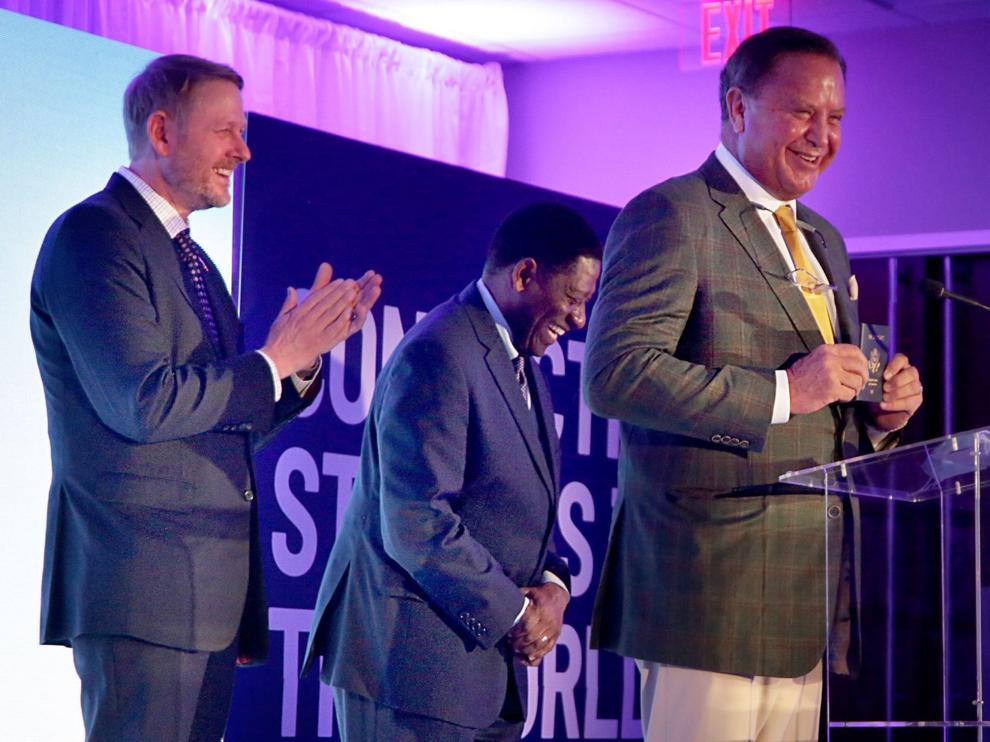 ST. LOUIS — An incentive package put together by local businesses, an arm of St. Louis County government and the city-owned airport helped St. Louis land its first passenger airline service to the European continent in nearly 20 years, officials said Tuesday.
Lufthansa, Germany's largest carrier, will be in line to earn up to $5 million in subsidies over two years if it maintains an average of three nonstop flights per week from St. Louis Lambert International Airport to its hub in Frankfurt.
The money is coming primarily from two sources. The St. Louis County Port Authority, which has pledged money for years for a new international connection, will put up $2.5 million. The regional business group Greater St. Louis Inc. and several of its corporate members will put up another $2.5 million.
In addition, Lambert has agreed to waive 18 months of landing fees for Lufthansa, an incentive that could be worth about $520,000, assuming the carrier flies Airbus A330s, wide-body aircraft that carry roughly 250 passengers.
The new route, which starts in June, caps over a decade of efforts from Airport Director Rhonda Hamm-Niebruegge and her staff to reestablish service to Europe. While many domestic carriers see little need to offer nonstop international flights outside of their hubs, European carriers are more open to trying to grow business in midsize airports like St. Louis, she said.
But a competitive incentive package, particularly a commitment from corporate leaders, to lure them here had been lacking, she said.
"It shows that people are behind it," Hamm-Niebruegge told the Post-Dispatch. "You need business travelers to make flights successful."
"If you think about the legacy carriers, they have to have business traffic — it's their bread and butter," she added. "And so, when that support's not there, it makes them think, well can this flight be successful? And that all changed in these last several months we've been working on this."
Area businesses committing to the effort to land Lufthansa include Centene, Emerson, Enterprise Holdings, Hermann Companies, Hunter Engineering and Nestlé Purina PetCare. Greater St. Louis and The William T. Kemper Foundation, which is tied to the family behind Commerce Bank, also are backers.
At an event announcing the flight Tuesday, local leaders hailed cross-jurisdictional cooperation in securing the flights.
Greater St. Louis CEO Jason Hall called it "a historic reminder of what we can accomplish together."
St. Louis lost its flights to London in 2003 after American Airlines absorbed bankrupt Trans World Airlines and reduced service at Lambert. The lack of international service, some corporate leaders say, has hindered economic development — and wounded the civic pride of a city that once was the hub and headquarters of a major airline.
Local efforts to restore a flight to Europe had focused on securing a British Airways connection to London, but Lufthansa and Frankfurt was increasingly seen as a logical alternative. Frankfurt is the financial center of Europe's biggest economy and home of the European Central Bank.
In addition, St. Louis has some major German business ties. The former Sigma-Aldrich chemical company is now part of Merck's MilliporeSigma life sciences arm. Merck KGaA is based in Darmstadt, in the Frankfurt area. Monsanto's former operations are now the Seeds and Traits unit of Bayer AG, which is based near Cologne, about two hours north of Frankfurt. German seed company KWS also has a research presence here.
Though some airlines have left smaller markets after subsidies run out, officials hope that the route will become profitable for the airline even without subsidies. Hamm-Niebruegge said she's confident the support from business leaders will make the route viable for Lufthansa.
"The business community is behind this and they'll make this work," she said.
Pre-pandemic, about 385 people per day were flying from St. Louis to Europe, she said, with about 51 going to Germany — the second-most popular destination behind the United Kingdom, which garnered about 56 a day. Germany should quickly become the most popular European destination from Lambert, she said, and those European travel counts should only grow with the nonstop route.
Tickets for the new route began selling Tuesday.
Updated at 6 p.m.(tncms-asset)b0e4633e-5c5b-11ec-9c42-00163ec2aa77[2](/tncms-asset)(tncms-asset)958fd118-544c-11ea-a53d-00163ec2aa77[3](/tncms-asset)(tncms-asset)2f214978-d0a1-11e8-8f44-00163ec2aa77[4](/tncms-asset)