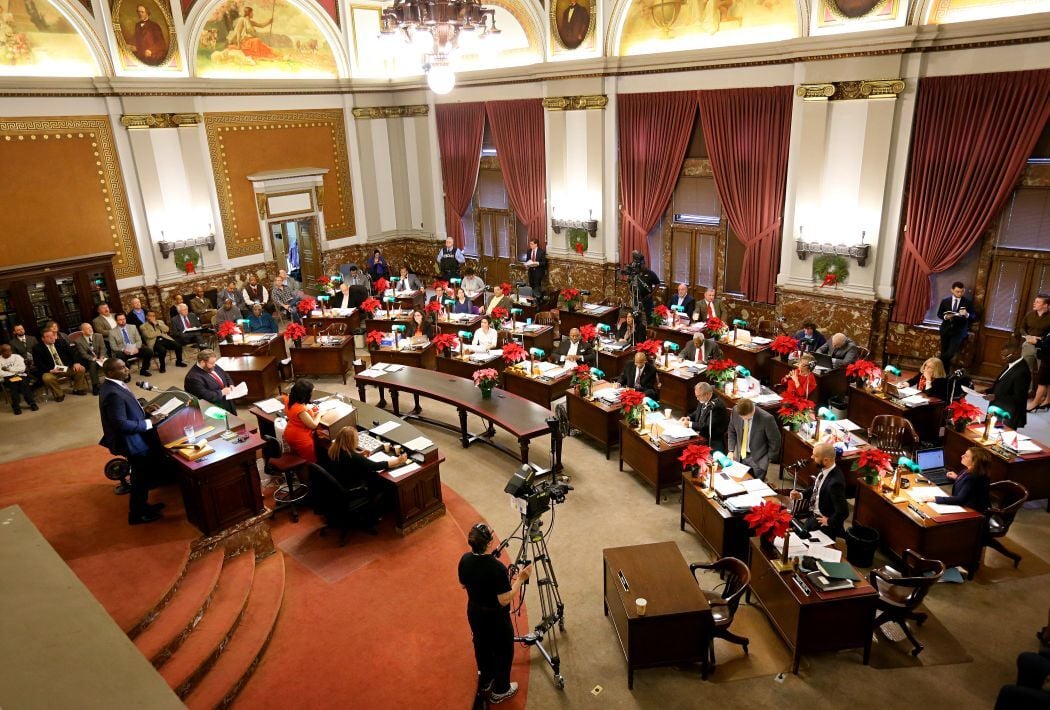 ST. LOUIS — Voters on Tuesday will choose aldermen in 16 of the city's 28 wards, and incumbents appear to have the edge in most of the contests.
The lone exception is the 13th Ward north of Carondelet Park, where challenger Anne Schweitzer won nearly 600 more votes than incumbent Alderman Beth Murphy in the March 2 primary. Schweitzer may offer the best hope for a pickup in a campaign led by Alderman Megan Green, D-15th Ward, and activist groups to elect four progressive candidates. The goal, they say, is to "flip the board," creating a left-of-center majority bloc on the board.
This year was the first where St. Louisans used a new voting system where they could vote for as many aldermanic and mayoral candidates as they wanted in a nonpartisan March primary, whittling the field to two for Tuesday's general election. But in the six races where only two candidates filed, the March vote amounted to little more than a ballot box public opinion poll before the final matchup a month later.
Schweitzer, 33, works at Public Eye Inc., the public affairs firm led by prominent political consultant Richard Callow. Schweitzer worked on the 2017 mayoral campaign of Treasurer Tishaura Jones and comes from a family with a history in local politics. Her mother, Jane Schweitzer, was the last elected St. Louis circuit court clerk, before state lawmakers made the position an appointed one; her grandfather, Gordon Schweitzer Sr., was the city's elected sheriff in the 1980s.
"The city is very important to me," she said. "I grew up watching my parents in public service roles."
Tops on her issue list are public safety and public education. She said the city needs to make sure "the public schools are getting as much money as possible."
"That means prioritizing the needs of kids over the needs of wealthy developers when thinking about tax incentives," Schweitzer said.
Alderman Megan Green says with the election of four candidates she is pushing, progressives can 'set the agenda' rather than play defense.
Murphy, 70, is a lifelong resident of the ward and has represented it since 2014. A retired teacher and former member of teacher's union, she touted her co-sponsorship of the city's 2015 minimum wage bill, ultimately blocked by state lawmakers, and support for prevailing wage measures for public projects. A good chunk of her financial support has come from union donations.
"I feel very strongly about unions and what they do for working people, that's why I'm so supportive in working for minimum wage and prevailing wage," Murphy said.
Murphy argued she has "a very good progressive record" in her own right, recalling marching for the Equal Rights Amendment in the '70s.
Schweitzer said she began running well before the "flip the board" effort began. "None of this is personal, it's all about moving our city forward," Schweitzer said.
Murphy's husband is a retired police officer, so "I understand what police officers go through first hand," but she supports additional police training and criminal diversion programs because "locking up the world doesn't help."
In fundraising, Murphy trails her challenger, raising just under $10,000 as of March 29 to Schweitzer's over $55,000.
Downtown contest
Another incumbent targeted by the "flip the board" effort, Alderman Jack Coatar, drew more support in March than his progressive-backed challenger, with about 59% of approval from voters. Challenger Shedrick Kelley garnered approval from 45% of voters.
Coatar, an attorney at Spencer Fane, has represented the ward covering much of Downtown and Soulard since 2015. He said he'd like to see the city use some of the $517 million in federal stimulus money it's receiving to fund "a robust witness protection program" and also fill vacant police officer positions.
"You go to any neighborhood north or south, the No. 1 thing people will tell you is they don't see enough police," Coatar, 35, said.
He touted rehab efforts on Laclede's Landing, where he said there are finally residents living in new apartments for the first time in years. Downtown was particularly hurt by the pandemic as office employees worked from home and restaurants and bars shuttered due to low foot traffic. Coatar said COVID relief funds need to be deployed quickly to help small businesses get back on their feet.
"I've got the relationships in city government and among the business community to get things done," Coatar said.
Kelley, a 40-year-old analyst at Wells Fargo Advisors who lives in the McKinley Heights neighborhood southwest of downtown, said the best way to lower crime is to invest more in social services.
All four candidates endorsed as part of a progressive effort to 'flip the board' advance to the April 6 ballot.
"We've seen over the past few decades, especially during this pandemic, that mental health is really a bigger issue than people give it credit for," Kelley said.
The city could do more to vet development incentives that weigh on property tax revenue that would otherwise go to schools, Kelley said.
"We also need to look at these tax abatements and TIFs," he said. "Used properly, they will help, but I think there's been an abuse of them over the years."
Kelley has been far outspent in the race by Coatar, a prolific fundraiser who has raised almost $200,000 this election cycle and spent $155,000 on the race. His support has come from developers such as Lux Living, and political consultants such as former Mayor Francis Slay's chief of staff Jeff Rainford and Joyce Aboussie, the longtime top aide to former Congressman Richard Gephardt. Clayton-based health insurer Centene's CEO, Michael Neidorff and his wife, Noémi, have each given Coatar $2,600 checks recently.
Kelley, meanwhile, has raised just more than $20,000. Supporters include the Rev. Starsky Wilson, former co-chair of the Ferguson Commission and the Deaconess Foundation, and Bob Fox, husband of former Build-A-Bear CEO Maxine Clark and chair of the Clark Fox Family Foundation.
In the only open seat on the board, the top two vote-winners last month were Michelle Sherod, who had been an aide to former U.S. Sen. Claire McCaskill, and Tina "Sweet-T" Pihl, past president of the Forest Park Southeast neighborhood Association. Sherod is backed by the ward's retiring alderman, Joe Roddy, while Pihl has support from progressives. Sherod won approval from 69% of voters in March; Pihl won support from 46%.
Developer targets Hubbard
In the 5th Ward, Alderman Tammika Hubbard appears on track to maintain the seat. She won approval from 62% of voters in March. Challenger James Page, head of the Downtown Neighborhood Association, won votes from 41%.
The 5th Ward Democratic Organization, which is controlled by the Hubbard family, last week reeled in a $20,000 contribution from the politically active Carpenter's Union last week. Mark Dalton, the union's political director, said the contribution was prompted by Hubbard's support of projects that provide good-paying jobs.
The union also represents city corrections workers, including at the Medium Security Institution targeted by "Close the Workhouse" activists. Dalton said Hubbard, who has opposed closing the jail, supports "making sure the workers have a place to go and are not just let go without some place to land."
Hubbard and her family have been fighting with low-income housing developer McCormack Baron Salazar over a multi-million-dollar redevelopment project in her ward, the Preservation Square rehab financed with state and federal tax credits and a $30 million federal grant. The Carr Square Tenant Management Corporation, run by Hubbard's father, says McCormack Baron wouldn't share lucrative development fees. The developer says Carr Square's lawyers at Stone Leyton & Gershman wanted legal rights over internal financial decisions, which the attorneys dispute.
Richard Baron also says Carr Square Tenant Management Corporation wanted a cut of the development fees on the project "up front."
Hubbard has outraised Page, but he got a little more help recently. On April 1, three top McCormack Baron executives — Kevin McCormack, Vincent Bennett and Richard Baron — each gave $1,000 to Page's campaign.
Neither Page nor Hubbard responded to a request for comment.