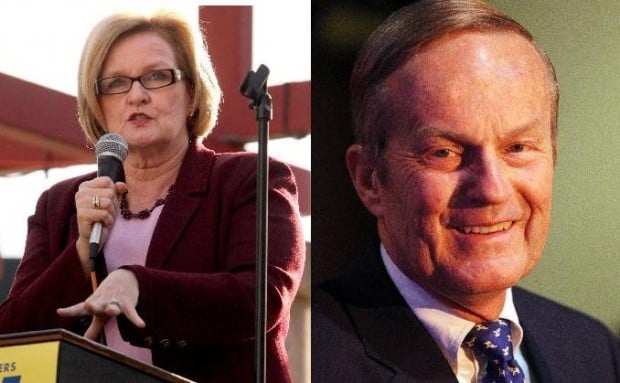 ST. LOUIS • A television ad shows U.S. Rep. Todd Akin sitting in front of an American flag, talking with constituents and generally looking serious, as a narrator declares him "Missouri's true conservative."
Akin is "the most conservative congressman in Missouri," says the recent spot. He's "a crusader against bigger government" and has a "pro-family agenda."
The commercial sounds as if it came from the Akin campaign. But it didn't. And it isn't from any of his conservative supporters, either.
In fact, it was paid for by Sen. Claire McCaskill — the incumbent Democrat and the ultimate opponent of whoever wins the Republican primary.
Is McCaskill meddling in the GOP primary to help Akin?
Her campaign declined to comment, except to refer a reporter to a press release announcing ads McCaskill is running against all three Republicans.
But Ken Warren, a political science professor at St. Louis University, suggested that McCaskill is trying to choose her GOP opponent.
"She would rather run against Todd Akin" than either of the other two mainstream GOP candidates, Warren said. "She polls better against him."
Akin is in a primary fight against businessman John Brunner and former Missouri Treasurer Sarah Steelman for the Republican nomination on Tuesday. The winner will run against McCaskill in November.
A recent Post-Dispatch/News 4 poll shows Brunner, who has invested nearly $5 million of his own money in the race so far, leading the GOP pack. All three major Republican candidates were leading McCaskill in separate one-on-one matchups, with Brunner beating her by the widest margin, the poll showed.
The poll suggested that Akin would offer the least threat to McCaskill in a one-on-one contest.
Brunner's camp says the ad shows McCaskill is scared of their candidate.
"They don't want to face John Brunner, and it's obvious," said John Hancock, a Brunner political adviser.
The fact that all three GOP candidates have realistic chances of winning Tuesday's Senate primary has complicated McCaskill's position. Rather than running pre-primary strikes against one candidate whom she's sure she'll face — as Democratic Gov. Jay Nixon has been able to do against Republican front-runner Dave Spence — McCaskill announced separate ads against each of the three GOP opponents in July.
McCaskill's commercials against Brunner and Steelman are classic attack ads in their styles and messages.
"As a CEO ... Brunner nearly killed the family business, and ran up $245 million in debt," says the attack ad against Brunner, hitting him on the core conservative issue of fiscal irresponsibility. —"'Conservative' means you don't spend more than you make."
In the case of Steelman — who has faced criticism for her fundraising as a state-level officeholder and frequent candidate — McCaskill plays the "politics as usual" card. "More inside deals, taking thousands in gifts from lobbyists," says the narrator. "Sarah Steelman — just more of the same."
The ads against Brunner and Steelman both use dark, sinister lighting, dreary music and ominous-looking shots of the candidates.
The Akin ad, by contrast, features upbeat music, American flags and shots of Akin that verge on flattering.
"Anyone who sees all three can see that one isn't like the others," said Patrick Touhey, a spokesman for Steelman, "Clearly (McCaskill) would like to choose her opponent."
To conservatives, McCaskill's "criticisms" in the Akin commercial sound more like compliments: that he opposes big government and wants to cut the federal departments of energy and education; and that he has been hotly critical of Obama.
At one point, the ad makes an allegation that sounds as if it could be on an Akin bumper sticker: "Todd's pro-family agenda would outlaw many forms of contraception."
The ad closes with the narrator speaking words that are shown on the screen next to Akin: "Missouri's TRUE conservative ..." Only after a pause does the rest of the phrase come up: "...is just TOO conservative."
"That's music to their ears" in the Akin camp, said Warren, the political scientist. "No one is 'too conservative' for a Tea Party Missourian."
Akin spokesman Ryan Hite called it "a little far-fetched" to believe McCaskill is purposefully trying to bolster his candidate. "Claire McCaskill would be very unwise to want to run against Congressman Akin, because they have such a clear contrast in their voting records," Hite said. "I believe he poses the greatest threat to her."
Still, Rite acknowledged, "From a conservative point of view, those are all great things (in the ad). People are telling us, 'We'd vote for you based on that.'"
McCaskill's campaign declined to answer questions about the Akin ad and referred a reporter to a news release it sent out July 19 unveiling all three ads.
"With no clear leader in the (GOP primary) race, McCaskill's campaign is taking steps to begin a general election campaign against all three potential Republican opponents in order to not lose ground in the midst of the increasingly contentious primary battle," that news release said.
It said the ads would "focus on their individual pasts, throughout the primary election season," and make the case that all three are conservative extremists.
Of the GOP candidates, Brunner, the former CEO of Vi-Jon personal care products, has the deepest pockets, spending nearly $5 million on the campaign, about half of that in the most recent three-month reporting period that ended June 30.
Akin, on the other hand, raised just $276,000 in campaign funds during that period. Steelman raised $240,000 during that time, and she has lent herself another $500,000 in all since the campaign started.
McCaskill's campaign raised $2.6 million during the recent reporting period. She spent more than $5 million during that time, though her campaign says much of that was for prepaid TV spots to run during the general election campaign.
An incumbent meddling in an opposing party's primary isn't new.
In 2010, U.S. Sen. Harry Reid, D-Nev., faced a difficult re-election fight amid low approval ratings. His campaign blasted away at the more moderate front-runner, which helped Sharron Angle, a Tea Party favorite with political baggage, to win the primary.
Reid ended up winning the general election despite an anti-incumbent wave.