JEFFERSON CITY — A Columbia man who has been indicted on federal drug charges donated thousands of dollars to Missouri campaigns in recent years as he lobbied for drug-reform policies.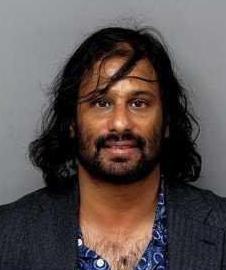 Eapen Thampy, 35, was indicted by a federal grand jury Thursday on a felony marijuana distribution conspiracy charge and a felony marijuana possession charge. If convicted, he would face 10 years to life in prison for the distribution charge alone.
The Thampy name is relatively famous in St. Louis because of the family's success in spelling and geography bees. Eapen Thampy won the state Geography Bee in 1997 and 1998. His younger siblings took several titles in the 1990s and 2000s.
Thampy's Kansas City attorney, Ross C. Nigro Jr., did not immediately respond to requests for comment. Federal prosecutors accuse Thampy of conspiring with eight others to distribute marijuana in Boone County.
Thampy appeared in U.S. District Court on Monday in Jefferson City but had not entered a plea, said Don Ledford, a spokesman for the U.S. attorney's office. Thampy was being held at the Cole County Jail as of Tuesday, an official said.
Prosecutors have asked a judge to hold Thampy without bail. A detention hearing is scheduled for Wednesday, Ledford said.
Thampy lobbies for 14 entities, has donated more than $25,000 to Missouri campaigns and causes in the last four years, and has posed for pictures with dozens of politicos.
"I think he has, first of all, a very high level of intelligence — native IQ, I don't know what it would measure at but it would be high," said former Lt. Gov. Peter Kinder, a Republican. "He is outgoing. And sometimes he's exuberant and he's a networker. He networks with lots of people across the state, and has lots of friends."
The charges say the marijuana-distribution conspiracy started at least as early as Jan. 1, 2015, and lasted through Sept. 1, 2018. The conspiracy involved shipping large amounts of pot from Oregon to mid-Missouri, prosecutors say.
The Missouri Department of Health and Senior Services will accept business applications in August and could approve licenses for patients by July 4. 
Federal authorities have been investigating the alleged distribution scheme since December 2017, when Augustus "Gus" Roberts of Columbia, Mo., was killed in a drug-related homicide at his home, authorities said.
So far, nine people have been charged in the distribution conspiracy: Osama Nadir Yanis, Nader Robert Osama Yanis, Blake J. Johnson, Dylan J. Blake, Christopher M. Bradshaw, Tamra G. Johnson, Craig D. Smith Jr., Michael J. Ricketts and Thampy.
Both Yanises have pleaded guilty to federal charges.
The indictment unsealed Monday says Tamra Johnson laundered $1,000 in drug money on Sept. 26, 2016, by contributing it to Better Way Missouri, a political action committee for which Thampy was executive director at the time, according to Missouri Ethics Commission records.
That contribution is the only drug money-related donation to a political account that is mentioned in the indictment.
Thampy's presence in Jefferson City dates to at least July 28, 2015, when he first registered as a lobbyist with the Missouri Ethics Commission.
Since 2015, Thampy has personally donated $26,507 to Missouri candidates, party accounts and causes, according to a Post-Dispatch analysis of Missouri Ethics Commission records.
On June 16, 2016, Thampy donated $2,000 to Kinder, who was running for governor at the time.
"I would say that he is a friend," Kinder said. "I was shocked to read this news today."
Kinder said Thampy held a small fundraiser for Kinder's gubernatorial campaign that summer in Kansas City after learning Kinder supported medical marijuana legalization.
Kinder said he had "no reason" to believe in 2016 that any campaign contributions associated with Thampy could be traced to the illegal drug trade.
"You stay away from people for whom the red flags are obvious," Kinder said in an interview. "They were not obvious at this time."
Thampy has been photographed with an array of politicians, from U.S. Sen. Roy Blunt, R-Mo., to Attorney General Eric Schmitt and former Gov. Eric Greitens.
"He is by persuasion and conviction a Libertarian," Kinder said of Thampy.
Over the years, most of Thampy's donations have gone to Republicans, but Thampy has contributed to Democrats as well, including both candidates currently vying for Kansas City mayor: Jolie Justus and Quinton Lucas.
He has also donated $2,600 to Rep. Nick Schroer, R-O'Fallon; $1,550 to Rep. Shamed Dogan, R-Ballwin; $1,050 to former Rep. Jean Evans, R-Manchester; and $500 to Rep. Phil Christofanelli, R-St. Peters.
Elizabeth Ziegler, executive director of the Missouri Ethics Commission, said there is nothing in Missouri campaign finance law that addresses campaigns receiving money possibly connected with drug transactions.
There is also nothing preventing lobbyists convicted of drug crimes from lobbying, she said.
Of the more than a dozen organizations Thampy represents, several are involved in Missouri's fledgling cannabis industry. One is the Missouri Hemp Association, a for-profit industry group.
The state Department of Health and Senior Services has refused to release the identities of individuals and businesses seeking to grow, sell or manufacture medicinal marijuana in Missouri.
The Post-Dispatch has sued for the identifying information, alleging the state is violating the Sunshine Law by keeping it secret. A hearing in that case is scheduled for June 21.