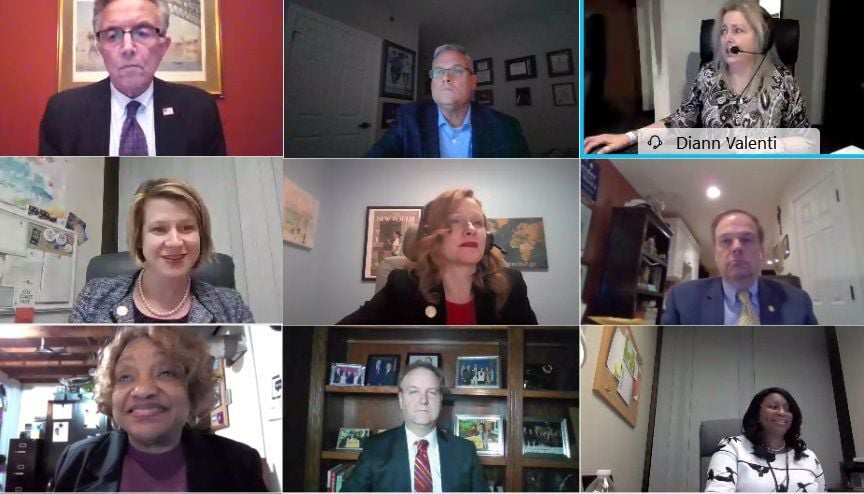 CLAYTON — A St. Louis County judge on Tuesday affirmed Rita Heard Days as chair of the St. Louis County Council, handing a clear victory to council opponents of County Executive Sam Page after a nearly two-month-long leadership fight.
The Page administration filed suit Jan. 16 in St. Louis County Circuit Court, seeking to vacate a decision by four council members to remove Councilwoman Lisa Clancy, D-5th District, and Councilman Ernie Trakas, R-6th District, from the top two leadership positions on the seven-member board.
The lawsuit was filed a day after a new council majority voted to make Days, D-1st District, and Councilman Mark Harder, R-7th District, the new chair and vice chair.
Clancy and Trakas, supporters of Page, were elected on Jan. 5, the first meeting of 2021, with the votes of lame duck Councilwoman Rochelle Walton Gray, a Democrat who had represented District 4 on the legislative body. Gray was defeated in the August primary by Shalonda Webb, who went on to win the general election.
Days, Harder and Councilman Tim Fitch, R-3rd District, argued that Gray's four-year term should have ended on Jan. 1 and that her votes after that date were illegal. But Gray and her council allies, relying on the opinion of County Counselor Beth Orwick, argued that Gray could continue to represent District 4 until Webb was sworn in on Jan. 12. A charter change, approved by voters in August, moved the start of county officeholders' terms to the second Tuesday in January after the general election; before the change, those terms began on Jan. 1.
On Tuesday, St. Louis County Circuit Judge Thomas Albus sided with the new council majority, ruling that Gray's participation in the Jan. 5 meeting was illegal and that Clancy and Trakas did not receive a majority of votes necessary to win election to council leadership positions.
Albus, appointed to the bench last year by Gov. Mike Parson, ruled that Gray's hold on the District 4 seat legally ended on Jan. 4 when Webb, in an effort to block Gray from voting for new council leaders, privately swore an oath of office and presented it to the county.
The county presented an affidavit in court that Webb had not effectively taken her oath because the St. Louis County clerk was not present. The affidavit also said the clerk wouldn't have sworn Webb in any earlier than Jan. 12 because the office "did not believe Councilperson Webb (was) authorized to take her oath of office before the beginning of her term."
But the county hasn't required that the county clerk be present to swear in past council members, Albus ruled. And the clerk's unwillingness to swear Webb into office before Jan. 12 meant she had no way to effectively stop Gray's holdover, he said.
"To allow the County to amend its Charter and change the effective date of officers' terms while providing no practical way for an elected successor to cut off an incumbent's right to hold over would allow it to effectively violate the Missouri Constitution's proscription against terms of more than four years," Albus said.
Albus also noted that Fitch, Harder, Days and Webb objected to the Jan. 5 meeting as early as December, suggesting the council delay a meeting until Jan. 12. Gray, Clancy, Trakas and Councilwoman Kelli Dunaway, D-2nd District — who constituted a quorum to hold an official council meeting — voted Dec. 22 to hold the Jan. 5 meeting, arguing the charter required the council to elect leaders at its first meeting of the year.
Attorneys for Days and Harder argued the provision referred to the newly elected council, not "the council as it might exist before that time."
Albus, however, found that it was not within the court's responsibilities to correct any discrepancy in the charter.
"It might have been an oversight," Albus wrote, "and it might have been an oversight that was exploited on January 5, 2020, but it is for the political process, not this Court, to determine whether indeed an oversight occurred and how any oversight should be corrected."
Fallout
The ruling appears to have brought to an end a bitter council leadership fight that had occupied county politics for months.
The fallout from the dispute included a vote Tuesday night to bar colleagues from taking county jobs two years after leaving office. The bill, introduced by Webb, was aimed at Page's appointment of Gray, her predecessor, to an $89,000 public health role.
Also on Tuesday, Page formally vetoed a bill by Fitch that would have cut the county's public health budget by $122,000, an amount equal to Gray's salary and benefits. Fitch failed to gain a necessary five votes to override the veto.
Page, in his regular statement to the council, did not address the lawsuit, updating the council on the county's vaccination efforts to combat the COVID-19 pandemic.
But Fitch questioned the executive: "I think the public deserves an explanation from you as to why your county counselor sued members of this council … and why you thought that was a good idea and how you would restore the faith that we should have in our legal adviser," he said.
Page said the dispute was caused by the charter discrepancy, and that he appreciated "the ruling of the court with respect to the ability of the county and the County Council to choose its leadership and to follow the guidance and direction of the court."
In response, Fitch said the answer was a "pretty good deflection," but "how do we ever trust what we hear coming from the county counselor's office? You did not address that."
Page said Fitch was trying to score a political point.
"Councilman Fitch, you've been quite vocal about your attacks on my administration across the board, and your attacks on the county attorney, who represents all of county government, and I'll depend on you to process this question however you like. I expect it to be politically charged as long as you want it to be politically charged. But at some point we'll get back to the business of taking care of the residents of St. Louis County."
Fitch, in response, said, "tens of thousands of dollars of tax dollars have been spent over this issue. … The public who pays these taxes deserves an answer."
Meanwhile, members of the council, including Days and Clancy, said they wanted to put the dispute behind them.
"These last two months or so have been very upsetting … and costly," Days said, describing the council leadership dispute as unprecedented in county history.
"But it happened, and now we must close the books on these past events and do the work that the people have sent us here to do," Days said. "I am offering an olive branch to my colleagues and the administration to improve the lives of St. Louis County residents."
Clancy said, "I intend to respect the ruling from the judge, that is what I have always intended to do and I consider this matter settled. We can put these distractions behind us."
Webb said she only opposed Gray's participation in the council leadership dispute because she felt it disenfranchised voters in her majority Black council district.
"All I ever wanted to do was to serve the people I was elected to represent," she said. "Their voices were very clear, and it was my duty to stand up when I felt their voices were silenced."