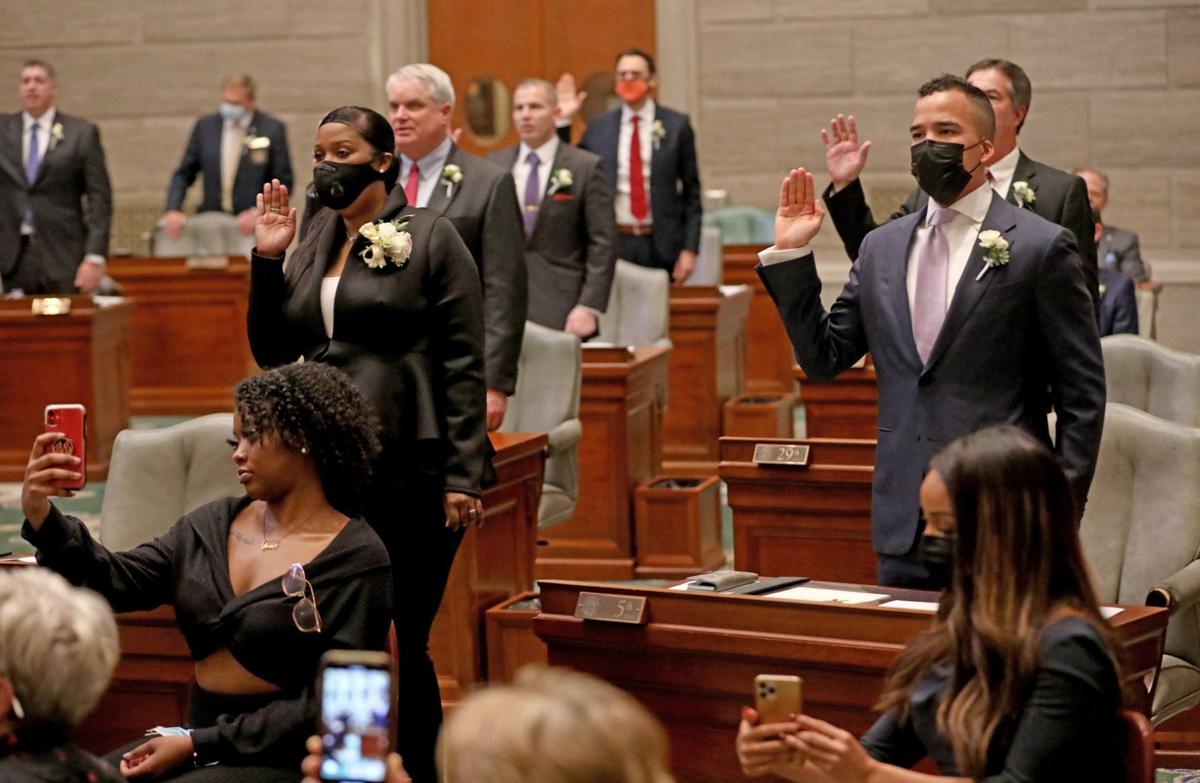 JEFFERSON CITY — The Missouri Legislature is dealing with an outbreak of COVID-19 in its ranks just a week into its annual session.
Rep. Wes Rogers, D-Kansas City, has tested positive for the coronavirus and his roommate, Sen. Greg Razer, D-Kansas City, is in quarantine.
Rep. Keri Ingle, D-Lee's Summit, and another lawmaker also are in quarantine.
"I am in isolation due to exposure to COVID-19," Ingle said in a tweet Wednesday. "I will not be in (the House) until I test negative and complete the appropriate quarantine time period."
Senate Minority Leader John Rizzo, D-Independence, said the spread of the virus is inevitable.
"The Missouri Capitol is a 100-year-old building with windows that do not open in which 400 to 500 people come to work every day — many of whom are still refusing to protect the people around them by wearing masks. With numbers like these, there will be an outbreak. Without screenings and testing, that outbreak will be bigger, faster and uncontrolled," Rizzo said.
The Legislature began its work Jan. 6 and has been in session in each of the past three days, including the swearing-in ceremony of Gov. Mike Parson, a Republican who tested positive last summer.
Despite a positive testing rate of 27% in Cole County, the House and Senate launched the four-month-long session last week with no significant schedule changes that could limit the amount of time lawmakers are grouped together in their prospective chambers.
Cole County has been a hot spot in the state, with more than 8,000 cases reported. In the past seven days, 251 new cases have been added. The home county of the Capitol and state government has no mask mandate or significant business restrictions.
Sen. Jill Schupp, D-Creve Coeur, said there should be a mask requirement for everybody who is in the building.
"Let's make sure that we're looking out for each other," Schupp said. "I think we need to be reasonable and I think that's a reasonable thing to do. Our common enemy is the virus."
There was no testing underway in the Capitol on Wednesday, but House officials were responding to requests from lawmakers for test availability. There were teams of people screening visitors and employees on Monday, but none on Wednesday.
Some steps have been taken to address the rapidly spreading and potentially deadly virus.
For the first time, the Senate began livestreaming its hearings so people can listen to members conduct business without entering the building.
And, Parson postponed the inaugural ball until later this year because of the virus.
But the Republican-led House on Tuesday rejected a proposal to require all 163 members to wear masks on the floor. A majority of Republicans do not wear masks while they are in the chamber for business.
In 2020, the legislative session was upended by the pandemic, forcing members to adopt a limited schedule. In order to finish their business, the House and Senate returned to the capital city in the summer and fall.
Other states have canceled their sessions or are attempting to conduct them virtually.