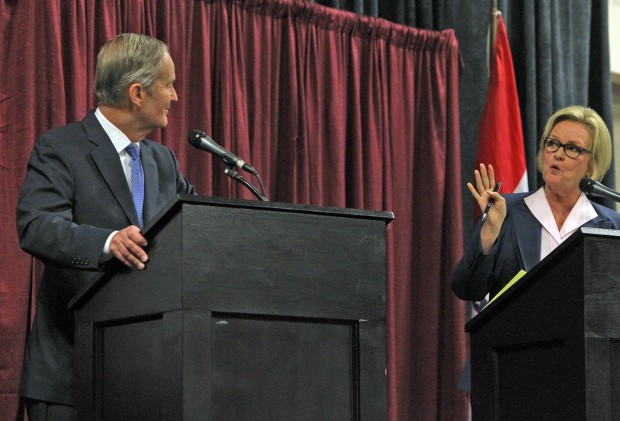 ST. LOUIS   •   Two days before the second debate in Missouri's U.S. Senate race, Democratic Sen. Claire McCaskill's campaign today released internal poll numbers showing her leading Republican challenger Todd Akin by 14 percentage points.
The release of the numbers comes in the wake of a poll commissioned a few days ago by the conservative group Citizens United, which shows Akin's campaign up by 4 points.
So what is the real number? That's especially difficult to say in this race, in which the polls have been all over the place.
Neither of the latest polls being promoted by the campaigns tracks with earlier numbers. A 14-point McCaskill lead would be one of the biggest margins for her that anyone has predicted. On the other hand, the Citizens United poll is virtually the only one that shows Akin leading at all, since his game-changing "legitimate rape" comment in August.
McCaskill's internal poll, conducted by Kiley & Company, shows her up 52-38 percent over Akin in a head-to-head matchup, according to a polling memo provided by the campaign.
The poll was based on interviews with 601 Missourians, and has a margin for error of plus or minus 3.5 percentage point.
The recent Citizens United poll, conducted by Wenzel Strategies, showed Akin leading McCaskill 49-44 points. Among the most surprising factors in that poll was that it showed McCaskill with a mere 7-point advantage among women—less than half the gender gap seen in earlier polls.
Most polls showed Akin beating McCaskill prior to his Aug. 19 claim in a St. Louis television interview that victims of "legitimate rape" seldom get pregnant. Akin has since apologized for the comment, which is medically unsupported but has been promoted in some quarters of the anti-abortion movement to counter demands for rape exceptions to anti-abortion legislation.
A Post-Dispatch poll by Mason-Dixon, conducted just after the controversy broke, found McCaskill beating Akin by 9 percentage points, with an 18-point advantage among women. A subsequent internal poll commissioned by McCaskill's campaign in late September found similar numbers.
The two candidates will square off Thursday in their second debate, which will be conducted at Clayton High School. The debate, which starts at 7 p.m., will be broadcast live on KSDK 5.