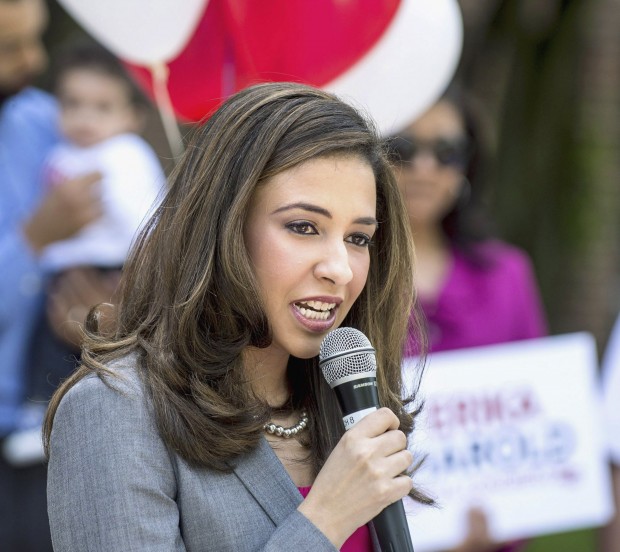 A county Republican Party chairman in central Illinois called a black female congressional candidate the "love child" of the Democratic party; a "street walker" whose "pimps" are party leaders; and suggested that after the election, she will be "working for some law firm that needs to meet their quota for minority hires."
And it's a Republican candidate he's talking about.
Montgomery County GOP Chairman Jim Allen wrote the comments in an email to a Republican website, regarding Erika Harold. She is the former Miss America and Harvard Law grad who is seeking the Republican nomination for the 13th Congressional District, which stretches from Champaign to the Metro East.
The episode is an illustration of the unusual state of the GOP in Illinois, where the party tends to fight with itself more than it does with the ruling Democrats.
Allen is a supporter of incumbent U.S. Rep. Rodney Davis, R-Taylorville, whom Harold is challenging for the GOP nomination next year. Allen's letter appears today on RepublicanNewsWatch, an independent website by conservative Republicans who have challenged the more moderate GOP party leaders in the state.
It was in response to a column on the site hailing Harold's entry as breath of fresh air for the party.
"Rodney Davis will win and the love child of the D.N.C. will be back in S---cago [Expletive deleted] by May of 2014 working for some law firm that needs to meet their quota for minority hires," Allen wrote in the email. " . . . Miss queen is being used like a street walker and her pimps are the DEMOCRAT PARTY and RINO REPUBLICANS."
The operator of the website, Chicago attorney and former state GOP General Counsel Doug Ibendahl, ran Allen's letter on the site, along with a note excoriating him for it.
"To understand why the Illinois Republican Party keeps losing elections – look no further than the racist rant (copied below) from a GOP party official," wrote Ibendahl. He calls the letter "trash" and identifies Allen as "a member of Rodney Davis' Team 2014."
Allen had been named among a long list of supporters on a Davis campaign website until today. His name was removed from the list after the Post-Dispatch questioned Davis' office about the comments.
Davis' office disavowed Allen's comments.
"Mr. Allen's comments are misguided and wrong and certainly do not reflect the views of Congressman Davis or his campaign," Davis spokesman Andrew Flach said in an emailed statement. "Our hope is that supporters for all of the candidates conduct themselves in a positive manner and focus on the issues facing our country as the campaign moves forward."
Allen didn't respond to messages seeking comment Wednesday.
Harold's entry into the 2014 primary race this month — just six months after Davis started his first term  — has gotten national attention as an example of how campaigns are starting so early as to be almost a constant.
In addition, Democratic former Madison County Chief Judge Ann Callis entered the congressional race last month.