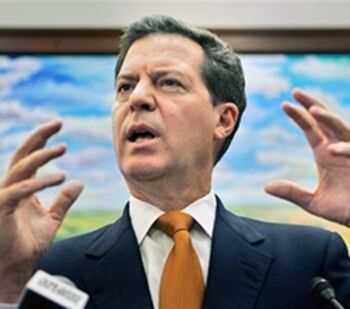 ST. LOUIS • Kansas Gov. Sam Brownback insisted Thursday that his controversial experiment with supply-side economics is working, contrary to what he alleged is slanted media coverage against it. He urged patience for people to see the results.
"These things take some time," Brownback told a small gathering in St. Louis' Central West End sponsored by a conservative think-tank.
He said despite continuing state budget problems and persistent criticism at home and around the country, he will continue to pursue his goal of making Kansas "a right-to-work state with no income tax."
The Republican governor's strategy — sharply cutting state income taxes and business taxes, and counting on resulting economic growth to cover those losses in the state budget — is the definition of supply-side or "trickle-down" economic theory as popularized in the Reagan Era.
But the immediate aftermath of Brownback's experiment has been a massive hole in the Kansas state budget, with estimated revenue shortfalls of more than $1 billion over the next two fiscal years. Progressive critics have pointed to that deficit as proof that the entire economic theory is invalid.
Brownback argued that part of the shortfall is the result of legislative sabotage of his original proposal.
But he maintained it's partly a matter of giving the tax cuts time to turn the economy around. He showed a series of charts with data to indicate there has already been increased business start-ups and other activity that will eventually increase the state's population and refill its coffers.
"The wailing has been enormous," Brownback acknowledged, referring to critics both in Kansas and nationally.
He quipped: "We're in Lent season, so I'm giving up worldly things, like popularity."
The speech was sponsored by The Show-Me Institute, a free-market think-tank primarily funded by St. Louis businessman and conservative activist Rex Sinquefield. It took place in Sinquefield's World Chess Hall of Fame, with Sinquefield himself among those in the audience.
Brownback claimed during the talk that media misrepresentation of his policy and its effects has fueled much of the controversy. His remarks generally echoed what he told Missouri lawmakers in a presentation in Jefferson City Wednesday, where he reportedly alleged "a vast liberal conspiracy" to make the Kansas experience appear to have failed so that other states don't follow suit.
The advocacy group Progress Missouri alleged Thursday that Brownback's Missouri appearances are part of an attempt by him and Sinquefield "to distract folks from the predictable disaster they created in Kansas."
"There's a reason Republicans around the country are running from these terrible tax scheme ideas — they're huge giveaways to a select few that will devastate local schools without stimulating the economy," Progress Missouri spokesperson Pamela Merritt said in a written statement. "Their experiment is a failure, and no Sinquefield-funded media tour is going to change that."