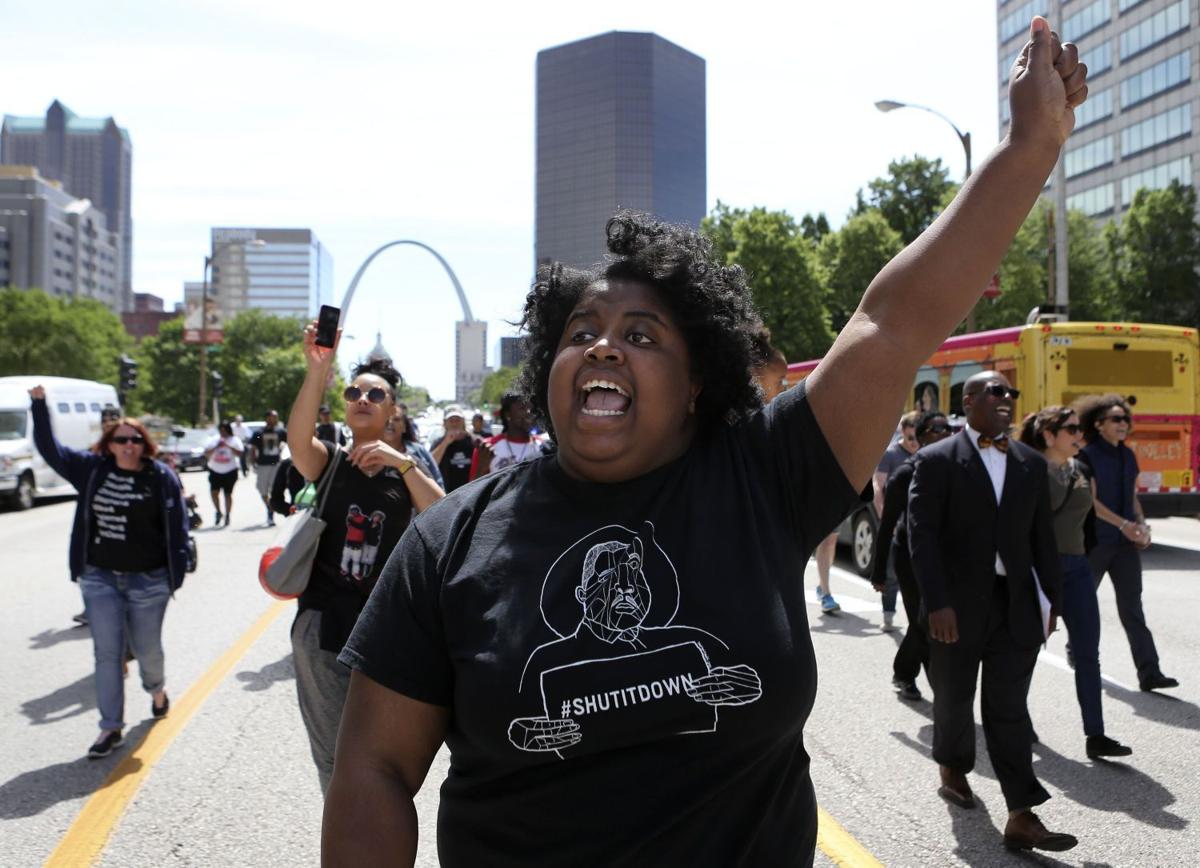 A longtime St. Louis civil rights group and big labor are working to build closer ties in an effort the two groups say is part of a new focus that will continue beyond election season.
AFL-CIO Executive Vice President Tefere Gebre was in St. Louis Thursday to meet with more than just area labor leaders. He also made a stop at the St. Louis-based Organization for Black Struggle's office and community center in the Hamilton Heights neighborhood in north St. Louis.
Longtime Organization for Black Struggle leader Jamala Rogers said the two groups are collaborating to help build local organizers and get them involved in the political process and labor organizing. She wants to see the creation of a "black worker center" in the neighborhood, which she said is struggling from decades of disinvestment.
"That does call for an educated, enlightened electorate, particularly workers, and for us, that's black workers," Rogers said. "That's our focus."
The two groups haven't necessarily been focused on the same issues. The Organization for Black Struggle has monitored local police conduct and spoken out against alleged abuses long before the unrest in Ferguson. In recent years, it worked to organize protests with the Black Lives Matter movement in the wake of Michael Brown's death in August 2014.
The AFL-CIO focuses on helping workers organize, assisting the many unions under its umbrella and mobilizing voters during elections. But Gebre said the huge labor organization needs to look beyond its traditional activities and build relationships with other groups that last after the election season furor dies down.
For instance, Gebre said, mass incarceration is an area that civil rights groups have focused on, and it affects workers, too. People can't make a decent wage if a portion of their community are ex-felons or in prison, he said.
William Spriggs, the AFL-CIO's chief economist and a former official with President Barack Obama's administration, said areas of high joblessness like north St. Louis hurt all workers.
"If black workers are being treated unfairly and are unable to access jobs in a fair way, it means you have a set of workers who are desperate and have to take wages that are low, and that hurts all workers," Spriggs said.
The worker centers like the one planned in St. Louis will help area residents get information on training, employment and union organizing, he added.
"We can't be the labor movement if we only represent the people the bosses tell us we can represent, we have to be America's labor movement," Spriggs said. "These people aren't paying dues, but we have to represent them too."
Gebre said the national labor organization will look for ways to "to make OBS as strong as possible."
"We're going to have lots of resources come into this state," he said.
Daily updates on the latest news in the St. Louis business community.