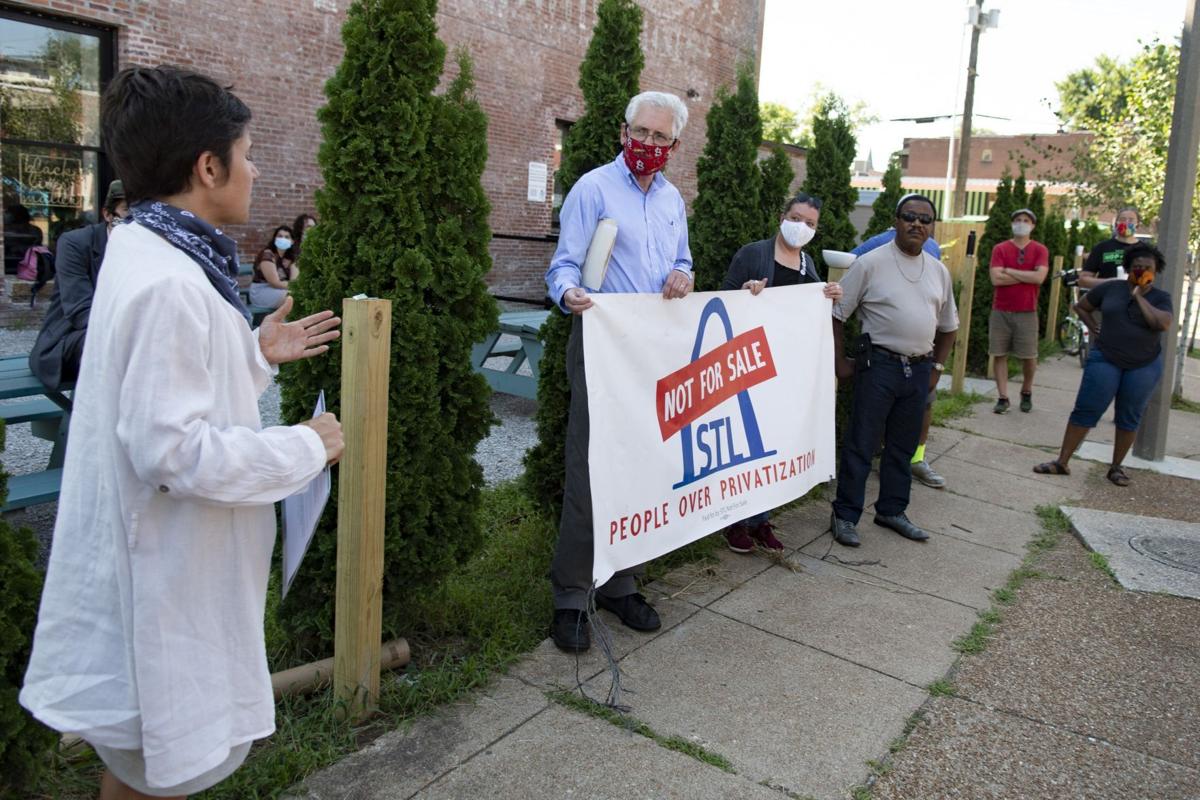 ST. LOUIS — The leader of a petition drive to put the recall of Alderman Cara Spencer on the Nov. 3 ballot in her ward has dropped the effort.
LeJuan Strickland, owner of Metropolitan Strategies and Solutions, said in an email Monday that he is "no longer pursuing a recall of the 20th Ward Alderwoman on the November ballot." 
Strickland, whose firm also gathered signatures to put an airport privatization plan before voters citywide at the same election, on Tuesday explained his decision regarding Spencer — an outspoken foe of the plan. 
He said he met with Spencer last week. He said while the two still disagree on the proposal to lease St. Louis Lambert International Airport to private operators, "she listened to my concerns" generally and had indicated she was working hard to address concerns of her Black constituents. He did not give specifics.
"I do think she came from a place of sincerity," Strickland said.
Strickland, who is Black, had complained that Spencer, who is white, hadn't done a good job engaging Black residents of her Black-majority ward.
In response, she had said ward residents had a choice for alderman just last year and that she had easily defeated a Democratic primary opponent last year who happened to be an African American.
Strickland, while dropping the November recall push, on Tuesday didn't rule out the possibility of using the same signatures to seek a recall of Spencer in a later election. "It's always on the table," he said. "We'll see how things are doing in the ward."
Spencer on Tuesday night decried Strickland's "ongoing recall threat" and said it was "an affront to democracy."
"I was elected by the voters of the 20th ward and I answer to them, not a bully whose company is funded by a billionaire to do business with the city of St. Louis," she said in a statement.
Strickland's company, with offices in Washington, St. Louis and New York, was among consulting firms that worked for a city panel that studied Lambert privatization through a process halted last December by Mayor Lyda Krewson. The consultant fees were paid by a nonprofit funded by political megadonor Rex Sinquefield.
More recently, Strickland's company was paid to gather signatures for a petition drive to put a separate Lambert privatization plan on the November ballot. That drive was largely funded by a company that also has ties to Sinquefield.
Strickland said his own company paid for the ward recall petition effort.
Spencer on Monday said "the last couple of weeks has been incredibly reaffirming" as residents of her ward, people throughout the region and various organizations showed support for her fight against the recall. Spencer also is running for mayor in the Democratic primary next March.
Strickland said Tuesday that his recall petitioners had gathered in excess of 1,900 signatures of registered voters in the ward but that he had decided to not submit them to the city Election Board. More than 1,100 are required to trigger a recall election.
The city Election Board last month said the airport privatization petitioners  got enough signatures to qualify their proposal for the November ballot.
This article was updated at 9 p.m. Tuesday with additional information
Daily updates on the latest news in the St. Louis business community.