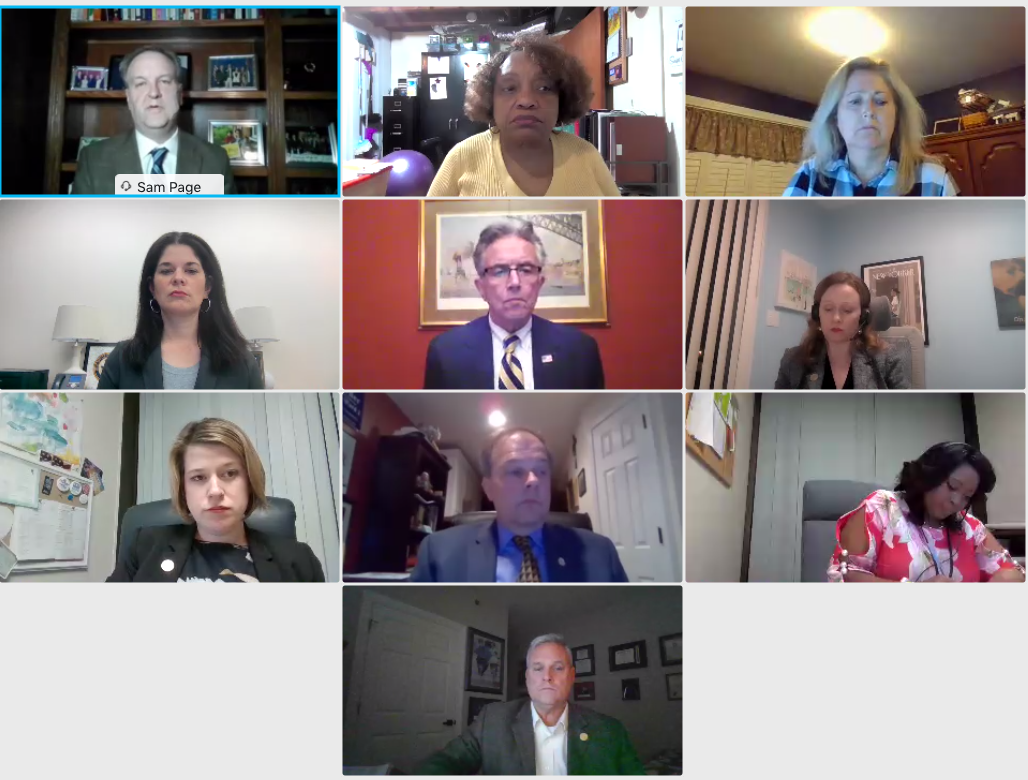 CLAYTON — The leadership fight at the St. Louis County Council this year has reignited a debate that first flared when then-County Executive Steve Stenger was doing battle with the legislative branch.
The issue: Does the council need its own lawyer, and can the office of county counselor represent two separate branches of government?
The county's charter appears to be clear on that point. "Neither the council nor any department … shall have any attorney other than the county counselor," it says. But council members point out the county counselor serves at the pleasure of the county executive, which may influence the legal advice that office provides and limit its independence.
As chairman of the St. Louis County Council, Democrat Sam Page led the opposition to Stenger and pushed for charter amendments that would have given the seven-member body its own lawyer. Now that he's county executive, Page says voters settled the matter with an April 2019 charter amendment carving out a dedicated lawyer in the county counselor's office.
But some current council members say that change didn't go far enough because their dedicated lawyer still works in the county counselor's office.
Ernie Trakas, R-6th District, a veteran of the Stenger battles and often a Page ally, said that legislative branches, from Congress to the Missouri Capitol to the St. Louis Board of Aldermen, have their own independent legal staffs. He's open to a similar setup for the county if it's properly crafted.
"I'm still a proponent of the idea that the council needs its own lawyer or lawyers," Trakas said. "It's hard to argue against that. Because occasionally, and in St. Louis County's case, more than occasionally, the executive branch and the legislative branch don't line up together."
What Page said in 2018
Page said then that they didn't trust the opinions from a county counselor who was supposed to represent them but could be fired by the county executive.
"I don't think anyone believes a legislative branch of government shouldn't have legal counsel that's giving it advice that represents a duty to its clients instead of a duty to someone who's adversarial to its client," Page told the Post-Dispatch in 2018. "Our county attorney has gone to court against the County Council … because he's been ordered to do so by the county executive."
A ballot initiative Page and his allies pushed giving the council its own staff attorney failed by the narrowest of margins in August 2018 — less than 100 votes out of some 250,000 cast. Another ballot issue passed a few months later, though it didn't put a lawyer on the council staff.
Page, now head of the executive branch, said he believes the 2019 ballot issue carving out a dedicated lawyer in the county counselor's office solved the problem.
"I thought the County Council needed their own attorney," Page told the Post-Dispatch in an interview Thursday. "We passed a charter amendment to give them their own attorney. I believe it's working."
He acknowledged that Stenger's maneuvers with the county counselor's office created "a unique setting," but said that "in the end, the courts worked."
Page pointed out that the attorney assigned to the County Council is a merit employee who can't be fired for political reasons. That lawyer, Genevieve Frank, has a "duty" to the council under the April 2019 change, Page said.
A vote of no confidence
Despite that, a deep rift between the council and the county's top lawyer has opened once again, with the council voting last week 4-3 to approve a resolution expressing its lack of confidence in the current county counselor, Beth Orwick.
The unusual action followed a tangled two-month fight over leadership that started on Jan. 5 when Council members Lisa Clancy, D-5th District, and Trakas, both Page allies, were elected chair and vice chair with the votes of Council members Kelli Dunaway, D-2nd District, and Rochelle Walton Gray, D-4th District. Gray, however, had been defeated in the Aug. 4 Democratic primary by challenger Shalonda Webb, and her term should have ended on Jan. 1. But a charter change, approved by voters in August, changed the start date for county officeholders, which meant Webb's term couldn't begin until Jan. 12. Citing Orwick's legal advice, Clancy and her allies said Gray was entitled to continue representing her north St. Louis County district until Webb was sworn in.
As soon as Webb joined the council, she joined with Page opponents Rita Heard Days, D-1st District, Mark Harder, R-7th District, and Tim Fitch, R-3rd District, to replace Clancy and Trakas with Days and Harder. Orwick then filed a lawsuit against the council majority on behalf of St. Louis County, seeking to overturn the majority's vote. On March 2, St. Louis County Circuit Judge Thomas Albus ruled against the county, saying Gray's participation in the Jan. 5 vote was illegal.
Citing Orwick's role in the leadership dispute, Council Chairwoman Days said Wednesday, "It is going to be difficult for us to even have faith in that office. We may have to look at putting (a council attorney) back on the ballot at some point."
"Relitigating this settled question of separate legal counsel for the County Council, it just maintains divisiveness and confrontation," Page said.
Far from settled
Fitch, who sponsored the no-confidence resolution, said the matter is far from settled, calling the 2019 charter provision "a joke" that "did absolutely nothing."
"They try to make like there's a wall between them," Fitch said. "A wall doesn't exist when you report to someone in the executive branch."
"Turn on the County Council meeting, who's the county counselor there in our meeting?" he continued. "Beth Orwick is there. And when there's a question about anything legally it goes to Beth Orwick. She shouldn't even be in our meetings."
Fitch initially was against the council having its own lawyer. He can still "argue both sides," he said, but "at the end of the day, I think the legislative branch needs its own attorney."
Even Trakas, who said the April 2019 change improved efficiency for the council, said the change wasn't enough for true legislative independence.
"If we're going to have our own attorney, we need our own attorney," Trakas said. "Regardless of who they assign, they still work for the county counselor. The appearance of a conflict anyway is always present. Doesn't mean there is one, doesn't mean we're not getting good advice. All I'm saying is, from appearances, it is challenging."
Tim O'Connell, who served as the St. Louis Board of Aldermen's attorney and later worked as Mayor Lyda Krewson's chief of staff, said any disputes between local government branches that head to court can probably be resolved with the hiring of outside counsel.
"For a local government, having a lawyer on staff at all times that's dedicated to the so-called legislative branch could lead to more conflict," he said. "The question a lawyer serving a local governing body should be asking elected officials is: Is this really a legal question, or is this a political and policymaking question that you all should be negotiating?"
The County Council could end up hiring outside lawyers again. Fitch is still waiting on a legal opinion from the county counselor's office about whether a vote the council took during Gray's last meeting in January authorizing the county to enter into legal contracts is valid in light of the leadership dispute ruling.
"We had plenty of attorneys helping us on the chair and vice chair situation," Fitch said. "So we might be able to do just that."