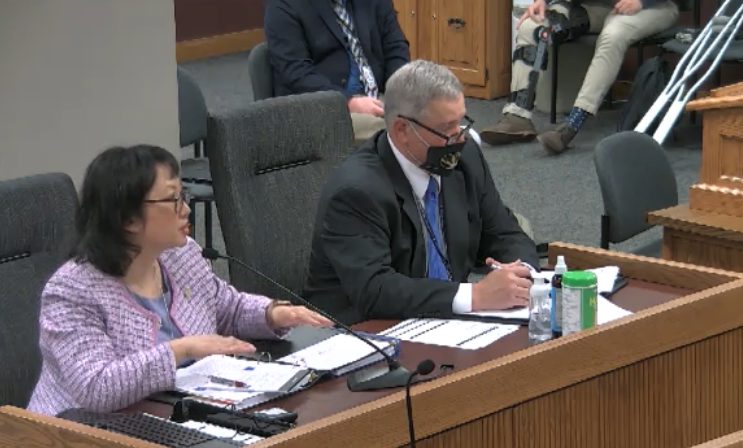 JEFFERSON CITY — Angry members of a Missouri House committee sharply questioned the head of the Missouri Department of Labor, suggesting she had reneged on an agreement to work with Missourians who had received overpayments of unemployment benefits.
During a hearing Tuesday that Rep. Jered Taylor said he was "really hoping not to have," members of the House Government Oversight Committee said they felt Anna Hui and her department hadn't fully followed through on their agreement.
They said Hui had promised to ease up on demanding repayment of unemployment benefits the state gave in error. Instead, they said, her department had become even more aggressive in trying to collect repayments.
"After I've staked my reputation on saying, 'Contact the department,' now I'm finding out from constituents that there are now liens and garnishments and threatening letters still going out," said Taylor, a Nixa Republican who chairs the committee.
Hui said she had kept the agreement — aside from a mistake caused by a backlog of appeals cases.
The hearing Tuesday came after multiple committee members said they heard from constituents that they'd received letters warning the state planned to garnish wages, intercept tax refunds and put liens on homes if unemployment benefits paid in error are not returned.
Rep. J. Eggleston, R-Maysville, told Hui that his constituents had sent him letters they received from the department after he "got on the House floor and asked my 162 colleagues to trust me, because I was trusting you, that these kinds of letters wouldn't be coming out anymore."
The legislation addresses the approximately 46,000 Missourians who received unemployment benefits in error and have been told by the state to return the money.
Despite resistance from some Democrats, Eggleston successfully urged the House in early March to vote down an emergency clause on the proposal. Emergency clauses put proposals into effect as soon as they are signed into law.
Gov. Mike Parson's administration requested the clause be removed because it would take time to prepare paperwork and processes needed to grant the case-by-case waivers required by the proposal, Eggleston said at the time.
He said the administration was prepared to "call off the dogs" and pause collection efforts, which had included confiscating tax refunds and threatening to garnish wages and put liens on property.
Now, Eggleston says he has a "trust issue" with the department and isn't sure how to move forward. He suggested the Senate could add an emergency clause back to the proposal.
Hui said she had kept her commitment to halt collection of the federal portion of unemployment payments that were given in error and were not the result of fraud.
Hui said she had also kept her promise to stop aggressive collection of the state portion of payments for people that have been in touch with the department to either appeal the repayment or set up a payment plan.
But she admitted that in 32 known cases the department failed to process the backlog of appeals quickly enough to keep up with a semi-automated process for filing liens.
Hui committed to also pausing collection of the state portion of payments, effective immediately, so the department can review processes that led to mistakes, revise form letters to make them more informative and cordial, and prepare for further guidance from the Legislature.