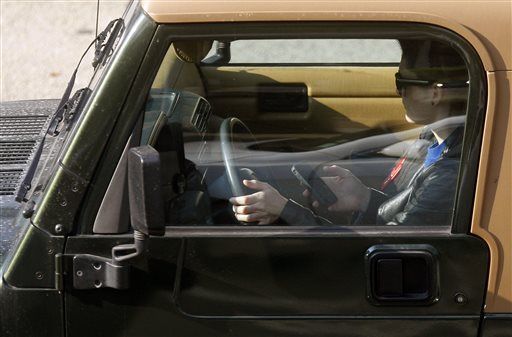 JEFFERSON CITY • Texting while driving would be banned in Missouri for all motorists — not just younger drivers — under a trio of proposals that could be debated by state lawmakers in 2016.
Current state law bans texting for drivers under the age of 21 and drivers of commercial motor vehicles.
That puts Missouri in select company among the states when it comes to prohibiting texting while behind the wheel. Only three other states — Arizona, Montana and Texas — don't completely ban the practice.
According to data compiled by the National Council of State Legislatures, 14 states prohibit all drivers from talking or texting on handheld phones as a way to eliminate distractions that can lead to deadly accidents.
State Sen. Jill Schupp, a Creve Coeur Democrat who is sponsoring one of the proposals, said it made little sense for the ban to apply to only young drivers.
"I have literally always been puzzled by it," Schupp said Friday. "It's just crazy. It needs to stop."
Schupp's legislation would permit texting if motorists use a hands-free voice-activated mode.
Republican state Reps. Nate Walker of Kirksville and Cloria Brown of St. Louis also have introduced legislation that could be debated when the House and Senate return to action on Jan. 6.
It's not the first time bans have been proposed. Previous attempts failed to advance to the full House or Senate.
Walker, who helped usher in the state's seat belt laws as state public highway safety chief in the 1980s, said opponents are being stubborn.
"They think it's an infringement on private rights when it is something that will save lives," Walker said.
"People know they shouldn't be doing it. But it's a habit," Walker said.
The legislation is Senate Bill 821, House Bill 1423 and House Bill 1542.