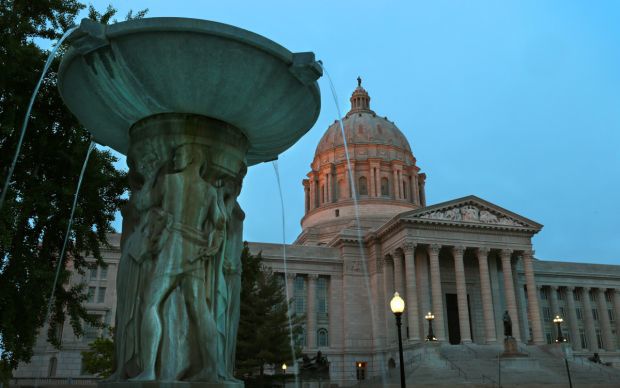 JEFFERSON CITY • With a statewide election looming, Democratic state Rep. Tracy McCreery believes the Missouri Legislature will put an ethics reform bill on Gov. Jay Nixon's desk next year.
"I think the voters and our constitutents are supportive of ethics reform," McCreery, from St. Louis, said. "It's up to us as the Legislature to listen."
On Tuesday, McCreery filed her ethics reform bill, which makes lawmakers wait three years before becoming lobbyists and one year before becoming political consultants. The 2016 Legislative session begins Jan. 6, but Tuesday was the first day to file bills. Other bills filed by lawmakers ahead of the session were related to abortions, voter identification and right to work.
Currently, Missouri has no contribution or gift limits and no "cooling-off" period before a lawmaker becomes a lobbyist. Lawmakers repeatedly have failed to pass bills strengthening the state's ethics laws, despite calls for change.
Those calls grew louder after two lawmakers resigned this year amid allegations of inappropriate dealings with interns.
While the intern situation was not directly related to when lawmakers become lobbyists, McCreery said it "shined a light on the goings on in Jefferson City."
"It cast a doubt over voters' minds about what we're doing in Jefferson City," she said. "They're more aware of the shenanigans."
Rep. Caleb Rowden, R-Columbia, also filed ethics-related legislation. His measure was more expansive, banning lobbyist gifts, restricting when lawmakers can become lobbyists and prohibiting lobbyists from maintaining a campaign committee. It also would require stricter reporting of travel expenses.
"This ethics reform package represents a very clear and very simple path forward that will significantly improve Missourians faith in the legislative process," Rowden said in a statement.
The first of what is likely to be many abortion related measures was filed Tuesday by Rep. Rocky Miller, R-Lake Ozark. The measure would require both parents or legal guardian to be notified prior to a minor having the procedure. Miller filed a similar measure last year, but it did not pass.
Numerous abortion measures are expected this coming session as the 2016 statewide election approaches. Also coming into play is the July release of controversial videos alleging Planned Parenthood sold fetal body parts. Planned Parenthood has vehemently denied these allegations.
Attorney General Chris Koster, a Democrat running for governor next year, found no evidence of wrongdoing by the St. Louis facility, but the House and Senate continued investigating. Bills relating to those investigations likely will be filed.
Other Republican priorities were filed once again this year, including a measure requiring a photo ID to vote and a measure that would outlaw employment contracts that make union dues or fees a condition of employment.
A few other measures filed Tuesday include:
--Mandatory police body cameras
--An increased gas tax to 19 cents from 17 cents
--Increasing the state's minimum wage to $10.25 per hour.
Senate pre-filed bills have not yet been posted online.
Get Government & Politics updates in your inbox!
Stay up-to-date on the latest in local and national government and political topics with our newsletter.