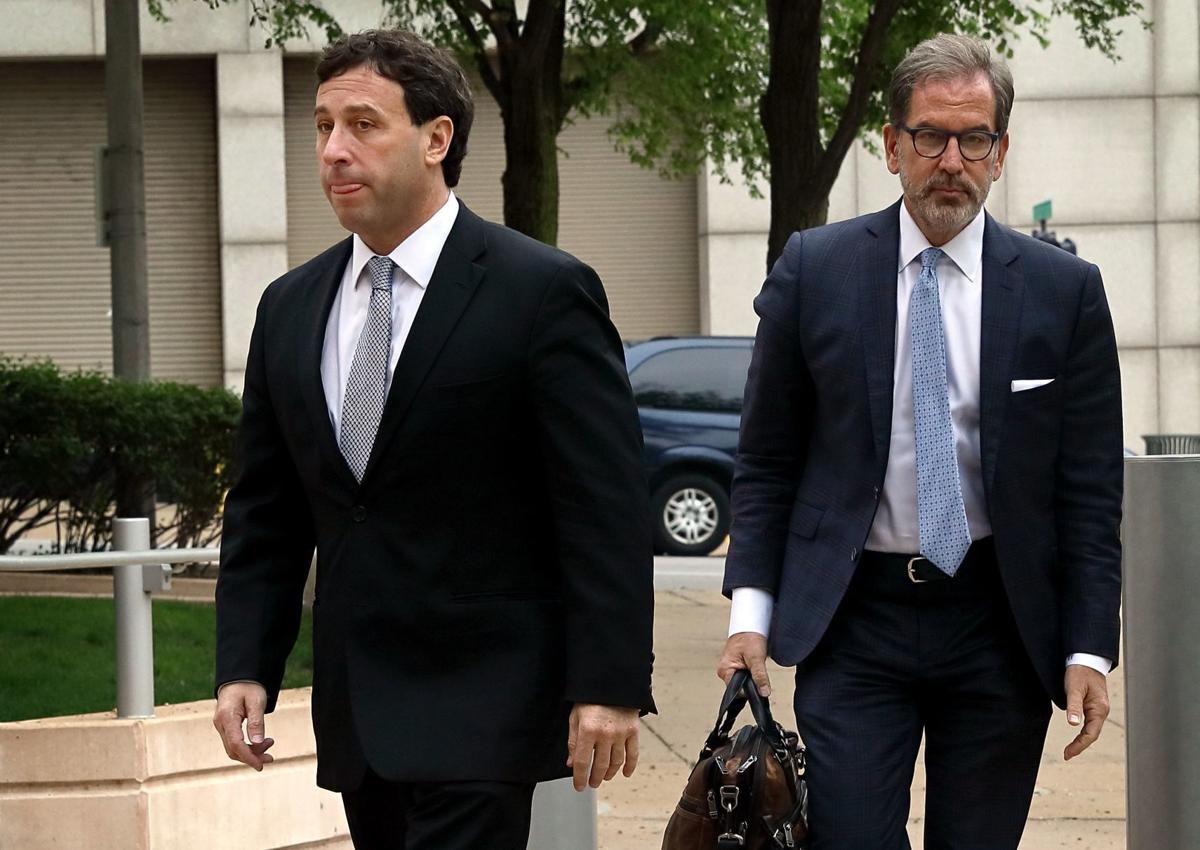 CLAYTON — Steve Stenger's attorneys paint the former St. Louis County executive as remorseful for the fraudulent actions that led to his federal indictment on three charges, arguing that Stenger deserves no more than the minimum time of 37 months in prison in a memo filed Sunday.
Stenger resigned in May before pleading guilty in U.S. District Court in St. Louis to three counts of honest services mail fraud. He admitted orchestrating a pay-to-play scheme in which he asked for and received contributions from those seeking to do business with St. Louis County and associated entities, and in return took action on donors' behalf.
Federal prosecutors argued on Friday that Stenger was a self-interested bully who deserves no leniency when it comes to prison time. Stenger could face up to 46 months in prison for his crimes. He is scheduled to be sentenced on Friday.
A memo signed by defense attorney Adam Fein and submitted on Sunday suggested that 37 months in prison plus two years of supervised release would adequately serve the purpose of rehabilitation for the former county executive.
Some positive contributions came during Stenger's administration, his attorneys say, such as a prescription drug monitoring program designed to help doctors avoid overprescribing opioids, a sales tax increase to benefit county police and efforts to secure a $4.5 million criminal justice reform grant for the University of Missouri.
Stenger pleaded guilty within eight days of his indictment, an indication that Stenger "accepted responsibility early on" and shows that he experienced "regret" about defrauding voters to gain donations, according to his attorneys.
Stenger has paid $130,000 in restitution, returning to the county funds paid to John Rallo, who admitted to donating tens of thousands of dollars to Stenger's campaign with the expectation that his business would benefit. In 2016 Rallo's company Cardinal Creative Consulting was awarded a "sham" marketing contract of $130,000, and Rallo and his partners were allowed to purchase two Wellston parks for well below the appraised market price.
The restitution payment "reflects Stenger's contrition for his misconduct," his attorneys argue.
Stenger is unlikely to re-offend, according to the memo, and a longer prison sentence is unlikely to result in further rehabilitation. The court "can and should, however, impose supervised release conditions to further rehabilitative needs where appropriate," the memo reads.
"Stenger's offense has cost him much," the memo states. "He has lost the livelihood he worked his way through school to earn, is the subject of public opprobrium, and is an object of regular public scorn — some based on fact, but some most assuredly not."
The memo also argues that Stenger's age, 47, and his marriage to his wife, Allison, who is pregnant with the couple's third child, are further indications that he is unlikely to re-offend.
"Though his offense is serious, on balance, Stenger has lived a pro-social, productive, and positive life in which he has done more good than harm in both his personal and professional lives," the memo reads.
Post-Dispatch staff writer Jeremy Kohler contributed to this report.
St. Louis County Executive Steve Stenger pleaded guilty to pay-for-play charges: Some background reading
Here's a collection of Post-Dispatch stories looking at some of the controversies surrounding the St. Louis County Executive.