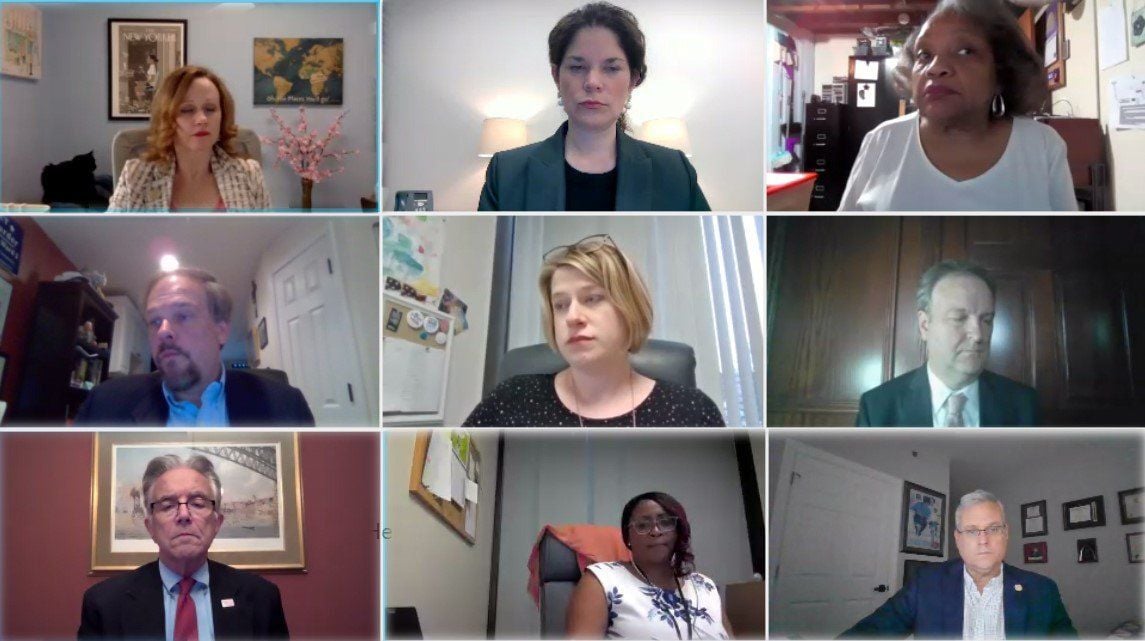 CLAYTON — A long-running fight on the St. Louis County Council over the hiring of outside law firms came to a head this week, potentially upending the county's legal defense in several high-profile lawsuits alleging civil rights and employment discrimination.
Citing the crush of pending litigation, County Counselor Beth Orwick sought to renew contracts with four law firms to represent the county for terms of one year and a maximum of $400 an hour. Orwick said she needs the legal help: Her office employs 21 attorneys — a number smaller than that of the city of St. Louis and other large jurisdictions — and lacks the staffing and expertise necessary to handle the cases.
But on Tuesday, a council majority — Chair Rita Heard Days, D-1st District; Councilwoman Shalonda Webb, D-4th District; Councilman Tim Fitch, R-3rd District; and Councilman Mark Harder, R-7th District — rejected the request, insisting the council only approve the hires if it can set a final cap on the expenses. The group also called on the county to rebid the contracts in search of minority- or women-owned firms.
The minority — Councilman Ernie Trakas, R-6th District; Councilwoman Kelli Dunaway, D-2nd District; and Councilwoman Lisa Clancy, D-5th District — supported Orwick's request, warning a delay over upfront costs would put the county at risk of losing cases that could cost end up costing taxpayers millions in damages. The requirements the majority sought were discussed in closed-door meetings and found to be unreasonable, they said, preventing the county from the flexibility it needs to mount an adequate legal defense.
Republican Councilmen Tim Fitch and Mark Harder voted against the measure to halt evictions; Council Chair Rita Heard Days abstained. 
While County Executive Sam Page's office on Wednesday indicated it hopes the council could set new terms for the contracts, Trakas, an attorney, said it's unlikely.
"We tried to work something out ... and none of that resulted in any movement," he said. "I believe there was never any good faith intent to ever reach an agreement or consensus unless it was on their terms."
A strict spending cap, Trakas said, would hamper the county's legal defense against plaintiffs without such limits.
"It's like going into a fight with one hand tied behind your back," Trakas said. "Nobody in their right mind wants to do that."
Fitch on Wednesday said any chance of compromise was "up to the county counselor's office."
"We told them what our concerns were last night and if they can't address those concerns it sounds like there is no more discussion," he said.
The council, under a previous four-person majority of Page allies, voted Jan. 5 to hire the four law firms — Stinson LLP, Lewis Rice LLC, Littler Mendelson PC and HeplerBroom LLC — for up to $400 an hour. But the deciding vote was cast by Councilwoman Rochelle Walton Gray, the District 4 representative who had been defeated by Webb in the Democratic primary in August.
Gray also voted for council chair and vice chair at the Jan. 5 meeting, setting off a bitter leadership fight that landed in court. In March, after a judge ruled that Gray's votes were illegal, Orwick canceled the legal contracts, then asked the council to reauthorize them.
Last week, the council met behind closed doors to discuss Orwick's request, and Trakas on Tuesday introduced amended versions that required council approval to extend the agreement past one year and required the council receive quarterly updates on the legal work.
But the new council majority said the measures didn't go far enough, and that they didn't trust Orwick's office. The group last month adopted a nonbinding resolution that expressed no confidence in Orwick.
"The bottom line is the counselor's office wants us to trust her again with her decision-making process on this and I'm just not there," Fitch said.
Trakas said Fitch was playing politics and pointed to a $20 million verdict against the county in a discrimination suit by a gay police sergeant as an example of potential ramifications. The county later settled that suit for $10.25 million.
"We don't have the luxury of waiting or denying the county the expertise and the specialization it needs to defend these lawsuits," Trakas said.
"We're going to decide tonight, up or down, as a body, whether or not we're going to protect the county," he said. "If the majority chooses not to do so, that will be on them. But the idea that this bill is a blank check is just a convenient narrative."
Dunaway, also an attorney, said it's common for most governments and businesses to hire firms with "depth of experience and resources to be able to defend ourselves to the fullest extent possible."
And she blasted Fitch, Harder and Days for seeking to cap spending on outside attorneys after the council approved their hiring of Husch Blackwell, one of the region's largest law firms, in the council leadership dispute while only limiting the cost to $525 an hour. According to an invoice to the county, the firm charged $127,996. Webb hired a separate attorney.
"It's the height of hypocrisy for some of you to have gone to some of the most expensive legal counsel there is in St. Louis and to have this bill that got completely out of hand and then not extend that same courtesy, that same level of support, that same level of legal representation to the county that you say you want to protect."
Fitch, asked Wednesday about the Husch Blackwell costs, said the group banded together to limit costs for what they expected to be a short court battle. The lawsuits against the county, he said, could extend months to years.
Page spokesman Doug Moore said "the normal operations of county government depend on processing many complicated legal questions including business transactions and litigation."
"The council will let us know what terms they will accept to conduct normal operations and prevent a slowdown of county government during this critical time of economic recovery," Moore said.