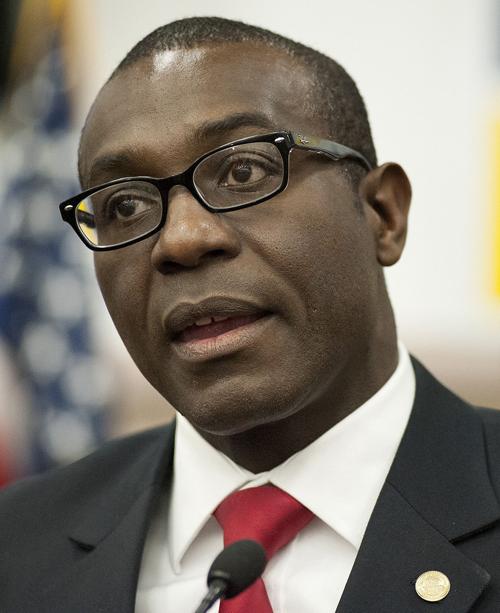 ST. LOUIS • Lewis Reed, president of the city's Board of Aldermen, formally launched his campaign for mayor Tuesday, making official what he's been saying publicly for months.
Reed, 53, rolled out his announcement with an online video followed by a series of interviews in which he laid out his vision for the future of St. Louis.
"We need to build a stronger, safer and more unified St. Louis," Reed said in an interview with the Post-Dispatch. "The reason why crime persists and why it seems like we can never get our arms around it is because we haven't done the necessary things to prevent it."
In a wide-ranging interview, Reed repeatedly spoke about the need for increasing job opportunities for young people as a means to reduce crime.
"It's not people in their 50s and 60s out there committing crimes, it's young people," he said. "We shouldn't be surprised at all the shootings when investments that need to be made haven't been made."
As he touched on briefly in his campaign video, Reed has firsthand knowledge of the tragedy of gun violence.
In 1982, his brother Eugene was a passenger in a car when Reed's father stopped at a stop sign near their home in Illinois. Two men approached and opened fire. Eugene was struck in the head and died later that day. The assailants were never found.
Now, as a father of two adult daughters and two teenage sons, Reed said City Hall needs to give young people a sense of purpose.
"I've worked with young people," he said. "A lot of them are not feeling connected and not feeling like there's any hope for themselves."
In addition to public safety, Reed said the city needs to be more aggressive in selling St. Louis as a desirable location to set up a business.
"In my administration, businesses across the country will know that St. Louis is a great place for them," he said. "They're never going to know that unless St. Louis is at the table with them pitching them on that idea."
Reed joined the Board of Aldermen just over 16 years ago when he became the first African-American to represent St. Louis' 6th Ward.
In that role, Reed said he's proud of the push he made to win approval of a tax-increment financing plan worth an estimated $8 million. He said the initiative allowed the people of the Lafayette Square neighborhood to revitalize the area with the community — not developers — driving the decisions.
For the past nine years, Reed has served as president of the Board of Aldermen. He cited his work to create a $1 million recurring youth crime prevention fund — which has put hundreds of teenagers to work — as one of his proudest accomplishments.
Reed ran for mayor in 2013 but lost the Democratic primary to incumbent Mayor Francis Slay.
With his campaign launch this week, Reed becomes the second candidate to officially jump into a race many consider wide open after Slay's surprise April announcement that he would not seek a fifth term in office.
Lyda Krewson, the city's Ward 28 alderman, launched her campaign in June. As of July, she had $353,159 in her campaign account, compared to Reed's $204,821.
A number of City Hall watchers expect more candidates to jump into the race before this spring's elections. Among those thought to be considering running are Alderman Jeffrey Boyd, Collector of Revenue Gregory F.X. Daly, Police Chief Sam Dotson, Alderman Antonio French, Jason Hall of the St. Louis Regional Chamber and city Treasurer Tishaura Jones.
Get Government & Politics updates in your inbox!
Stay up-to-date on the latest in local and national government and political topics with our newsletter.