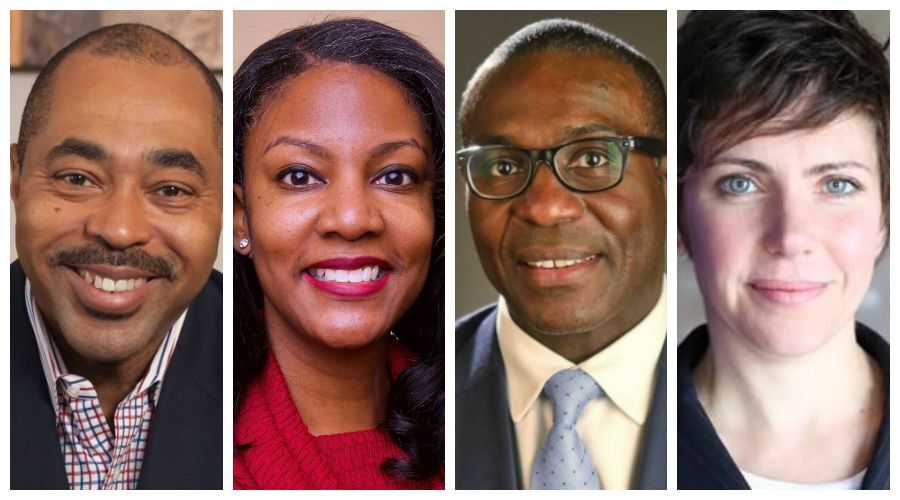 ST. LOUIS — Aldermanic President Lewis Reed has pulled ahead in fundraising as the city's mayoral primary campaign enters its final week.
New finance reports filed Monday showed a total of more than $531,000 donated to Reed's campaign committee and two political action committees also supporting him.
Committees backing City Treasurer Tishaura Jones and Alderman Cara Spencer's mayoral candidacies reported raising about $456,000 and $433,000, respectively.
As with the Reed total, the amounts for Jones and Spencer include money donated to the candidates' campaigns and to independent PACs backing the two. The reports cover donations and spending through Thursday.
The PACs aren't bound by the $2,600 contribution limits that the campaign committees must follow. Television commercials promoting Reed, Jones and Spencer all have been running recently.
Way behind in fundraising was utility executive Andrew Jones, who reported pulling in only about $19,400.
In the important category of cash on hand, the pro-Tishaura Jones forces were in the best shape, holding about $177,000. Pro-Reed committees had about $92,000 and the pro-Spencer camp about $45,000.
Under the city's new nonpartisan election system adopted by voters last November, the top two vote-getters in next week's primary advance to a runoff in the April 6 general election.
Tishaura Jones' lead in the cash-on-hand category might reflect confidence that she will capture one of the two runoff spots.
The Reed totals were led by a previously disclosed $100,000 contribution by a Carpenters Union political committee to One St. Louis, one of the pro-Reed PACs. It is still by far the largest single contribution in the race.
Andrew Taylor, chairman of Enterprise Holdings Inc., gave $20,000 to the PAC; his wife, Barbara Taylor, donated $2,600 to Reed's campaign committee.
Other recent large pro-Reed donations were from Jeff Tegethoff of Tegethoff Development LLC, who gave $10,000 to One St. Louis. Tegethoff also gave $2,600 to Reed's campaign committee.
A separate pro-Reed PAC, Leadership Counts, received donations of $12,500 apiece from Stone and Alter Real Estate and University Square Co., which have been tied in the past to development attorney Steve Stone.
SLC Holdings, which owns the St. Louis Cardinals, made donations of $7,400 to Leadership Counts and $2,600 to Reed's campaign committee. Koplar Communications and Koplar Property Management each gave the same committee $2,600.
314 Forward, a PAC supporting Tishaura Jones, reported getting $2,600 from Build-A-Bear Workshop founder Maxine Clark and $5,100 from her husband, Robert Fox, founder of NewSpace Inc. Clark also gave $2,000 to Jones' own committee.
314 Forward got $10,000 from Alison Ferring, a consultant. She also gave $2,600 to Jones' committee, as did her husband, John Ferring, CEO of PLZ Aeroscience. Jones reported getting $5,200 from two Service Employees International Union committees.
The treasurer continued to get support from a national network of fellow Black elected officials, including $1,000 each from Denver Mayor Michael Hancock and Columbia, S.C., Mayor Steve Benjamin.
Among large donations to a pro-Spencer PAC, Gateway to Progress, was $10,000 from Moto Collections LLC; $10,000 from attorney John Kujawski and $5,000 each from Commerce Bank executive David Kemper and Tom Carnahan, a son of the late Gov. Mel Carnahan.
Donors to Spencer's campaign fund included the Thompson Coburn law firm, $2,600; Post Holdings executive Rob Vitale, $2,600; and former Clayton Mayor Ben Uchitelle, $1,150.
Mark Wrighton, the retired Washington University chancellor, gave $1,000 each to committees for Reed and Tishaura Jones. He previously donated the same amount to Spencer's campaign.
New Directions: Exploring the issues in the St. Louis City mayoral race
New Directions: Exploring the issues in the St. Louis City mayoral race
The candidates on crime, economic development, housing, public education, transportation and regional governance.