SEDALIA, Mo. — At the 67th annual Governor's Ham Breakfast, held last week at the Missouri State Fair, a dozen or so Republicans wearing "Don't Tread on MO" stickers passed out paper fans to GOP faithful as they filtered out of the event.
The Republicans passing out fans belonged to Liberty Alliance USA, a new organization with the goal of energizing the party's grassroots.
"Liberty Alliance USA was formed in order to grow the conservative movement in Missouri now and for decades to come," said Chris Vas, the organization's executive director. "We were not created to support any specific candidates in the next election."
While the organization says it won't be backing specific candidates, it has close ties to once-powerful figures within the Missouri GOP, including ex-party chairman Todd Graves, an old ally of former Gov. Eric Greitens, who resigned in 2018.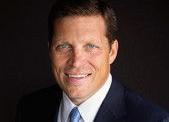 It is unclear who is funding the Liberty Alliance USA, because instead of filing political action committee paperwork with the Missouri Ethics Commission, it has filed paperwork with the Missouri secretary of state, meaning it is not subject to campaign disclosure requirements.
A political action committee called Liberty Alliance has existed since 2017, when Greitens was defending his "right-to-work" law against union efforts to repeal it.
That PAC spent more than $650,000 in 2017 and 2018, with nearly $193,000 going to Graves' Kansas City law firm, Graves Garrett, for legal services, according to a review of Missouri Ethics Commission records.
"Liberty Alliance USA is a new organization that is not affiliated with any PACs," Vas said.
Liberty Alliance USA lists its owner as Cornerstone 1791, a nonprofit formed Feb. 13 by William Greim, the brother of Graves' law partner, Eddie Greim.
Since its debut at the State Fair, Liberty Alliance USA has started tweeting and advertising on social media.
Socialism is making its way into Missouri. FOLLOW to help us fight back.

— Liberty Alliance (@LibertyAllUSA) August 15, 2019
When asked how the group would influence policy, Vas said "Liberty Alliance USA intends to promote and influence policy in order to implement real conservative reform to make Missouri a better place to live and raise a family."
The group's existence was news to some party insiders who attended the breakfast.
"It was the first time I'd seen them," said former Lt. Gov. Peter Kinder, a Republican. "They're just like other groups that pop up from time to time. Some of them endure and some of them fade away. We'll see about this."
Current Missouri GOP leadership claims no connection to Liberty Alliance.
Jean Evans, the party's executive director, said in a statement the Missouri GOP "remains the only organization in the state dedicated to promoting the conservative cause and electing Republicans from the courthouse to the White House.
"I have not spoken to anyone affiliated with the group," she said. "It would not be appropriate for me to speculate on the goals or agenda of any particular group."
Steele Shippy, Gov. Mike Parson's campaign manager, declined to comment for this article.
Graves did not return a phone call seeking comment. He was spotted at the breakfast wearing a Liberty Alliance sticker and mingling with Missouri politicos.