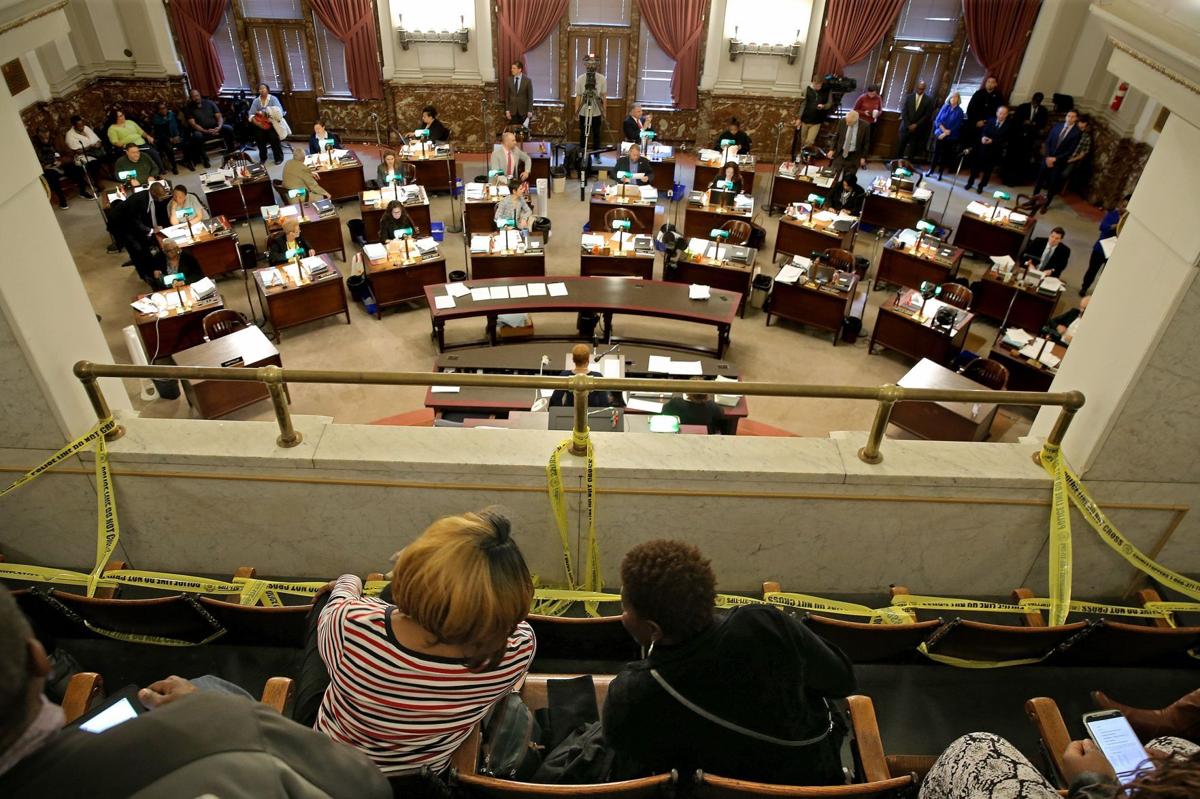 ST. LOUIS — A committee pushing to shift ward redistricting from the Board of Aldermen to an independent commission is on the verge of launching a petition drive to put the issue before city voters next November.
The newly formed Reform St. Louis Coalition will announce Tuesday that it hopes to begin gathering signatures of registered voters outside polling places at the city primary March 2.
"We're ready to launch this campaign — but only if we hit our goal of raising $100,000 and recruiting 200 volunteers" by Sunday, said Taylor Jackson, an official with Show Me Integrity, a group that organized the coalition. About $52,000 has been raised so far.
Under the coalition's draft city charter amendment, the task of redrawing ward boundary lines would be given to a seven-member "People's Commission" that would be required to hold public hearings and follow various guidelines.
Once the commission decided on a new map, the Board of Aldermen could submit objections or recommended changes and the commission could accept or reject them.
The panel would be chosen from applicants by an aldermen-appointed oversight board made up of two retired judges and a city Planning and Urban Design Agency representative.
Barred from serving on the commission would be anyone who ran for office or worked for a campaign or political party in the previous two years. Employees of city agencies and contractors and state and city lobbyists also couldn't be members. Spouses, parents and children of such individuals also would be barred.
The current procedure of letting aldermen redraw ward boundaries after the federal census every 10 years gives them "the power to pick voters and opponents," the coalition said in a news release.
Redistricting this year is expected to be especially contentious because a voter-approved plan to cut the 28 wards to 14 is already set to kick in.
Critics say reducing elected officials' involvement would be a mistake and that aldermen have keen awareness of different areas' needs. Aldermen are the officials closest to the public and can best represent their voices, asserted Aldermanic President Lewis Reed.
The draft proposition also would:
• Require aldermen with a conflict of interest on legislation to refrain from voting instead of simply disclosing a conflict.
• Require aldermanic financial disclosure statements to be accessible online.
• Prohibit former aldermen and aldermanic employees from lobbying the board for a year after their departure from the board.
Census Bureau officials recently announced that pandemic-related delays will result in detailed demographic data from last year's census not being released until the end of September. The data is a key to redistricting decisions.
Jackson, with Show Me Integrity, said some local officials have told the group that the release actually could be in mid-October. Either way, she said, there won't be enough time for aldermen to pass a ward boundary plan before the potential November election on the commission idea.
But Reed, the aldermanic president, says the board actually could approve a new map by November even with the census data delay. He said some work could begin earlier in the year using projections of population shifts.
If the board passed new ward boundaries before the election and voters then approved turning over the assignment to a commission, it's unclear what would happen.
The proposition would extend the commission's work period until May of next year.
Because the November vote would be a special election, the petition drive needs to get signatures of registered voters equal to at least 15% of the turnout at the April general election for mayor.
That's more than the number required to get a charter change on the ballot for a regular election.
Petitioners say they hope to get 30,000 signatures, in excess of the number that likely will be required.
The draft proposition also would lock into the city charter some election system changes approved by voters last November as Proposition D.
Those are now city ordinances that can be changed by a two-thirds vote of the Board of Aldermen but no sooner than a year after they took effect.
Show Me Integrity also was a key player in the petition drive that pushed Prop D, which changed city elections to nonpartisan and set up a general-election runoff for the top two vote-getters in a primary. That measure also allow residents to vote in a primary for more than one candidate for an office.
The new proposition would put into the charter the provisions dealing with elections for alderman and aldermanic president, meaning they could be changed only through another election and not by the Board of Aldermen.
The proposition also would allow voters in special elections to fill vacancies to vote for more than one candidate.
Details of the petition drive are to be discussed at a news conference Tuesday. Among those scheduled to take part are Alderman Christine Ingrassia, D-6th Ward; the Rev. Darryl Gray, a criminal justice activist; Kathleen Farrell of the League of Women Voters of Metro St. Louis and Yinka Faleti, the unsuccessful Democratic nominee last year for Missouri secretary of state.