ST. LOUIS • After four years of failing to improve the country's highest rates of chlamydia and gonorrhea, the city is ending its emergency contract for handling the sexually transmitted diseases.
Public health experts say the city health department has not done enough to provide free STD testing and treatment since 2013, when safety net provider ConnectCare closed.
After the north St. Louis clinic's closure, Dr. Sonny Saggar was quickly awarded a no-bid contract to provide free STD testing and treatment for people without insurance or who otherwise can't pay at his Downtown Urgent Care and North City Urgent Care clinics.
The $200,000 contract has been renewed annually through June 2018. Data show that the clinics have diagnosed less than 1 percent of the city's chlamydia and gonorrhea cases since 2014.
Other STD care providers in the area said patients have complained that Saggar's clinics are violating the contract by charging fees and failing to routinely conduct STD screenings, which involve physical exams and urine samples or genital swabs.
Under the contract, the clinics are supposed to follow Centers for Disease Control and Prevention guidelines, which call for screening all women under age 25 and all gay men, among other high-risk groups, for chlamydia and gonorrhea.
Dr. Will Ross, chairman of the Joint Boards of Health and Hospitals, which advises the city health department, told director Melba Moore in July 2017 that he was concerned that Saggar's clinics were not routinely testing for STDs. "If that is true then that would be against the policy established by our contract ... if so I guess you will either sever the contract or re-bid," Ross wrote in an email obtained by the Post-Dispatch.
Ross said he never received any follow-up from Moore about the email, and later recommended the city request proposals for the next contract.
"Dr. Saggar received that contract from the city on an urgent need basis," Ross said in an interview. "If the concerns were documented, or not documented, I thought it would be proper for the city to rebid."
Saggar denied that the clinics require fees and said they do perform regular testing.
"We always test whoever comes in," Saggar said. "We don't have any mandatory charges. People have given donations in the past, but there's nothing that's required."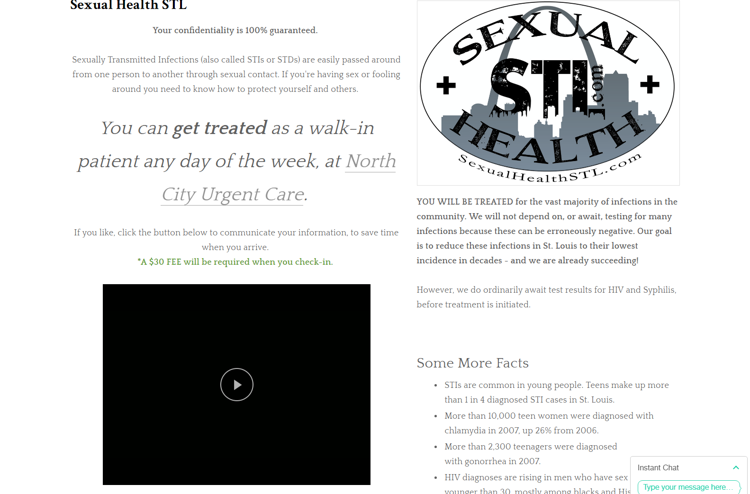 The page also states "you will be treated for the vast majority of infections in the community. We will not depend on, or await, testing for many infections because these can be erroneously negative. Our goal is to reduce these infections in St. Louis to their lowest incidence in decades — and we are already succeeding!"
The city's chlamydia rate in 2016 (1,297 per 100,000 residents) was unchanged from 2013, and the gonorrhea rate over the same period increased from 551 per 100,000 residents to 750 per 100,000. For at least two decades, St. Louis has had the highest rates of the two diseases among U.S. counties and independent cities, according to the CDC.
In 2016, Saggar's clinics diagnosed 31 cases of chlamydia and gonorrhea, or 0.5 percent of the 6,408 cases reported in the city, according to a source who has seen the data but asked to remain anonymous due to not being authorized to share it. The city's Sunshine Law coordinator said that clinic-specific data is confidential under state law.
The nonprofit St. Louis Effort for AIDS reported 211 cases of chlamydia and gonorrhea that year through their free testing that is not funded by the city.
"We were testing and treating at a tremendous volume, and to find out that Downtown Urgent Care was seeing a fifth or sixth of what we were, it was really hard to take," said Carolyn Guild Johnson, who was the group's director of prevention services from 2003 to 2017.
Saggar said he could not discuss the figures because "I think it is a matter of respect for patient privacy that no well-intentioned provider should comment on such data in this way."
Noncompetitive contract
Pamela Walker, who was the city's health director in 2013, awarded Saggar the original no-bid contract. Walker and Saggar are business partners in an effort to open a small hospital in downtown. Saggar also holds a $90,000 contract from the city to provide tuberculosis services 12 hours a week in his downtown clinic.
"When nobody else would, (Saggar) said, 'Yes, I'll help,'" said Moore, who was city health commissioner at the time the contracts were approved.
Most STDs are diagnosed in private medical practices or emergency rooms; about 5 percent of cases are diagnosed by publicly funded STD health clinics, according to a national survey.
Dr. Hilary Reno, medical director of the St. Louis County STD Clinic, said "it's important that we test patients as a matter of protocol," pointing to research that shows patients who know their test results will change their behaviors to prevent future infections.
The tests are also important to rule out a more serious condition that could be causing the same symptoms, and to notify sexual partners of their need to get tested and treated, Reno said.
A special meeting of the health department's advisory board was held on Thursday to discuss the STD contract bidding process. The next contract will require the provider to verify STD testing was completed before funds are released. About 10 providers are expected to file bids by the Feb. 26 deadline, according to health department officials.
Tricia Walker, a Washington University student, said her boyfriend went to Downtown Urgent Care three times last summer and was prescribed antibiotics each time without being given any STD tests.
Her boyfriend eventually went to a urologist who diagnosed him with an inflamed prostate, she said. Although she didn't have symptoms, Walker said she was also given antibiotics without any tests at the urgent care clinic.
When Walker asked why they weren't tested, "they said they would rather you pay $30 because the testing would have to go through insurance and you have to wait for results," she said. "The doctor said the tests are faulty and give false negatives."