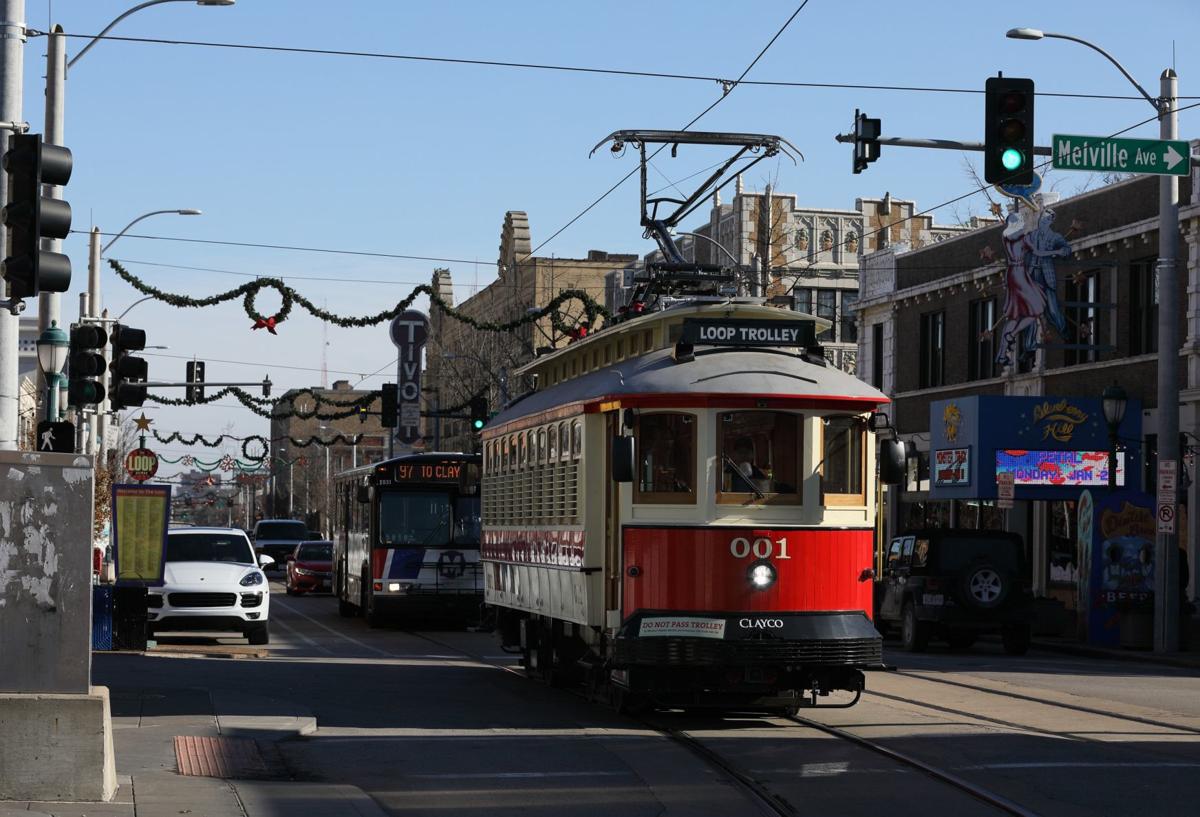 UNIVERSITY CITY — The struggling Loop Trolley Co. is facing insolvency if it can't come up with $200,000 by November and another $500,000 to operate into next year, its president said Saturday.
St. Louis County Executive Sam Page told the County Council in a letter on Friday that the trolley company asked the county for the funding after the city of St. Louis refused to provide it.
The trolley will also reduce service starting Thursday to help make up for budget shortfalls, John S. Meyer Jr., the trolley board president, said in an email on Saturday.
"This decision was not made lightly," he wrote, saying that funding from St. Louis County "would allow us to reach our full capacity, and put us on track to deliver the service and achieve the goals we originally planned for."
The $51 million streetcar line links the western end of the Delmar Loop commercial area in University City and the Missouri History Museum in Forest Park.
Page told council members the county doesn't have much to give. Money from the county's Public Mass Transit Fund could be dedicated to the trolley, but Page wrote he "would not support an appropriation of County funds at this time without similar investments from other stakeholders."
Page wrote that his staff suggested to the trolley that it approach the city of St. Louis, which has a $23 million budget surplus, "but they reported to my staff that the City was apparently not interested in contributing."
Tom Nagel, a spokesman for Mayor Lyda Krewson, said on Saturday: "We are aware of the financial situation" but said he could not comment further until he talked to other officials on the mayor's team.
Meyer said in an email that "it's our understanding the city is exploring options about how it can help." He would not elaborate.
Page's letter said the trolley's supporters believe the county's investment would sustain the system until a third car could begin operating in January, giving it a chance to support itself through passenger fares, the special local sales tax in the trolley area, income from ads and private donations.
"Allowing such an expensive project to fail so quickly would be a disappointment and could have a wide-ranging impact on future transportation projects," he wrote. And the federal government, which provided $33.9 million in funding for it, might get the message "that the region should not be trusted with future investments of that magnitude."
Councilwoman Rita Heard Days, a Democrat whose 1st District includes the county's portion of the trolley, said she had ridden the line and said "it's very limited in scope at this point. It's a tourist attraction, and I'm not sure it would be wise at this particular point (to invest county funds) but I need to look at all the funding sources and potential projects that are looking to be funded out of that particular revenue source and see what we could come up with."
County Councilman Tim Fitch, R-3rd District, said on Saturday that he was a "hard no" on bailing out the trolley.
"Obviously this project should have been shut down a long time ago," he said. "At some point it's throwing good money after bad, and it has to stop."
The trolley company says it would become insolvent if it could not come up with $200,000 by November and another $500,000 to operate into next year.