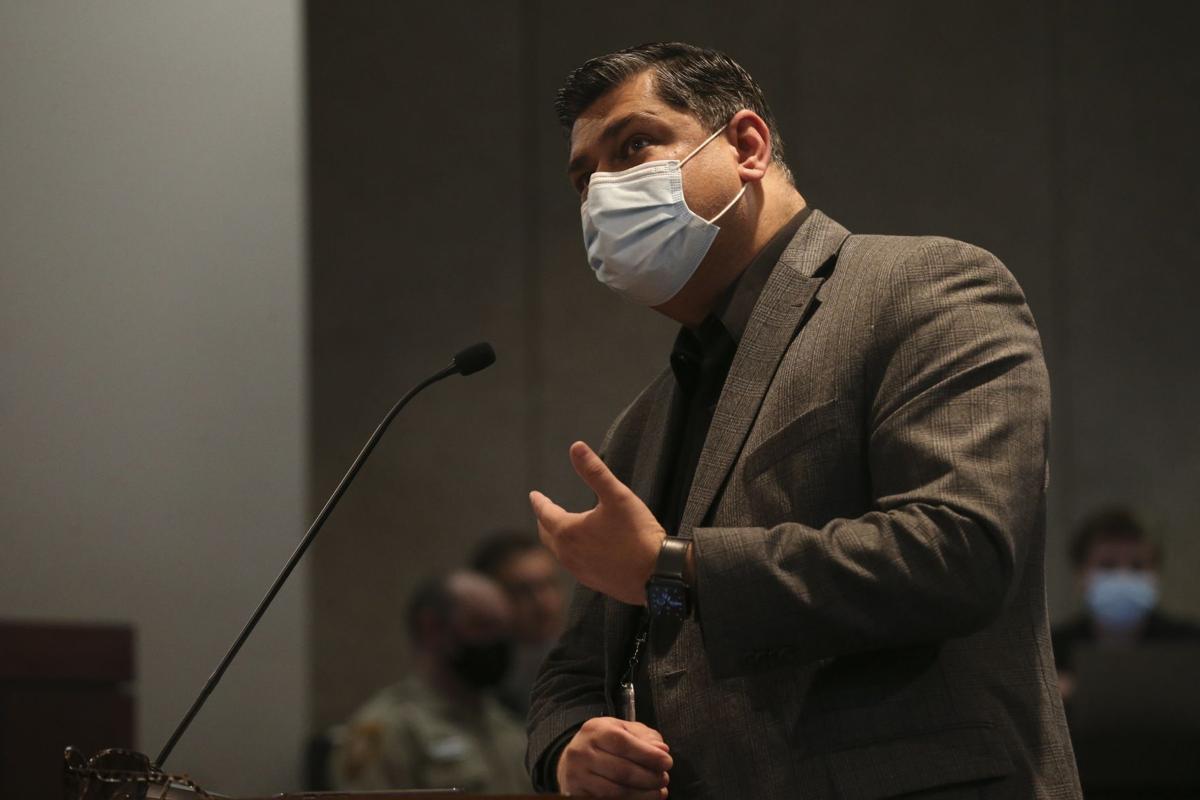 CLAYTON — Opponents of public health orders to prevent the spread of COVID-19 were enraged Wednesday by an email from Acting Health Director Dr. Faisal Khan referring to them as "a lunatic fringe" and "irrelevant fools."
The email from Khan, sent Tuesday morning to the department's staff, thanked them for working to combat the deadly COVID-19 virus.
"I know that the vast majority of the people in St. Louis County are very thankful to each and every one of you for everything you have done to protect them throughout this once-in-a-century public health emergency," Khan wrote to employees.
He added: "Please ignore the lunatic fringe that exists in every society. They were there one hundred years ago and will likely be around 100 years in the future. They are irrelevant fools."
The email went on to encourage health workers to continue personal precautions ahead of an expected rise in cases of the airborne coronavirus amid holiday gatherings and colder weather sending people indoors.
By Wednesday, Khan's email was circulated online by critics of public health measures, including some of the people who have appeared at County Council meetings in recent weeks to oppose a county requirement that people wear masks in public and on transit. The mask order is currently under a legal challenge from Missouri Attorney General Eric Schmitt, who sued to block the public health measure.
Councilman Tim Fitch, R-3rd District, who has voted against mask requirements, forwarded the Khan email to news media Wednesday. Fitch attached a response he sent to the department's staff that accused Khan of "calling those that work to put roofs over our homes and food on our tables names such as 'lunatic fringe' and 'irrelevant fools.'"
"I'm stunned that you had to read this from your department leader," Fitch said. "This is not what I or you should expect from a county government official."
Fitch copied County Executive Sam Page, Council Chair Rita Days and other county officials in his email.
Fitch, a former county police chief, told the Post-Dispatch a health department employee forwarded the email to him. Other employees, he said, had called him to say it was "inappropriate."
Neither Khan nor a spokesperson for the Department of Public Health responded to requests for comment by the Post-Dispatch.
Days said Khan's email was "irresponsible."
"It's irresponsible for him to put out a message like that," Days said. "Clearly you're disregarding and disrespecting the citizens of St. Louis County, again. You've gone through this before and you didn't learn from the last time."
Councilman Mark Harder, R-7th District, posted the email to a Facebook group of local residents protesting public health orders that was formed last year as student athletes protested restrictions on youth sports during the height of the pandemic.
Harder said he did not remember which group it was but posted the email there because he thought it was "unprofessional."
"These people are very interested in what's going on with our health department, so I posted it there to let them know that this is the kind of director of our health department that writes these things, which I thought was very unprofessional and probably not the best communication he could have with this employees."
Earlier controversy
The email controversy comes four months after Khan made an obscene gesture at a group of angry anti-mask mandate protesters after he appeared at a County Council meeting to speak about his latest public health order. In a blistering letter he sent to Days on July 28, the day after that meeting, Khan accused several members of the audience of heckling him, making racist comments and "shoulder-bumping" him as he left — accusations that were not corroborated by several videos of the meeting or testimony from police officers at the meeting.
Khan also said in his letter that Days, the council chair, had allowed those offensive comments to be made unchecked and accused Fitch of questioning his credentials and stoking the crowd. Fitch had asked Khan, who is originally from Pakistan, if he was "a licensed physician in the United States."
Although Page has said he "verbally reprimanded" Khan for giving protesters the middle finger, he has repeatedly denied a council request to review the report behind closed doors. Page said it was a "personnel matter" and therefore was confidential. The county separately denied a Post-Dispatch request for the report.
Khan apologized to Days in an Oct. 5 email saying he regretted a "momentary loss of composure" but has declined requests for comment on the letter.
But Fitch and other council members demanded more. Fitch, who called for Khan's ouster, tried unsuccessfully declare the Khan investigation an open record. The measure failed by a 4-3 vote. Fitch afterward publicly urged members of the public to sue for the record.
At least one attorney has said that records of public conduct by public officials are not supposed to be confidential. Jean Maneke, an attorney and legal adviser to the Missouri Press Association, told the Post-Dispatch that such records "may" be closed but are not required to be.
At the July meeting, the council voted 5-2 to rescind a public mask requirement Khan had instituted the day before. Schmitt, the attorney general, used the vote in a successful argument to convince a county judge to temporarily block the mask order.
Until recently, angry crowds have packed council chambers in Clayton to oppose the mask requirement, as well as any government effort to vaccinate people against COVID-19. Some have denied the existence of the pandemic that has killed more than 15,000 Missourians — 2,613 in St. Louis County.
Several claimed the pandemic was a government conspiracy, calling vaccines "bioweapon" and a "poison," or read into council record internet theories that masks and vaccines aren't safe or effective, despite overwhelming scientific consensus that both measures reduce the risk of infection and death.
YouTube temporarily blocked the recordings of four council meetings because of the comments, prompting the council to switch to a new streaming service.
A Post-Dispatch review of council minutes found that about a third of the speakers were regular protesters, with a handful of activists speaking at more than half of the meetings.
The local group is part of a backlash across the country against public health measures, making health officials a target of derision as they combat the worst pandemic in a century. By December 2020, at least 181 state and local public health leaders resigned, retired or were fired, according the Associated Press and Kaiser Health News. Now, a year later, Missouri is one of 26 states that with laws weakening public health powers.
In June, Gov. Mike Parson, a Republican, signed a law sponsored by GOP state legislators requiring local politicians' approval over local health orders. Fitch had supported similar legislation.
Khan's email to staff was sent about 10:50 a.m. Tuesday, shortly before a Missouri judge ruled all regulations issued by state health officials related to the spread of COVID-19 in the state should be lifted because they violate the state constitution's separation of powers clause affecting the executive, legislative and judicial branches of government.
The ruling is expected to play a part in Schmitt's lawsuit to stop the county from issuing mask mandates. A hearing is scheduled for Tuesday.
Originally posted Wednesday at 5 p.m.