JEFFERSON CITY — With one week to go before the Nov. 3 election, Missouri's candidates for governor crossed paths en route to their latest in a series of campaign stops.
With Republican Gov. Mike Parson's red campaign bus heading north on U.S. 63 from the capital city to a stop in Columbia on Tuesday morning, Democratic Auditor Nicole Galloway's blue campaign bus was heading south for Rolla and points beyond.
The two have been logging miles as they fight for the chance to run the state for the next four years.
In Columbia, inside the massive garages of Emery Sapp & Sons, a major road building company, Parson was flanked by the entire Republican ticket, including Lt. Gov. Mike Kehoe, Secretary of State Jay Ashcroft, Treasurer Scott Fitzpatrick and Attorney General Eric Schmitt.
Kehoe and Fitzpatrick were appointed to their current jobs in 2018 after Parson succeeded scandal-plagued Gov. Eric Greitens. Parson later picked Schmitt to serve as attorney general after Josh Hawley was elected to the U.S. Senate. Ashcroft is the only Republican statewide officeholder who was elected to his current job by Missouri voters.
With both Democrats and Republicans largely set in their choices for Election Day, Fitzpatrick said the election would be about who goes to the polls.
"This is all about turnout. We need to deliver Missouri for Donald Trump," said Fitzpatrick, who faces Democrat Vicki Englund of south St. Louis County.
Senate Majority Floor Leader Caleb Rowden, R-Columbia, who is in a tough battle for reelection against Democrat Judy Baker of Columbia, also told the crowd that the outcome of the election will be based on people going to the polls.
"Make sure you get out and vote and make sure you tell three or four or five of your friends and neighbors. Some of these elections, including mine, are going to be close. They are going to be razor thin. We can't take anything for granted. We can't assume the polls are right or wrong. There are no assumptions," Rowden said.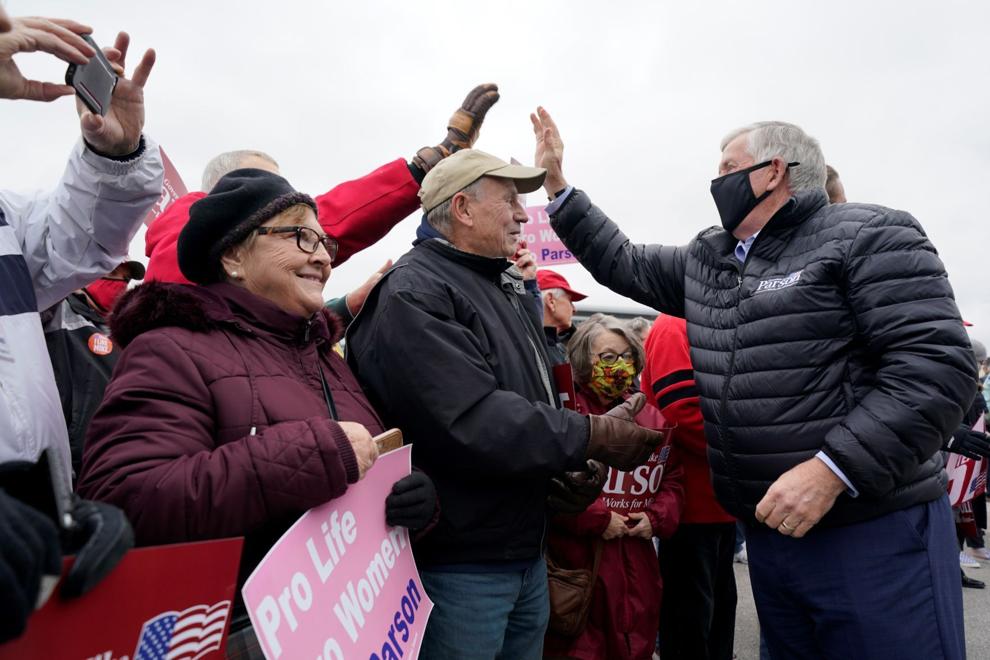 The group Missouri Rural Action, a campaign arm of the Missouri Rural Crisis Center that doesn't have to disclose its donors, launched a last-minute mailer offensive targeting Parson and Rowden's support for a 2013 law that allows foreign ownership of farmland.
The group spent $27,301 on mailings throughout the Columbia-based 19th Senate District, according to filings made with the Missouri Ethics Commission.
With Galloway calling Parson's approach to the pandemic flawed, the governor told about 80 supporters on Tuesday that he has taken a balanced approach to address the spread of the coronavirus.
He warned that Galloway would shut down the state if elected.
"People have to go to work. You've got to get school kids back in school. People, you can can't shut this state down again," Parson said.
Hospitalizations in the state have increased steadily since September and hit record highs several times this month. The peak was Oct. 14, when 1,465 hospitalizations were reported, which was nearly four times the 375 patients who were hospitalized on July 7.
In an interview following the rally, Parson said, "I think we did the right thing. Everybody wants to blame somebody for the virus and there is nobody to blame. It's a virus. We all have to be able to deal with it."
In addition to Galloway's event in Rolla, she also was scheduled to stop in the Bootheel town of Malden, and in Cape Girardeau, for "meet and greet" events on Tuesday.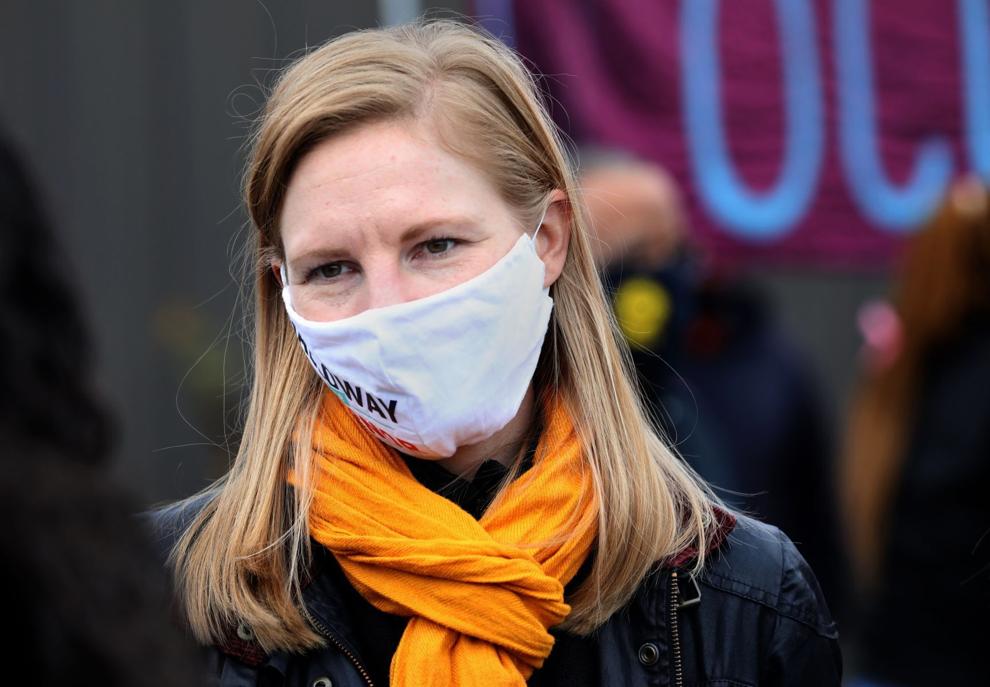 Galloway's schedule showed her making three stops in the St. Louis region on Wednesday: She was set to attend the 6:30 a.m. shift change at the Anheuser-Busch brewery with Teamsters, a meeting with the Rev. Starsky Wilson at noon in University City, and a 5:30 p.m. meet-and-greet at the United Food and Commercial Workers Local 655 union hall, at 300 Weidman Road in Manchester.
Besides hammering Parson on the pandemic, in her speeches, Galloway has vowed to veto a "right-to-work" bill should the Legislature send one to her desk.
"Government should not limit your ability to create your own success story for you and your family," she told about 50 supporters on Saturday outside the United Auto Workers Local 2250 union hall in Wentzville. "If the Legislature ever sends me a right-to-work bill as governor, I'm vetoing that thing."
After the speech, she said in an interview that as people were voting "no" on right-to-work in 2018, "Parson's administration was trying to figure out how to implement right-to-work county by county.
"Right to work means something to the people here," Galloway said. "They want to go home in the same condition they went to work in. They want good benefits and good wages. They know that right to work puts that in peril."