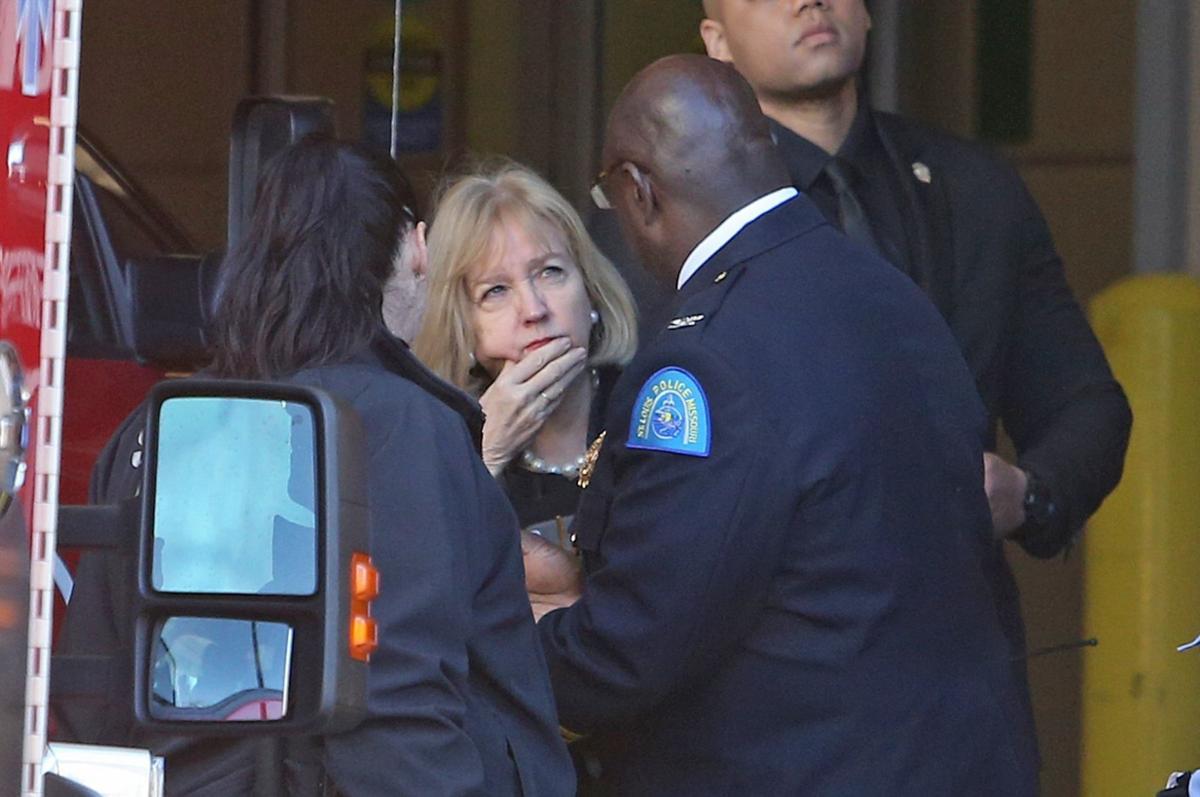 ST. LOUIS — Mayor Lyda Krewson said Wednesday she wants Missouri lawmakers to change a 2017 state law that lets almost anyone carry a gun without restrictions and allow the city of St. Louis to require permits to carry guns.
Krewson noted that Missourians are required to have a license to drive a car and the vehicle must be registered with the state. And though St. Louis police have managed to take nearly 1,700 guns off the street in the last year, she said that's "not enough." Missouri law allowing guns without permits "hinders our police department in a very significant way."
The Missouri Legislature, dominated by rural and suburban lawmakers, has spent years loosening the state's gun laws. In 2016, the Legislature passed legislation to allow nonfelons to carry concealed weapons without a permit. Other laws preempt local regulation of firearms, so local law enforcement is unable to do much even if a gun is visible. 
Krewson brought up the issue at the monthly board meeting of the East-West Gateway Council of Governments, the regional planning arm whose board is made up of St. Louis area political leaders.
"Having a permit to carry a gun is really not a big ask," she told the Post-Dispatch after the meeting. "It's not a big ask. It's for our police officers."
The mayor noted that she is from Moberly, Missouri, and understands the perspective of rural residents, but "that is a different situation than what we face in our cities."
If they won't take it up in the special session, Krewson said she will advocate for lawmakers and Parson to address the change during the regular legislative session next year and "allow us to say, in the city of St. Louis, you can still have a gun, you can still carry a gun, but you need a permit to carry it."
Krewson said she has spoken to Parson, a former county sheriff, about the issue.
"What I have asked the governor to do is to help us find a way to where perhaps cities over a certain size, however he wants to define it, but at least for the city of St. Louis that you would need a permit to carry a gun," Krewson said. "This is for our police department. Our police don't have the tools they need to take guns off the street."
Parson, during a press conference Wednesday in Jefferson City, did not say whether he would push Krewson's suggestion. As a state senator in 2016, Parson voted to loosen concealed carry requirements.
"That's going to have to go through the legislative branch," Parson said. "One thing I will say about that — and I talked to the mayor about this — we've got to find out some solutions to these kids getting shot in the streets of St. Louis, and Kansas City, or wherever it is in the state of Missouri."
Parson said again Wednesday he was considering use of the Missouri State Highway Patrol in some way in the city. Parson also said he was examining whether he can free up more state funds to help ease the violence. 
"We all better put our best game on right now to find a solution to this problem," he said.
Curing violence
Meanwhile, Comptroller Darlene Green on Wednesday afternoon complained via Twitter that Krewson had yet to submit a proposed contract with the Cure Violence crime reduction organization for Green's review.
"Only after a public outcry did the mayor's office feel compelled to address the people's concerns … another week has passed, and the Comptroller's Ofc has not received a contract for Cure Violence," Green tweeted, quoting herself from a story published in the St. Louis American.
"Only after a public outcry did the mayor's office feel compelled to address the people's concerns.. another week has passed, and the Comptroller's Ofc has not received a contract for Cure Violence" https://t.co/ICx9Yz9chf

— Darlene Green (@STLismyhome) August 28, 2019
In response, Krewson in an interview said her office on Tuesday submitted a draft contract to the Cure Violence organization for its review and is waiting to hear back.
"We still expect to present it to her (Green) shortly," the mayor said. 
The mayor on Aug. 20 sent a letter to Green asking her to invoke the comptroller's emergency powers and execute a contract with the Chicago-based nonprofit group, bypassing the city's usual lengthy selection process.
Krewson said she and members of her staff met with Green two days later, on Thursday, to discuss the matter.
Green's spokesman, Tyson Pruitt, said Green supports the idea of launching the Cure Violence program in St. Louis but wants to review the proposed contract's details before signing off on it.
Cure Violence trains local residents in crisis intervention to work with people believed to be at a high risk of committing violent acts to try to stop shootings before they take place.
The city has allocated $500,000 in this year's budget to begin such a program. Krewson said that's the amount she wants to commit to Cure Violence. The mayor has said the city also would evaluate alternative programs for a longer-term contract.
Mark Schlinkmann and Jack Suntrup of the Post-Dispatch contributed to this report.
Editor's note: Mayor Lyda Krewson wants the state to grant St. Louis the authority to require permits to carry guns, whether they are concealed or visible. A previous version of this story incorrectly said she wanted the city to be able to require concealed weapon permits. 
Rep. Lacy Clay uses forum to promote gun control bill. 
Coverage of children who died in the St. Louis area in 2019
These are the local incidents of homicide or neglect involving children, based on Post-Dispatch reporting. This list doesn't include children killed in car accidents (unless a criminal charge was filed) or incidents not being investigated by homicide detectives.
reasonable and articulable suspicion of criminal activity, no person carrying a concealed or unconcealed firearm shall be disarmed or physically restrained by a law enforcement officer unless under arrest