ST. LOUIS — Mayor Lyda Krewson, who had been standoffish on whether privatizing St. Louis Lambert International Airport should go before voters, now says she won't oppose putting the issue on the ballot.
"I'm fine, have an advisory vote of the residents" if the Board of Aldermen doesn't want to decide the issue without getting voters' input, the mayor told reporters on Wednesday.
But she said such an election should be held only "if and when there is a proposal" for an actual lease deal.
She also pointed out that City Counselor Julian Bush, her administration's top lawyer, has said the outcome of such a vote wouldn't be legally binding on aldermen. Krewson added that "I don't care either way."
At this point, it's unclear whether the board will even opt to put the issue before voters. A bill filed by Alderman Cara Spencer, D-20th Ward, to require a public vote is still in an aldermanic committee.
Spencer, when told Friday of Krewson's statement about the public vote idea, replied: "Great. Then she won't veto it if we get it passed by the board."
However, Spencer renewed her criticism of the mayor and her administration for not following through long ago on former Mayor Francis Slay's plan to seek voter approval for a city charter amendment specifically allowing Lambert to be leased.
According to the city's preliminary application to the Federal Aviation Administration, filed by Slay a month before he left office in 2017, the charter amendment was "the City's preferred method" at getting city approval for privatization.
The preliminary application said plans were afoot to seek petition signatures from voters to put the charter change on the citywide ballot as soon as April 2018.
Krewson instead is using an alternate procedure also cited in Slay's submission to the FAA — getting approval of the Board of Aldermen and the city's top fiscal body, the Board of Estimate and Apportionment.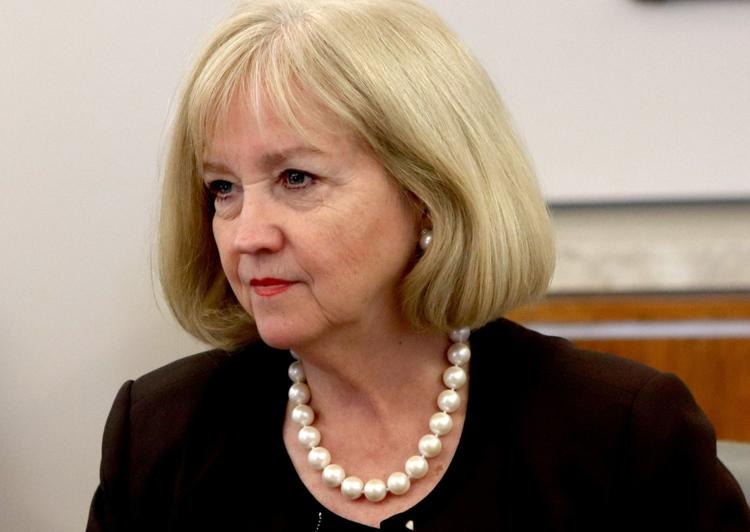 The mayor said she chose to do so because the Slay-proposed charter amendment would simply have given the mayor the authority to lease the airport without listing the specifics of any lease proposal.
"Early on in my administration ... I thought if I were a voter, I wouldn't vote for that," said Krewson, who succeeded Slay in April 2017. She also said she didn't think such a measure would pass.
Moreover, she said, she believes that aldermen, as the elected representatives of the city, "ought to have a say if and when we get an eventual proposal."
Approval by the FAA and Lambert's airlines also is necessary under either scenario.
Spencer said Krewson's comments were "very misleading" and that the Board of Aldermen still would have had to approve a Lambert lease contract if Slay's charter proposal was passed. That was disputed by Michael Garvin, a deputy city counselor who has worked on the privatization issue for both mayors.
Spencer also noted that Slay's preliminary application included a timeline projecting that the city could work out a proposed lease with a bidding company by February 2018 — before voters took up the charter amendment in April 2018 or later. That indicated that voters would have known details of the lease deal by the election.
But the actual process has dragged out a lot longer. The estimate board didn't until June 2018 approve the hiring of a team of consultants to advise a committee of city officials named to study the issue.
That committee, the Airport Advisory Working Group, is months behind in meeting a new timetable that it established for deciding whether to proceed with privatization and to seek lease bids.
Spencer also has pressed Garvin to release a copy of the charter amendment that Slay's preliminary application said was in the process of being drafted.
"This is expected to be completed within 30 days," the preliminary application stated.
Garvin, in a letter Wednesday to Spencer, said "to my knowledge, no draft Charter amendment was prepared."
Garvin in an interview Friday said he never saw a draft. "The process could have been they (Slay and his aides) were thinking about it and there could have been discussions of a concept." Garvin was acting city counselor at that time.
The Airport Advisory Working Group had projected that it would decide by the first quarter of this year, which ended March 31, on whether to issue a request for qualifications from potential bidding companies.
After the committee decides which companies are deemed qualified, it then would seek proposals from rival firms. The committee is made up mainly of representatives of Krewson, Aldermanic President Lewis Reed and Comptroller Darlene Green.
Green is opposed to privatization, while Krewson and Reed say it should be considered as a way of maximizing city revenue and improving Lambert.
Another working group member, Alderman Marlene Davis, D-19th Ward, said Friday that city officials are still trying to reach agreement with the airlines on what to seek in a potential lease deal.
"There is no additional work that will be done (by the group) if there is not a temporary agreement to move forward with the airlines," Davis said.
She declined to estimate when the working group will decide whether to issue a request for qualifications, but said "I don't think it's months away."
Davis also chairs the aldermanic committee considering Spencer's public-vote bill.
Also assigned to Davis' committee is a charter amendment proposed by Spencer which, if passed by voters, would require any privatization deal to be approved in a follow-up election.