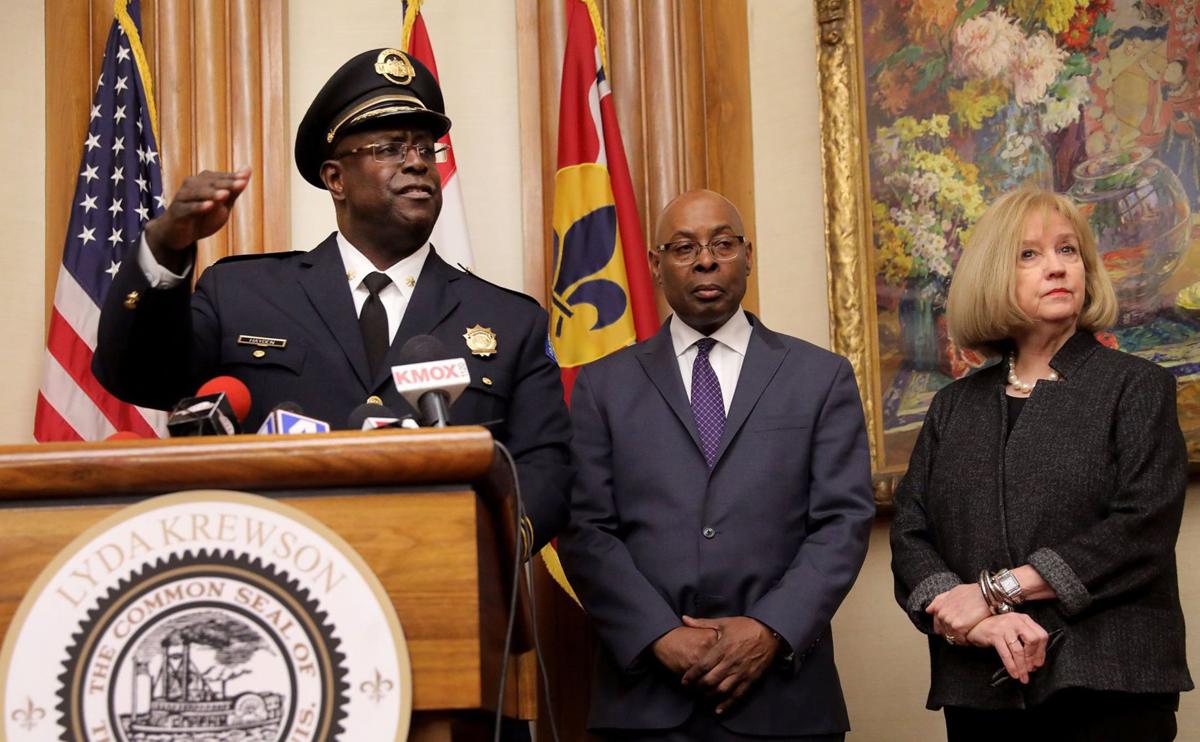 ST. LOUIS — Mayor Lyda Krewson on Friday said she will ask the Missouri Legislature to remove the city residency rule for all St. Louis employees, not just police.
"Police right now are our highest priority on that, but we believe it would be fair to extend it" to all city workers, she said at a news conference. "It is not a cure-all, but it is an impediment to hiring."
She said the police department continues to be short about 130 officers and there are 700 open positions in other city agencies.
Krewson in recent months turned to the Legislature after the Board of Aldermen rejected her request to put before voters a city charter amendment that would repeal the residency requirement for most city workers.
She said allowing officers to live where they want is among several steps that her administration is taking to address St. Louis' continuing problems with violent crime, underscored by the seven killings that occurred in the first two days of the new year.
"Who wouldn't be sad and discouraged about that?" she said.
She added that she is working to increase police pay to make the city department more competitive in hiring, but she did not elaborate.
She also cited efforts to crack down on guns and drugs, an expansion of summer job efforts and the Cure Violence initiative aimed at intervening in neighborhoods to stop violent acts before they are committed.
Meanwhile, she said she continued to have confidence in police Chief John Hayden and Public Safety Director Jimmie Edwards. She added, "I'm not considering any shake-ups" in the police department.
"Considering the circumstances, I think our police department is doing a great job," Krewson said.
Three similar legislative bills dealing only with police residency have been filed in recent weeks in Jefferson City — by Senate President Pro Tem Dave Schatz, R-Sullivan, and Reps. Derek Grier, R-Chesterfield, and Ron Hicks, R-Dardenne Prairie.
Attorney General Eric Schmitt, a former state legislator, also has thrown his political weight behind the state effort.
Schatz said he would consider the mayor's request to add other city employees to his measure but needs to research the issue before making a decision.
Moreover, he said, "I haven't gotten any feedback from ... the senators who represent St. Louis city" yet on the idea.
Asked later Friday whether Krewson had given up on trying to convince aldermen to act on the issue, her spokesman, Jacob Long, said, "She thinks that this is the right path to take at this time."
He added that aldermen haven't offered other solutions "to our hiring challenges."
Aldermen voted 16-11 in September against the proposed charter amendment.
Some opponents complained during the debate about the effectiveness of efforts to get city residents to apply for and get hired into city jobs.
One aldermanic critic, Alderman Annie Rice, D-8th Ward, returned to that point on Twitter Friday.
"When I asked a neighborhood meeting who had applied for a job (with the city) and never heard back — half the hands in the room went up," Rice tweeted.
Rice also tweeted that "deeming all of the applicants who aren't getting through the process as less highly qualified is demeaning."
Long in response tweeted that "no one is saying people in City aren't qualified. It's to address chronic understaffing" and to expand the pool of applicants.
The proposed state bills dealing with St. Louis police residency seek to amend the state law adopted by voters in 2012 that shifted control of the city department from the old state-appointed police board to the city government.
The 2012 measure put into state law the police board's policy that since 2005 has allowed city officers and other employees to move to the suburbs once they reached seven years' service as long as their new home is within an hour of the city.
The current bills would give that same ability to all in the department.
Long said the mayor and other city officials believe the Legislature has the authority to get rid of the St. Louis residency rule for all employees because state law trumps the city charter.
Hayden has said the seven-year rule for city police applies only to officers hired before the city regained control of the department in 2013, but Krewson and the police union disagree.
The Legislature in 2016 extended the same authority for seven-year veterans of the St. Louis Fire Department to live outside the city as long as the city schools weren't fully accredited or for five years after the district regained accreditation, which it did in 2017.